Astor, Florida
Astor is a unincorporated village on State Road 40 as it crosses the St Johns River.  It is on the west bank in Lake County.  The unincorporated settlement along the east bank is in Volusia County and is officially known as Volusia.  Most folks call both sides of the river Astor.
Astor has a large network of man made canals that provides access to the St Johns River for its many fishing oriented residents.  The entire area called Astor is within the boundaries of the Ocala National Forest.
The roots of modern day Astor go back to 1874 when William B. Astor, Jr. bought 12,000 acres of land along the river and named it Manhattan.  Astor was a descendant of the extremely wealthy John Jacob Astor, American's first multi-millionaire.
Early settlers in Manhattan came by steamboat down the St Johns River.  Astor built a church, school, botanical garden and cemetery.  He followed up with a sawmill and hotel and built the St John's and Lake Eustis Railway to Eustis and Leesburg.
When William Astor died in 1892, the residents renamed the town Astor.  Astor's children inherited the Florida land but had no interest in developing it, so the properties were sold.  The railroad put a real crimp in steamboat travel on the St Johns and the town began a quick decline.  The last major construction in town was the bridge across the St Johns River in 1926.
A major attraction in Astor today is the Blackwater Inn.  It is noted for its good seafood and great river views from the main dining room downstairs and Williams Landing on the second floor.
It is the headquarters for boat rentals and boat tours, and is near local lodging facilities.
Lighthouse Grill is another restaurant that is popular.  It is across the river from the Blackwater Inn adjacent to the Bridge Marina. 
Many Astor residents commute either west to the larger Lake County towns or east to the Daytona Beach area for their jobs. The community also relies heavily on ecotourism and is a popular destination for fishermen, hunters and boaters.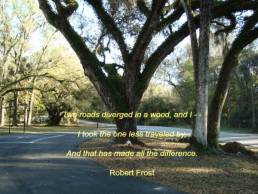 Over 65,000 followers can't be wrong. Learn about off the beaten path Old Florida, historic towns, attractions,  festivals, scenic drives and more.
Like Us On Facebook
---
Return To Florida Backroads Travel Home