FLAGLER BEACHFRONT WINERY
611 N. Ocean Shore Blvd.
Flagler Beach, Florida 32136
Tel:  386-693-4950
Flagler Beachfront Winery is something very different from the majority of Florida wineries you find in the inland part of the state.
The winery is located directly on State Road A1A in Flagler Beach and enjoys an unobstructed view of the Atlantic Ocean.  
The winery opened in March 2013 and has already won silver medals at the Florida International Wine Competition.
The Tarsitano family owns the establishment.
They came to Florida from Ohio where they own Tarsitano Vineyards and Winery in Conneaut, the heart of that state's grape growing country.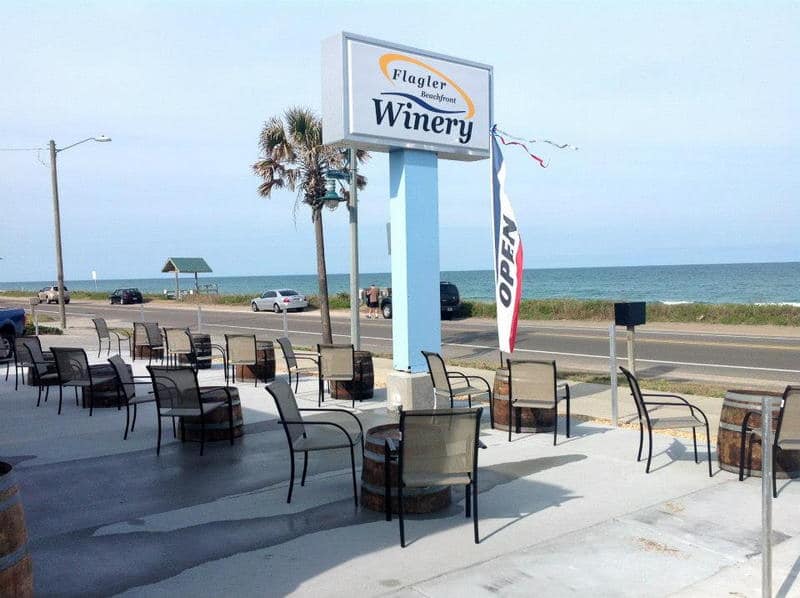 Flagler Beachfront Winery Uses Grapes From Many Different Locations
The winery brings in grapes from all over the United States and makes wine from them right here at the Flagler Beach location.  The grapes they use also include the ones they grow themselves in Ohio.
The grapes are pressed in this winery and aged in oak barrels.  You can even see the ocean from the tank room.
After at least twelve months of aging - and sometimes up to several years - the wines are filtered and bottled.  You can watch the wine being bottled and even enjoy one of their "wine bottling parties."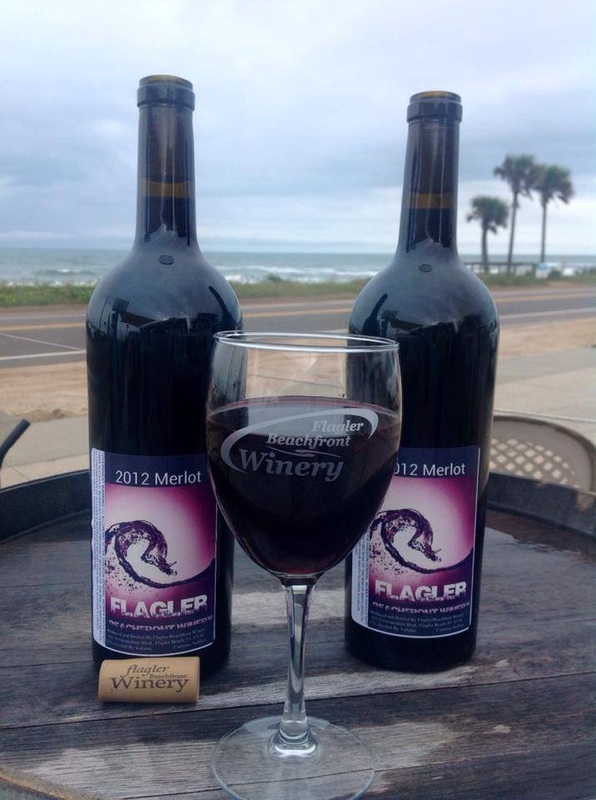 The winery makes a wide selection of both red wines and white wines.  Reds include Merlot, Cabernet Sauvignon, Syrah, Zinfandel, and Sweet Concord.  Their whites include Riesling, Chardonnay and Muscat.  Other wines are available from time to time.  You will have to visit the menu when you visit.
Speaking of menu, the winery also has food that you can enjoy with your wine while enjoying the ocean view.  They have a nice selection of tapas boards and plates along with some great flatbreads.
Their retail shop has a great selections of wines, accessories, tee shirts and other gifts related to their wine business.
When I was a student at the University of Florida - many moons ago - Flagler Beach was a favorite destination for me and my family.  The soft sand beaches were usually uncrowded and the town had an Old Florida feel to it.
The town has still not changed as much as most of the rest of Florida.  This little winery is a great place to soak up some surf and serenity.
The winery is open from noon until 900 pm Monday through Thursday, and from noon until 1000 pm on Friday and Saturday.  
---
---
---

Our Facebook page has more than 128,577 followers who love off the beaten path Florida: towns, tourist attractions, maps, lodging, food, festivals, scenic road trips, day trips, history, culture, nostalgia, and more.  We post articles every day.  Please check it out and if you like it, we would appreciate a "like" from you.
---
By Mike Miller, Copyright 2009-2023
Florida-Back-Roads-Travel.com
Florida Back Roads Travel is not affiliated with or endorsed by Backroads, a California-based tour operator which arranges and conducts travel programs throughout the world.