FLORIDA WINERIES
Good Taste On The Backroads

Updated September 5, 2020
Florida wineries are one of the state's best kept little secrets.  They are fun to visit and make great destinations for many of the Florida day trips and one tank trips featured on this website.  30 of these wineries are certified by the State of Florida;  the others are not.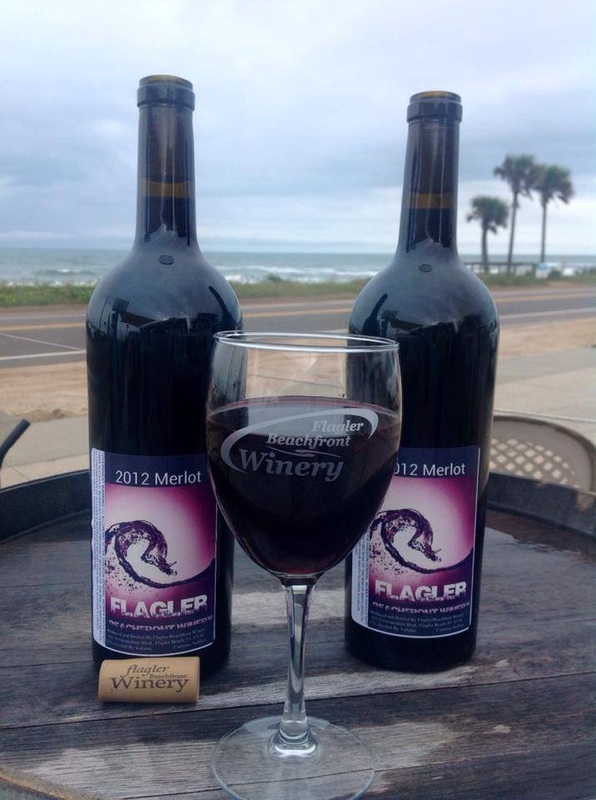 CERTIFIED FLORIDA WINERIES ARE REQUIRED TO PUBLISH HOURS THEY ARE OPEN TO VISITORS
When a winery is certified by the State, it means they are required to publish hours they are open to visitors.  The other wineries may be great places but you can't be sure if they are open to visitors.
The Florida Department of Agriculture map below shows the certified wineries.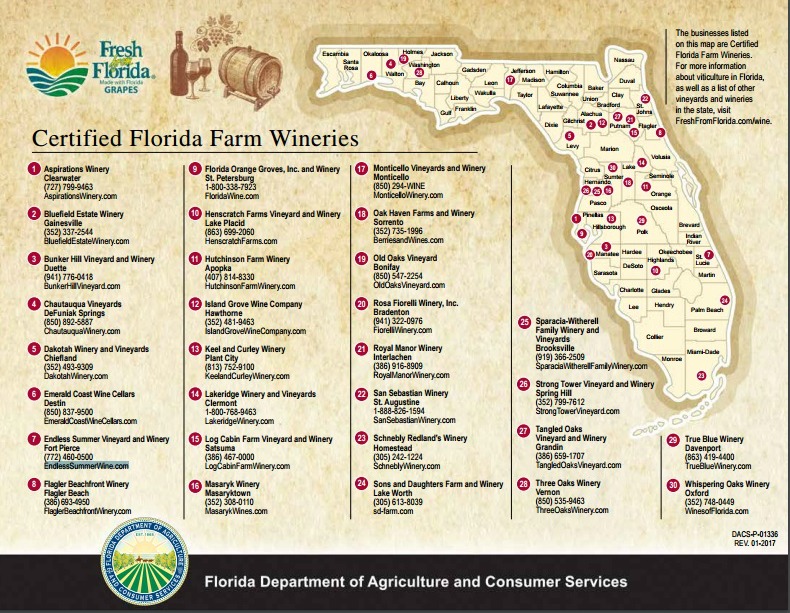 The list of certified wineries changes from year to year for a number of reasons. The list on this page is current as of May 1, 2017.  It's best to go to the individual winery page on this website, get the phone number and call the winery directly.
Here are the 30 currently certified wineries in Florida.  The links are to reviews on this website for the ones we have visited.
Aspirations Winery, Clearwater

Bluefield Estate Winery, Gainesville

Bunker Hill Vineyards & Winery

, Duette

Chautaqua Vineyard, DeFuniak Springs
Emerald Coast Wine Cellars, Destin


Endless Summer Vineyard and Winery, Fort Pierce

Flagler Beachfront Winery, Flagler Beach

Florida Orange Groves, Inc., St. Petersburg
Henscratch Farms Vineyards & Winery, Lake Placid
Hutchinson Farm Winery, Apopka

Island Grove Wine Company, Hawthorne

Keel and Curley Winery, Plant City
Lakeridge Winery and Vineyards, Clermont
Log Cabin Winery, Satsuma

Masaryk Winery, Masaryktown

Monticello Vineyards and Winery, Monticello

Oak Haven Winery, Sorrento

Old Oaks Vineyard, Bonifay

Rosa Fiorelli Winery, Inc., Bradenton

Royal Manor Winery, Interlachen

San Sebastian Winery, St. Augustine
Schnebly Redland's Winery, Homestead

Sons and Daughters Farm and Winery, Lake Worth

Sparacia-Witherell Winery and Vineyards, Brooksville

Strong Tower Vineyard and Winery, Spring Hill

Tangled Oaks Vineyards, Grandin

Three Oaks Winery

, Vernon, Florida

True Blue Winery, Davenport

Whispering Oaks Winery, Oxford
MOST FLORIDA WINERIES MAKE WINE FROM GRAPES
My wine expertise is limited. Either I like a wine or I don't.   Even though I'm a long time Floridian, I assumed for many years that Florida wineries made citrus wine. I had no idea that any of them even knew a grape wine recipe.
I was wrong about the citrus wine. Florida grows nice grapes, and I was missing a lot by not knowing more about these wineries.  Wine actually has a long history in Florida. It goes back to a century before the Pilgrims landed at Plymouth Rock.
FLORIDA WINERIES GO BACK TO THE SPANISH EXPLORERS WHO MADE  WINE FROM WILD GRAPES

The first Spanish explorers came to the land they called La Florida back in the 1500's.  These Spaniards discovered wild grapes growing in the tangled jungles and hammocks along the Florida east coast.  They picked the grapes, began growing them and making wine from their harvests. These were the first Florida wineries.
Agriculture is a Florida tradition, and many parts of the state have rich soil ideal for growing grapes and berries. Some parts of Florida are hilly, and look like vineyard country.
Among the many types of wine, muscadine is especially tasty and produced in quantity in Florida.
The University of Florida has done a lot of research leading to the development of hybrid grapes specially suited to Florida soils and climate. They have helped create a wide variety of grapes.
Florida wineries produce many types of wines, and are scattered throughout the several regions of Florida. They are located from the panhandle to Homestead, south of Miami.
FLORIDA WINERIES USUALLY BEGIN HARVESTING GRAPES IN MAY AND END IN SEPTEMBER
Florida wineries and vineyards are fun to visit, and quite often give you a glimpse of rural Florida.  Many of them will not only sell you wine, but give you personalized wine bottle labels. This can be fun for wedding receptions, special occasions like birthdays, or for just plain fun.

Most wineries also have shops with wine related gifts, and most of them also host wine tasting events. Some other wineries sell wine gift baskets. I always assumed wine gift baskets in Florida were rare. I thought gift baskets in the Sunshine State are always full of citrus.
SOME NON-CERTIFIED FLORIDA WINERIES
Non-certified wineries are also interesting and have tasty offerings, but they may or may not be open to visitors.

Most of these wineries are off the beaten path. They meet the travel theme of this website. They are in wonderful Florida towns that are a delight to visit. These places can be the centerpiece of an appealing day trip.
Here are some Florida wineries that are not certified, but are fun to visit: 
Empire Winery and Distillery, New Port Richey
Florida Estates Winery, Land O'Lakes

Grapes of Kath Vineyards, Sebring
Lions Run Winery, Miami

Monarch Wine Company, West Palm Beach
Murielle Winery, Clearwater
Patrick Avery, Largo
Ridgeback Winery, Mount Dora
Tarpon Springs Castle Winery, Tarpon Springs

Time To Make Wine Inc., Cape Coral
Yellow River Vineyards, Holt

Some of the non-certified wineries may be open for tours and tastings from time to time. It is best to call in advance, or visit their website.  Also, some of the certified wineries move to the non-certified list and vice versa.
Many of the wineries sell wine gift baskets that can be sent to your friends and either purchased at the winery or online.
Enjoy your visit to a Florida winery and let me know how you liked the wine.
---
---
---
Our Facebook page has more than 101,638 followers who love off the beaten path Florida: towns, tourist attractions, maps, lodging, food, festivals, scenic road trips, day trips, history, culture, nostalgia, and more.
Take a look. If you enjoy what you see, please give us a like.
---
---
20200307-126-324-GI6.8/20200420-32-196-GI7.1/20200905-60-240-7.6