Florida State Park Camping Cabins
Camping cabins do not always come to mind as a viable alternative to staying in a motel or hotel.
But they should, because many Florida State Parks have very nice cabin facilities for your camping enjoyment.
They may not be as fancy as most chain motels or hotels, but you can dine in style at local restauants on the money you save.
Twenty Florida State Parks have comping cabins, and they range from rustic to modern.
Enjoy a cabin nestled in the hills of Central Florida where you can lounge by the fireplace.
Kick back and relax on your cabin's deck in the Florida Keys.
No matter what the destination, staying in a cabin will provide endless opportunities for recreation and relaxation.
Some of these cabins are as well equipped as the average motel room in the outside world.  Others are a bit more rustic and primitive.
Go to the website of the individual state park to find out more details about their cabins and to see photo galleries of the rooms.
The individual state park websites can be accessed through the Florida State Parks website provided toward the bottom of this page.
Reservations can be made as long as 11 months in advance, and should always be made within 2 days of your planned arrival.
Don't call the park for reservations.
Reserve America handles this at 1-800-326-3521.
Florida State Park Camping Cabins
Here are the Florida State Parks that have cabins available for campers.  The ones with links will direct you to our article on that park.

Bahia Honda State Park, Big Pine Key, Florida
Blue Spring State Park, Orange City, Florida
Cayo Costa State Park, Boca Grande,Florida
Econfina River State Park, Econfina, Florida
Fanning Springs State Park, Fanning Springs, Florida
Grayton Beach State Park, Santa Rosa Beach,Florida
Hontoon Island State Park, Deland, Florida
Jonathan Dickinson State Park, Hobe Sound, Florida
Lafayette Blue Springs State Park, Mayo, Florida
Lake Louisa State Park, Clermont, Florida
Gold Head Branch State Park, Keystone Heights, Florida
Myakka River State Park, Sarasota, Florida
OLeno State Park, High Springs, Florida
Oleta River State Park, North Miami, Florida
Silver River State Park, Ocala, Florida
Stephen Foster State Park, White Springs, Florida
Suwannee River State Park, Live Oak, Florida
St. Joseph Peninsula State Park, Port St. Joe, Florida
Three Rivers State Park, Sneads, Florida
Topsail Hill Preserve State Park, Santa Rosa Beach, Florida
Detailed information about each of these parks and their cabins is at the Florida State Parks website.  The page below is an excerpt from their excellent manual on camping.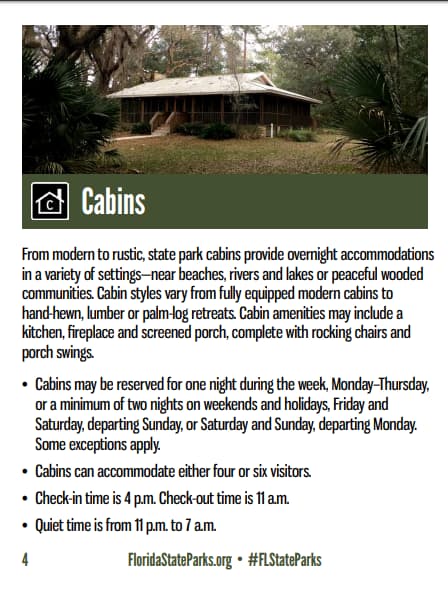 ---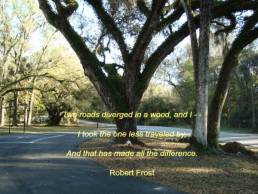 Over 67,000 followers can't be wrong. Learn about off the beaten path Old Florida, historic towns, attractions,  festivals, scenic drives and more.
Like Us On Facebook
20181011