FLORIDALAND
My grandparents moved from Indiana to Osprey, near Venice, in 1960. A few years later - in 1964 - Floridaland opened as one of the most unusual tourist attractions in those pre-Disney days.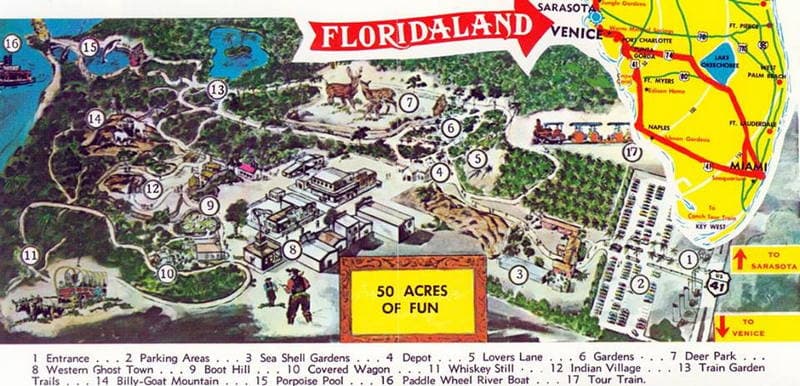 It tried to be all things to all tourists. Although the main entrance featured colorful tropical birds, the major attraction inside the gates was a western town similar to Six Gun Territory up in Silver Springs but more cheaply made.

Bad guys and good guys shot it out in the street, and can-can dancers strutted their stuff in the western saloon. Tourists could ride around the whole park on a tram dressed up as a western train.

In the park's attempt to be all things to all people, they featured a porpoise show. The marine creatures performed in a small pool with a platform where they were fed fishes.

Floridaland also had a petting zoo with typical farmyard animals.

Floridaland began to falter when they got some bad publicity about the death of several of their porpoises.

When Walt Disney World opened near Orlando in 1971, Floridaland was doomed to disappear. They folded their tent shortly after and became one of our lost Florida tourist attractions.

Others Share Their Memories of Floridaland
Oct 16, 2018
I'm told I live on what was once Floridaland...
by: Anonymous 

I'm trying to figure out exactly where my house is situated on what was Floridaland, or what part of the attraction it would have been on- if any. I'd love to metal detect the area.
Aug 13, 2018
Floridaland Documentary
by: Devin Bedgio 

Hello,

I have enjoyed reading everyone's comments! I am currently working on a documentary to capture the history of Florida's past attractions. If anyone here would be interested in speaking with me and my team about their experiences, or sharing home photos/movies, please reach out to me at debedgio@gmail.com. It would be our pleasure to include some of these great anecdotes.

Additionally, Floridaland does not seem to exist in any form (I believe condominiums have been built there), so any photos or videos you may have would be a rare treat for us to use in our film. Thank you.
Jul 27, 2018
Shoot out at Foonman
by: Anonymous 

In 1975, a bunch of us from Pine View snuck into the old abandoned Floridaland to shoot a Western film, "Shootout at Foonman".

The film, like its auteur, PK Griffin, is lost to us now, but it was quite a day, sneaking around the abandoned Wild West town.

May 14, 2018
Sure we met! 
by: Dave Emerson 

I'm sure we met Chuck with my Grandparents (Waldo and Mabel Emerson) both working at the park. I would gave been 7 in 1967 and saw you fall off the roof many times! Thanks for the memories and wish you well.

May 14, 2018
I was Slim (as was my brother) 
by: Chuck 

I was 17 in 1967 (68 today), and working at Floridaland was an incredible experience. I started out as an announcer playing guitar and doing the play by play during the gun fights. That was fine but my sights were set on being a cowboy.

My chance came when the guy who played Digger Long left and I "auditioned" for the job ad got it. Soon I was falling off roofs as the bad guy and even playing sheriff sometime. One story that was memorable and funny to us concerned the Sheriff. The Sheriff always had this dbl barrel shotgun that would split your eardrums when it went off. We made our own blanks for that gun. It involved putting a 357 blank in the end of a steel sleeve the size of the shotgun shell. Then you pour gunpowder into the other end of the sleeve and insert toilet paper and tamp it down with this steel rod. It was soon learned that the more gunpowder you tamped in there the bigger the boom. 

We had this hombre by the name of Ed who loved being Sherriff. One day he is in the jail packing shells for the next show. The jail was a very small room but anyway, Ed was out to get the mother of all booms and he kept packing the powder. All of a sudden their was this horrendous boom and smoke pouring out of the jail like Bad Bart's gang had just sprung him. Out stumbles Sheriff Ed like the town drunk on a Saturday night. It was the funniest sight you could ever see, (once we determined Ed was ok) We had warned him not to pack it so hard so he finally learned,we all had a good laugh.

My brother was the guy that broke his hip. I managed a compression fracture, the job was not without it's risks,we both have our battle scars from those days. I gotta tell you it was so much fun, had they stayed opened I just may have worked there until the day old Digger Long put me to rest out on Boot Hill.

EDITOR SAYS

Thanks for the great story, Chuck. I'm sure many others will remember Slim. You make it sound like a lot of fun!

Jul 20, 2017
Gun slinger's broken leg 
by: Dave Carlson 

We visited the park back in 1967 or 68 I believe. When watching the western show, I was standing in the wrong place (I was 4 or 5 years old) and the good guy gun slinger, who wore a beige coat, ran into me and fell and really twisted his leg. He might have broken it but he continued on with the show. I still have a home movie that shows him when the show starts walking just fine, then right after it happened and he is limping, leaning on fences but still going on with the show. To this day I still feel awful that he was hurt because of me.

Jun 15, 2017
I Stumbled Across It's Remains in the Seventies 
by: Bill 

I went to FloridaLand when I was probably 7 or so; my family had a house in Venice and we used to drive right past it every year.

About 1976-77 I dated a girl in high school who lived in the development Sorrento Shores built where FloridaLand used to be. Just inside the main entrance to Sorrento off highway 41 there was a faded road, and one day I drove down it just for grins. It went South for a ways, then turned West and was getting very overgrown.

I'll never forget to my huge surprise it dead ended in the remains of the entrance to FloridaLand. The gate was still there and I had a flashback of walking through it about 10 years earlier. It was a remnant of the entire park, and I think there were some large fake cement/plaster animals just inside. It was very eerie remembering all the bustle the place held in my memories compared to the isolated, forgotten quiet it was then.

If I had the inclination I could have gone on a major souvenir collecting spree because there was things everywhere, but I just left it. It was within 100 yards of the nearest houses. Later the development expanded and mowed those remains down.

Mar 23, 2017
Dolphin Show 
by: Michael Georg 

In '68/'69, I can't remember the exact year, my aunt took my brother and I to Floridaland a couple of times. One trip in particular stands out. I was able to go on stage at the dolphin show, "shake hands" with the dolphin, then, get in a small rowboat and have the dolphin tow me around the lagoon. I have a photo of it. It's surreal to remember it now; no floatation device, tiny little skiff. But exciting as hell.

Oct 15, 2016
Who met Dolly the Dolphin? 
by: Laura 

Did anyone who went to Floridaland ever get a chance to meet Dolly the dolphin? Any stories you can share?

Oct 15, 2016
Did anyone know Malcom J. Brenner 
by: Laura 

Did anyone who went to Floridaland while it was still open know or meet Malcolm or his brother, Hugh? Anything you can share?

Apr 04, 2016
Memorabilia 
by: Ed Hamill 

I now live in Nokomis and was too young to ever go to Floridaland, but am still fascinated with all things Floridaland.

I am looking for items for sale... memorabilia, props, costumes, ANYTHING that may still exist. Even family photos at the park... anything to help keep the history in our area alive!.

please feel free to reach out to me at edward.hamill (at) gmail.com

Jan 25, 2016
Fun at Floridaland 
by: Ellen 

My parents as well as our school took us to Florida Land - a magical place. I remember after a storm one or two of the dolphins were in the Holiday Inn swimming pool for a time & we went to see them. I have to say at this point I am anti-SeaWorld type places but back then we didn't know any better.

Nov 10, 2015
Old Token 
by: Anonymous 

I recently found an old coin from Floridaland inside an old car. The weird part is I'm in canada.

The coin says good luck and and has a jumping dolphin. Would anyone be able to tell me what year it might have been from?

Jun 23, 2015
Waldo and Mabel Emerson 
by: Dave Emerson 

My Grandfather, Waldo Emerson, played piano in the Saloon and my Grandmother Mabel worked in the gift shop. I have very fond memories of visiting the park during our annual trips to Florida from Rhode Island where we lived at the time. My brother and I got a unique chance to meet the people that worked at the park which was quite a big deal for us as I was between 4-11 yrs old while the park was open. Sitting on the bench with Gramps while he played piano during the Can-Can girl shows was a special treat!
dkemxr@yahoo.com

EDITOR SAYS:

Thanks for the interesting memory. Your grandpa sounds like an interesting and fun man with a famous name. No doubt he was named after the famous writer and philosopher Ralph Waldo Emerson. One of my favorites.

Jul 08, 2014
Facebook Atlanta trytothink1st@yahoo.com 
by: Scott Manzel (Corbin) 

My mom, Joyce Simpson, was also a dolphin trainer at Floridaland. Her dolphin, Moby, performed there. He was the one in the GTE phone call, and I have it on CD. He swam away when I was about 18 months old. Walter Farley helped look for him, but he was never found. 

My mom heard about Beggar the dolphin in the ICW in 2002. We went several times looking for Moby, but Beggar was not him. Robbie Arbuckle was kind to take us on his boat one search. My mom briefly moved to Florida searching on her jetski the whole ICW looking for Moby. She wrote a story, that became a book about Moby. It's truly cool but had limited success financially.

I remember riding in the little boat too. And I remember the shootout. The guns hurt my ears. Even fireworks did til I got older. I remember going to a seafood restaurant as a child, that we found again, just before it closed near Osprey.

My real dad was Robert Corbin. I don't remember him exactly. I remember getting dressed up for something important, but that is who I met.

Jun 27, 2014
Birthday at Floridaland 
by: Bob Pinardi 

I went there for my Birthday. I am guessing I was about 5 or 6. I got pulled around the Dolphin pool in a boat. It's something I remember to this day just like it was yesterday. There was a little girl sitting next to me in the boat just crying her eyes out with fear..I tried to calm her. It was a great place. Can you imagine this today? A Public Hanging as entertainment for kids? The Dolphin activist, Guns and shoot outs. (You have to go to Chicago to see that these days)

Jan 29, 2014
What a place 
by: Ivey Overstreet 

I and my Brother Larry Overstreet along with Butch Stewart and Benny Corbin (Robert Corbin's younger Brother)spent some time there one summer in the early 1960s. Benny worked with Robert handling the Dolphins and the rest of of did "Well,I can't remember? 'After all it was the 60s" But, I do remember having a great time in the Old West Town. As a matter of fact after it closed I ended up with a few things from there: an old cash register and a few things from the blacksmith shop.

Butch gave them to my Mom who collected things like that. Those were the real good old days, well as far as I can remember any way!!!

Pictures 
by: Anonymous 

Agreed. I would love to see the pictures too :)

Oct 29, 2013
Robert Corbin 
by: Anonymous 

Hi Lynette! Sure would love to see some of those photos! I am surprised to hear Robbie is living in Miss... I always figured he would have headed to the Keys after Floridaland closed... Is it true Robbie had a permit to catch wild dolphin to train them? Perhaps you can "friend" me on face book...or send me an email....

Kelley Ann Ayers VeniceKelley@gmail.com

---
IF YOU DIDN'T FIND IT ON THIS PAGE, SEARCH OUR ENTIRE WEBSITE
20181020