Fort Lauderdale
Pier 66 Where Are You?
by Mike Miller
(Naples, Florida)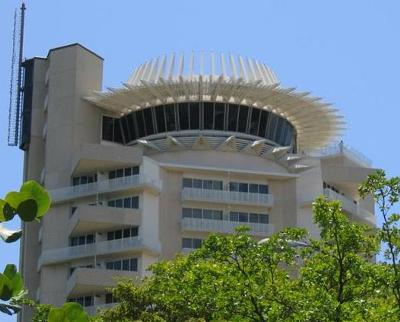 Pier 66 Showing Top of the Pier
Pier 66 means different things to different people depending on whether they are new to Florida or have been around a few years.

My Pier 66 is a tall hotel on the Intracoastal Waterway in Fort Lauderdale. It was built in the 1950's and was originally owned by the Phillips Petroleum Company, the sellers of Phillips 66 gasoline. There was a Philips 66 gas station in front of the hotel back in the fifties and sixties.

It's easy for me to remember the date of my first visit to Pier 66. It was June 6, 1966, or 6-6-66.

Pier 66 had a revolving lounge on it's top floor named Top Of The Pier that was open to the public.

Spectacular views of the Atlantic Ocean, Intracoastal Waterway, Port Everglades and downtown Fort Lauderdale were available from this slowing revolving lounge.

As I recall, the elevator took 66 seconds to rise from the ground to the lounge floor. The lounge itself rotated once every 66 minutes. I could drink 3 Dewars and water per revolution.

It was important during such periods of libation to memorize where your table was when you left it to go to the restroom. When you returned, the table would be in a different location.

The last time I visited Pier 66 was in early 2005. The hotel was by now a Hyatt, and had been remodeled for probably the umpteenth time.

I met a friend for a drink and to enjoy the spectacular sunset as I had done dozens of times before. As the sun descended below the horizon, the lights of Port Everglades and downtown Fort Lauderdale were twinkling decorations on a golden backdrop of green palms and blue canals.

The following month I was in Fort Lauderdale and went into the hotel for my habitual trip to the Top Of The Pier. I learned that it had been closed to the public and to hotel guests. It is now only available for private parties.

Another chapter in Old Florida that is sadly closed. I think if one follows the money, there were probably too many tourists and sightseers using the lounge. Not enough of us 3 drink per revolution types to make it work economically.

The picture above is of the Pier 66 tower taken from the parking lot of the adjacent marina.