FORT PIERCE, FLORIDA
Fort Pierce, Florida Things To Do, Lodging, Dining, & Real Estate At End Of Article
Fort Pierce is located between Vero Beach and Stuart on Florida's east coast.
It straddles the Indian River Lagoon with neighborhoods on the mainland, lagoon, and the Atlantic Ocean barrier island beaches. 

Its official slogan is the "Sunrise City", sister city to the "Sunset City", San Francisco.

It's a creative stretch but shows that this small city of 46,437 has its heart in the right place.

HISTORY OF FORT PIERCE, FLORIDA
Fort Pierce, like many other Florida places, traces its name back to the Seminole Wars.
A fort was built at this location between 1838 and 1842 and named for Lieutenant Colonel Benjamin K. Pierce who commanded troops at the fort.
Pierce happened to be the brother of Franklin Pierce, who was the President of the United States from 1853 to 1857.
Settlers began to arrive in the area in the 1860s, and founded a small fishing village named Edgartown that had an oyster cannery.
The village was included in an incorporation that established the City of Fort Pierce in 1901.

Fishing and pineapple growing were the most important economic drivers in the early years of the city, and it also served the cattle ranches in the prairies west of the city.
In later years the area around Fort Pierce was planted with thousands of acres of citrus groves. 
There was a natural Atlantic Ocean inlet to the Indian River in those days, but it was shallow and meandering and continually silting in. 
Many times boats had to be pulled across the barrier island by men or mules.
The citizens of Fort Pierce got together and voted a bond issue to create a new improved inlet.  The manmade inlet opened for business in 1921.
Fort Pierce became an important citrus packing and shipping center with a railroad depot, and a good port with an inlet to the Atlantic Ocean.
During World War Two, Fort Pierce became an important military training base for amphibious warfare.  The area along the south side of the inlet was populated by Navy barracks.
The electric power plant for the area was in downtown Fort Pierce and the heated water from its cooling tower discharged into the Indian River.
This was a favorite spot for manatee watching during the winter months.
The downtown electric power plant was decommissioned in 2008.
---
FORT PIERCE, FLORIDA TODAY
---
Although the downtown power plant is now gone, the area has been revitalized through the creation of a historic district and enjoys many neat shops and restaurants.

The centerpiece of downtown is a newly renovated city marina with state of the art docks and breakwaters created from artificial islands.

This was recently completed as part of a waterfront restoration project that has converted downtown into a delightful waterfront recreation and leisure attraction.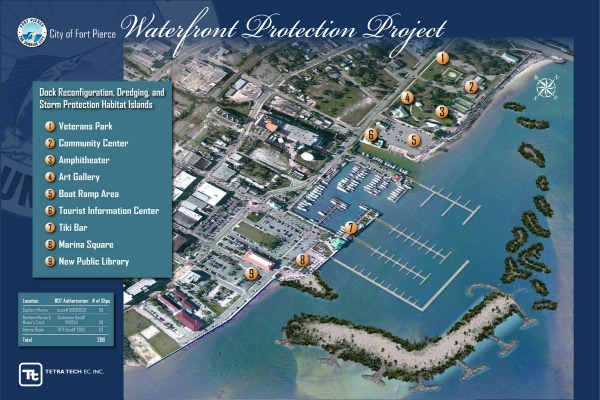 The open park area around the marina is called Marina Square and is home to a Farmer's Market that is held every Saturday from 8am until noon, rain or shine.
Fort Pierce is a town that has provided a lot of public spaces for its citizens and it has a very comfortable feel to it.

Two of many historic buildings that still grace the city are the Boston House and the P.P. Cobb General Store and Delicatessen.
The Boston House was built in 1909 and the Cobb store in 1896. Both are still serving the community.
The Boston House, also known as Cresthaven, is now a law office. It is on the U.S. National Register of Historic Places.
Cobb's is a retail operation and deli that features a huge selection of beers from around the world. It is a popular place also for a full breakfast and lunch.
The beach neighborhoods are newer than downtown. The old Navy barracks are long gone and many new condominiums and houses enjoy the ocean and lagoon views.
The entire county enjoys Fort Pierce Inlet and its cool waterfront restaurants and the beautiful Fort Pierce Inlet State Park on the north side of the inlet.
---
THINGS TO DO IN FORT PIERCE, FLORIDA
Navy SEAL Museum: 3300 N A1A, Fort Pierce, FL 34949 - A museum dedicated to the history and heroism of the Navy SEALs, featuring interactive exhibits, authentic SEAL equipment, and a memorial wall.
Heathcote Botanical Gardens: 210 Savannah Rd, Fort Pierce, FL 34982 - A tranquil garden oasis featuring 10 unique themed gardens, a Japanese tea house, and a butterfly garden.
Manatee Observation and Education Center: 480 N Indian River Dr, Fort Pierce, FL 34950 - A non-profit center focused on the protection and conservation of manatees, with educational exhibits, a touch tank, and observation deck.
Fort Pierce Inlet State Park: 905 Shorewinds Dr, Fort Pierce, FL 34949 - A scenic park offering beach access, fishing opportunities, and picnic areas with stunning views of the Fort Pierce Inlet.
St. Lucie County Aquarium: 420 Seaway Dr, Fort Pierce, FL 34949 - A small but informative aquarium featuring a touch tank, a variety of marine life exhibits, and educational programs.
Downtown Fort Pierce Farmers Market: Marina Square, Melody Lane & Avenue A, Fort Pierce, FL 34950 - A vibrant weekly farmers market showcasing fresh produce, baked goods, crafts, and live music.
A.E. Backus Museum & Gallery: 500 N Indian River Dr, Fort Pierce, FL 34950 - A museum honoring the work of renowned Florida Highwaymen artist A.E. Backus, featuring a large collection of his paintings and works by other Florida artists.
Sunrise Theatre: 117 S 2nd St, Fort Pierce, FL 34950 - A historic theatre offering a variety of live performances including concerts, plays, and comedy shows.
Pepper Park Beach: 3302 N A1A, Fort Pierce, FL 34949 - A quiet, secluded beach with crystal-clear waters, perfect for swimming, snorkeling, and sunbathing.
The Old Fort Park and Marina: 1 Avenue A, Fort Pierce, FL 34950 - A waterfront park with a marina, picnic areas, and playgrounds, offering stunning views of the Indian River Lagoon and the historic Fort Pierce Inlet Lighthouse.
---
ALL ABOUT FORT PIERCE, FLORIDA
---
FORT PIERCE, FLORIDA GOOGLE INTERACTIVE MAP
---
---
---

Our Facebook page has more than 128,577 followers who love off the beaten path Florida: towns, tourist attractions, maps, lodging, food, festivals, scenic road trips, day trips, history, culture, nostalgia, and more.  We post articles every day.  Please check it out and if you like it, we would appreciate a "like" from you.
---
By Mike Miller, Copyright 2009-2023
Florida-Back-Roads-Travel.com
Florida Back Roads Travel is not affiliated with or endorsed by Backroads, a California-based tour operator which arranges and conducts travel programs throughout the world.