FORT PIERCE, FLORIDA
We know many of you are limiting travel during these uncertain times.  Although we continue to feature trips and places to visit, we are not encouraging you to visit them until it is safe.  We want to support Florida's attractions and businesses during this situation, and hope you will plan to visit them when things get better.  In the meantime, enjoy them virtually from the comfort of your home. 

Fort Pierce is located between Vero Beach and Stuart on Florida's east coast. It straddles the Indian River Lagoon with neighborhoods on the mainland, on the lagoon, and on the Atlantic Ocean barrier island. 

Although I most recently visited Fort Pierce in early May 2018, I always have flashbacks to earlier times before the town changed so much. In many ways it has changed for the better.
It is now referred to as the "Sunrise City", sister city to the "Sunset City", San Francisco. It's a creative stretch but shows that this small city of 42,0000 has its heart in the right place.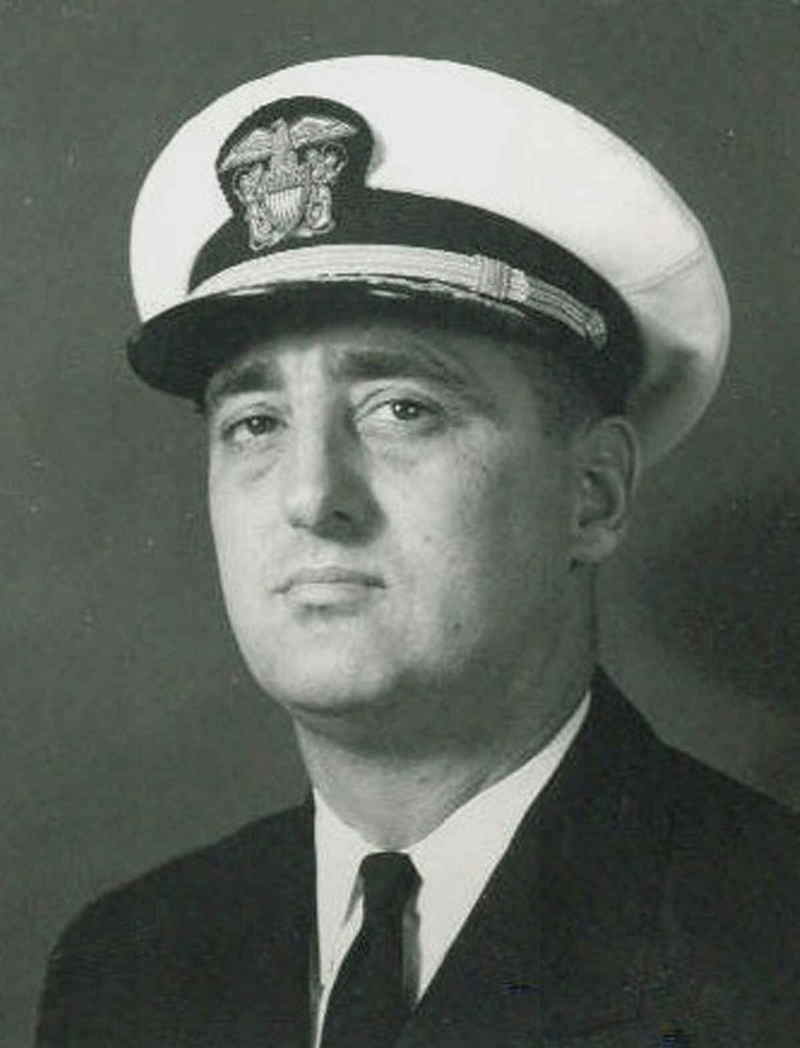 Captain Wyatt Harper
My first visit was in 1961 as a sailor on the Navy destroyer USS Myles C. Fox.
As I recall, the wife of our captain - Wyatt E. Harper -  was the daughter of the mayor of Fort Pierce and arranged to bring the ship into the port of Fort Pierce as part of a celebration.
We tied up right across from Simonsen's Restaurant.
It was a typical little Florida town back then with a lot of citrus packing plants and port warehouse facilities.
The town had been an amphibious training center for the Navy back in World War Two and the beach side neighborhoods still had numerous rows of old barracks that had been turned into motels and vacation rental cottages.
The downtown area was dominated by an old wooden building, Cobb's General Store, that still stands today.
I visited again in 1969 as a young engineer working on the foundation design for the new nuclear power plant on Hutchinson Island.
There was almost no development back then on the 18 mile long barrier island between Fort Pierce Inlet and St. Lucie Inlet at Stuart. The mosquitoes were so bad that nobody wanted to live on the ocean.
I stayed for several weeks in one of the motels converted from World War Two barracks. I think it was the Shamrock.
A great restaurant in those days was across the street from the Coast Guard station on the inlet.  I think its name was Tropical Acres, and Tony the bartender was a master at magic tricks.
Another favorite restaurant was Simonsen's on the other side of the Intracoastal Waterway at the foot of the bridge.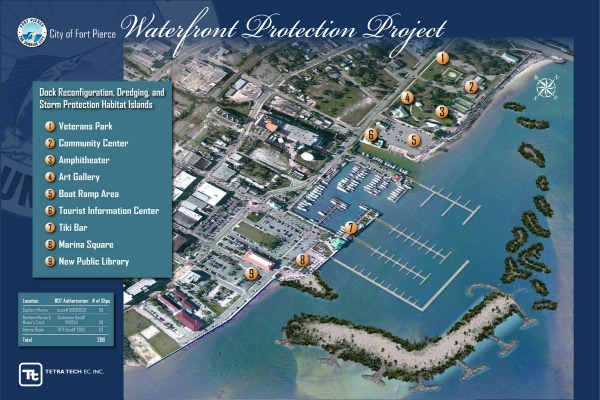 The electric power plant for the area was downtown and its heated water from its cooling tower discharged into the Indian River and was a favorite spot for manatee watching during the winter months.
That feature is now gone, but the downtown area has been revitalized through the creation of a historic district and enjoys many neat shops and restaurants.
The centerpiece of downtown is a newly renovated city marina with state of the art docks and breakwaters created from artificial islands.
This was recently completed as part of a waterfront restoration project that has converted downtown into a delightful waterfront recreation and leisure attraction.

The open park area around the marina is called Marina Square and is home to a Farmer's Market that is held every Saturday from 8am until noon, rain or shine.
Fort Pierce is a town that has provided a lot of public spaces for its citizens and it has a very comfortable feel to it.

Two of many historic buildings that still grace the city are the Boston House and the P.P. Cobb General Store and Delicatessen. The former was built in 1909 and the latter in 1896.
Both are still serving the community.
The Boston House, also known as Cresthaven, is now a law office. It is on the U.S. National Register of Historic Places.
Cobb's is a retail operation and deli that features a huge selection of beers from around the world. It is a popular place also for a full breakfast and lunch.
The beach neighborhoods are newer than downtown. The old Navy barracks are long gone and many new condominiums and houses enjoy the ocean and lagoon views.
The entire county enjoys Fort Pierce Inlet and its cool waterfront restaurants and the beautiful Fort Pierce Inlet State Park on the north side of the inlet.
---
SOME OTHER FORT PIERCE MEMORIES
MAMA SAGY'S PLEASANT VIEW INN
In 1968 I was working on the foundation exploration for the new nuclear power plant. It was being built on Hutchinson Island about halfway between Fort Pierce Inlet and Stuart Inlet.

I was living in Tampa at the time, so I spent Monday through Friday nights at a motel in Fort Pierce out near Fort Pierce Inlet. The motel had been the former barracks for a U.S.Navy Amphibious training operation during World War Two.

One of my Fort Pierce hangouts during those days was the Pleasant View Inn. It was an old mansion located on the west side of US-1 a few miles north of Fort Pierce. The old structure sat on a hill and had a view of the Indian River to the east. 

It was called the PVI by locals, and was a casual restaurant and nightclub where I could get a meal, a drink, and some conversation with great background music.

The house had a reputation as having been a bordello, or the former home of movie star Gloria Swanson, or an Al Capone hangout. All kinds of stories abounded, but all I remember is the interesting older woman who owned the place.

Her name was Mama Sagy and she had some great stories to tell. She had been a professional singer in her younger days, and had owned other nightclubs up north. Her husband was named Bert and he was also a professional musician who played the violin and other instruments.

Mama told me about knowing the Dorsey brothers, Tommy and Jimmy, who had led big time orchestras during the big band era of the 1930s and 1940s.

My work on the nuclear power plant ended and I've been back to Fort Pierce many times since those days in the 1960s. Somewhere along the way, the Pleasant View Inn disappeared. The last time I saw the mansion was when it was a antique store called Treasure Coast Antique Mall. 

I didn't have the heart to go in; I preferred to remember it the way it was.

I learned later that Mama Sagy's real name was Evangeline J. "Buddy" Sagy and she lived to be 101 years old, dying in Fort Pierce in 1999. That means she was in her early 70s when she was my conversational buddy. 

---
FRANCES LANGFORD'S OUTRIGGER RESORT
In 1969 I was working on the foundation investigation for the future St Lucie Nuclear Power Plant on Hutchinson Island. I stayed in nearby Fort Pierce for the duration of our work.

During the months I was there, I visited Frances Langford's Outrigger Resort in Jensen Beach many times for dinner. I got to know Frances and her husband, Ralph Evinrude. They were very nice people.

Frances had been a very famous person in the 1930s and even through the 1970s. She had been a successful singer in the 1930s and 1940s and also had a great career in movies. 

She was beloved by veterans of World War Two, the Korean War, and the Vietnam war for her many appearances in war zones with Bob Hope and other entertainers. She toured all over the world with the famous comedian even as recently as the Gulf War.

Even though she was famous and known all over the country, she never gave up her Florida roots.
She was born in Hernando, Florida in 1913 and raised in Mulberry, near Lakeland. She graduated from Lakeland High School and studied music at Florida Southern College. She became a star at an early age and was a regular singer on the Rudy Vallee radio show.

She also performed in Broadway musicals, and from 1946 to 1951 she starred with Don Ameche as the nagging wife, Blanche, on the popular radio show "The Bickersons".

She was married for 21 years to actor Jon Hall, who was most famous for his role as "Ramar of the Jungle". When her Hollywood film career ended, she married outboard motor tycooon Ralph Evinrude and they lived on her estate in Jensen Beach.

She always loved boating and fishing and Ralph was the right man for her at the right time. Their 110 foot yacht "Chanticleer" was kept in the marina at the Outrigger resort, and many motel and restaurant guests were invited to tour the yacht.

Frances died at her Jensen Beach home at age 92. She was cremated and her ashes scattered off the coast near Jensen Beach.

---
---
---
Our Facebook page has more than 97,447 followers who love off the beaten path Florida: towns, tourist attractions, maps, lodging, food, festivals, scenic road trips, day trips, history, culture, nostalgia, and more.
Take a look. If you enjoy what you see, please give us a like.
---
Subscribe to our Free Ezine, Florida Heritage Travel
20200304-29-148-GI33.7