Fort Pierce, Florida
Fort Pierce is located between Vero Beach and Stuart on Florida's east coast. It straddles the Indian River Lagoon with neighborhoods on the mainland, on the lagoon, and on the Atlantic Ocean barrier island.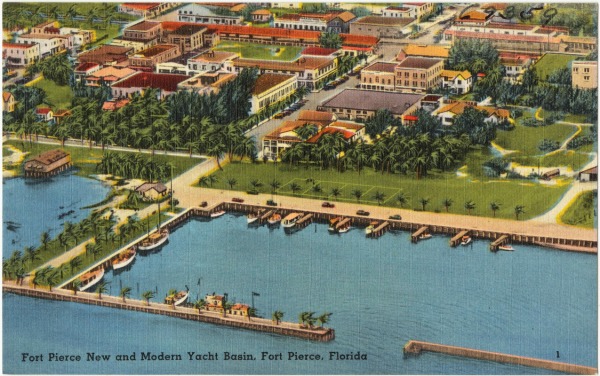 Although I most recently visited Fort Pierce in early May 2016, I always have flashbacks to earlier times before the town changed so much. In many ways it has changed for the better. It is now referred to as the "Sunrise City", sister city to the "Sunset City", San Francisco. It's a creative stretch but shows that this small city of 42,0000 has its heart in the right place.

My first visit was in 1961 as a sailor on the Navy destroyer USS Myles C. Fox. As I recall, the wife of our captain was the daughter of the mayor of Fort Pierce and arranged to bring the ship into the port of Fort Pierce as part of a celebration. It was a typical little Florida town back then with a lot of citrus packing plants and port warehouse facilities.
The town had been an amphibious training center for the Navy back in World War Two and the beachside neighborhoods still had numerous rows of old barracks that had been turned into motels and vacation rental cottages. The downtown area was dominated by an old wooden building, Cobb's General Store, that still stands today.
I visited again in 1969 as a young engineer working on the foundation design for the new nuclear power plant on Hutchinson Island. There was almost no development back then on the 18 mile long barrier island between Fort Pierce Inlet and St. Lucie Inlet at Stuart. The mosquitoes were so bad that nobody wanted to live on the ocean.
I stayed for several weeks in one of the motels converted from World War Two barracks. I think it was the Shamrock. A great restaurant in those days was Tropical Acres across the street from the Coast Guard station on the inlet.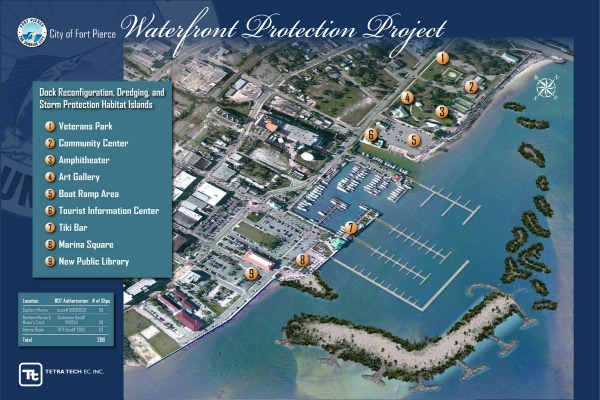 The electric power plant for the area was right downtown and its heated cooling tower water discharged into the Indian River and was a favorite spot for manatee watching during the winter months. That feature is now gone, but the downtown area has been revitalized through the creation of a historic district and enjoys many neat shops and restaurants.
The centerpiece of downtown is a newly renovated city marina with state of the art docks and breakwaters created from artificial islands. This was recently completed as part of a waterfront restoration project that has converted downtown into a delightful waterfront recreation and leisure attraction.

The open park area around the marina is called Marina Square and is home to a Farmer's Market that is held every Saturday from 8am until noon, rain or shine. Fort Pierce is a town that has provided a lot of public spaces for its citizens and it has a very comfortable feel to it.

Two of many historic buildings that still grace the city are the Boston House and the P.P. Cobb General Store and Delicatessen. The former was built in 1909 and the latter in 1896. Both are still serving the community. The Boston House, also known as Cresthaven, is now a law office. It is on the U.S. National Register of Historic Places. Cobb's is a retail operation and deli that features a huge selection of beers from around the world. It is a popular place also for a full breakfast and lunch.
The beach neighborhoods are newer than downtown. The old Navy barracks are long gone and many new condominiums and houses enjoy the ocean and lagoon views. The entire county enjoys Fort Pierce Inlet and its cool waterfront restaurants and the beautiful Fort Pierce Inlet State Park on the north side of the inlet.
HERE IS A BRIEF SLIDE SHOW OF GOOGLE STREET VIEWS IN FORT PIERCE
Recommended Restaurant
ORIGINAL TIKI BAR & RESTAURANT
2 Avenue A
Fort Pierce, FL 34950
772-461-0880
originaltikibar.com
The Original Tiki Bar was in business long before all of the modern waterfront improvements took place.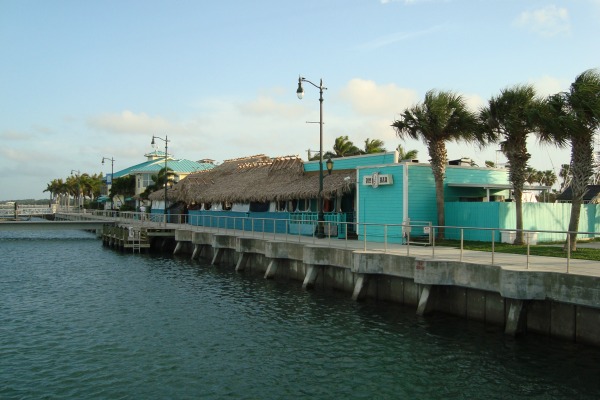 It started operating in 1990. I can't remember when I first went there but it was many years ago. It's just as good now as it was back then. You will recognize it by its authentic tiki style thatched roof.
There are two bars here, one at each end of the large dining room. Each bar serves beer, wine, martinis and anything else you might want including great Margaritas. 
The open air building is perched directly on the sidewalk in front of the renovated marina. Almost every seat has a great view of the boats that are berthed on both the east and west sides of the restaurant.
The open air is great, but if it rains or is windy they have plastic blinds that can be pulled down but still allow the view to come through. The bars usually have at least one patron quietly perched on a bar stool that could probably win a Papa Hemingway look-a-like contest if this were in Key West.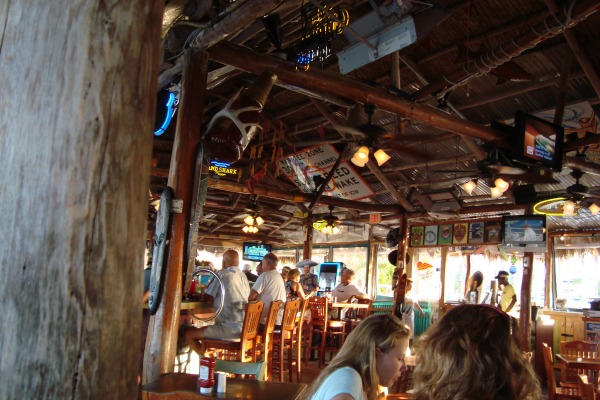 I usually focus on seafood selections because it just seems natural in a place like this. I might have a bowl of their Bahamian Conch Chowder and either the fish of the day or one of their fish taco specialties. These are made with the catch of the day or tuna and can be blackened or seared. You can also get them with chicken if you don't like chicken of the sea.
They have the full range of other expected offerings like shrimp, crab cakes, New England clam chowder, seared Ahi and many other tasty entrees and appetizers. The landlubber is not ignored, either, with southern fried chicken, burgers, Cuban sandwiches and a wide selection of salads.
The Original Tiki Bar is open every day from 1100am to 10pm, and Happy Hour is daily from 400pm to 700pm.
---
---
---
DID YOU FIND WHAT YOU WERE LOOKING FOR IN THIS ARTICLE?
  IF NOT, SEARCH THIS WEBSITE AND THE INTERNET USING THE BOX BELOW
---
Return to Florida Backroads Travel Home