STUART, FLORIDA
Stuart, Florida Things To Do, Lodging, Dining, & Real Estate At End Of Article
Stuart is an attractive and bustling town of about 16,000 people located on what in recent years has been designated as the "Treasure Coast". 
It is located on the east coast of Florida about halfway between north Palm Beach and Vero Beach.

Stuart Sailfish Fountain
Flickr/Mitch Kloorfain
HISTORY OF STUART,  FLORIDA
Native American tribes occupied the area for thousands of years before the first pioneer settlers arrived.

In the 1700s many Spanish galleons were lost in storms off the coast of this area, and millions of dollars in gold and silver went down with the ships.
In 1875 a United States Lifesaving Station, Gilbert's Bar House of Refuge, was established on Hutchinson Island, the barrier island across the Indian River from Stuart.
The name referred to a shallow sandbar in the Atlantic ocean where many ships ran aground during storms.  It was reportedly named for an early pirate named Pedro Gilbert.
Gilbert lured ships into the the bar, and when they ran aground he looted the ship and in one case attempted to kill the crew.  He was eventually captured and executed in 1835.
As more settlers moved in, the community became known as Potsdam after the German home town of an early settler.
The Florida East Coast Railway came to town in 1892, and the town was renamed Stuart in 1895.
According to Allen Morris's "Florida Place Names," the name was chosen to honor Samuel C. Stuart, the first telegraph operator and railroad station agent. 
Treasure has been discovered on the beaches near Stuart over the years since the Spanish ships sank, and people are still having fun looking for more.

Modern treasure for Stuart and Martin County comes from the many new upscale waterfront and golf course developments.
The town has a wonderful location where Hobe Sound and the Indian River Lagoon come together at St. Lucie Inlet and the Atlantic Ocean.
The town is surrounded by water: the St. Lucie River has a north fork and south fork.
Manatee Pocket is a natural hurricane harbor located just south of St. Lucie Inlet with the small fishing village of Port Salerno.
Sewell's Point is an elegant older Stuart neighborhood with the Indian River Lagoon on its east and the St. Lucie River to its west.

As one drives around Stuart, it is hard not to be near beautiful water. This abundance of waterfront has made Stuart a marine service center.
There are several first class marinas and boatyards in the area, and a charter fishing fleet that specializes in taking sport fishing enthusiasts out to battle and catch sailfish in the ocean.
The beautiful beaches of the Atlantic Ocean on Hutchinson Island are accessible from the causeway at nearby Jensen Beach.

The original House of Refuge has been preserved and is on the National Register of Historic Places. It is also listed now and then as one of the most haunted places in Florida.
It is open to the public and is home to an interesting museum. 

Manatee Pocket is well known by boaters as a natural "hurricane hole", as good a place to take shelter in a bad storm as any harbor along the east coast of Florida.
The shoreline of Manatee Pocket is busy with fishing related enterprises like charter boats, commercial fishing boats, marinas, boatyards, and seafood restaurants.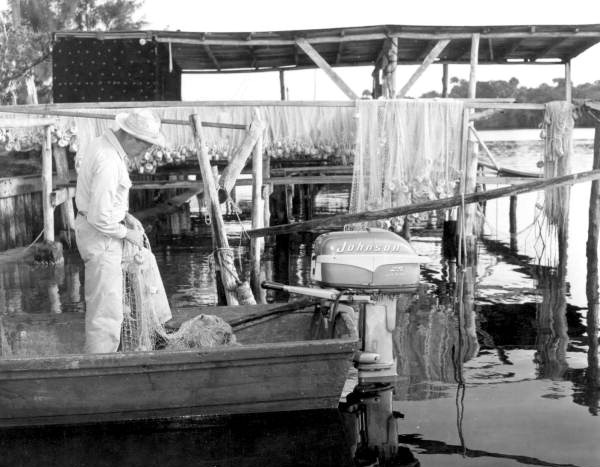 Port Salerno Mullet Fisherman
State Archives of Florida
Manatee Pocket is the location of the old working waterfront town of Port Salerno.
---
ALL ABOUT ABOUT STUART, FLORIDA
---
STUART FLORIDA INTERACTIVE GOOGLE MAP
---
---
---

Our Facebook page has more than 125,890 followers who love off the beaten path Florida: towns, tourist attractions, maps, lodging, food, festivals, scenic road trips, day trips, history, culture, nostalgia, and more.  We post articles every day.  Please check it out and if you like it, we would appreciate a "like" from you.
---
By Mike Miller, Copyright 2009-2023
Florida-Back-Roads-Travel.com
Florida Back Roads Travel is not affiliated with or endorsed by Backroads, a California-based tour operator which arranges and conducts travel programs throughout the world.