FREDERICK DELIUS
By  Mike Miller March 21, 2023

Some 40 miles south of Jacksonville along SR-13 on the St Johns River there was a plaque for many years marking the location of Solano Grove, the home of composer Frederick Delius.
The home itself is no longer there but can still be visited on the campus of Jacksonville University where it was moved many years ago. Delius lived in the house from 1884 to 1885.
Frederick Delius (1862-1934) was an English composer whose music is characterized by its lush harmonies and evocative melodies.
He left a lasting impact on the classical music world.
His stay in Florida played a significant role in shaping his unique sound, incorporating influences from local musicians and styles. 
Born in Bradford, England, on January 29, 1862, Frederick Delius was the son of German immigrants.
He grew up in a musical family and showed an early interest in music, but his father wanted him to pursue a career in business.
In 1884, Delius's father sent him to Florida to manage an orange grove on the St. Johns River south of Jacksonville. He proved to have no knack for business, especially managing an orange grove.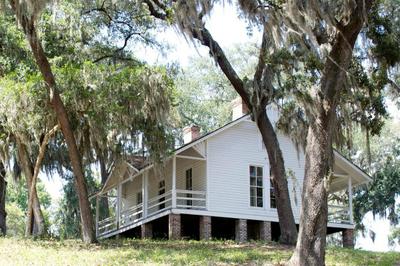 Delius House at Jacksonville University
Mrs. Martha Bullard Richmond discovered the old crumbling Delius house in 1943 and gave it to Jacksonville University.It was moved to the campus from Solano Grove in 1961.
It was during this period in Florida that he was exposed to the rich African-American musical traditions which would profoundly influence his later compositions.

While in Florida, Delius studied with Thomas Ward, a local organist and music teacher, further developing his skills as a composer. Ward recognized Delius as a musical genius.
It was also during this time that he came into contact with African-American musicians and their work songs, spirituals, and folk melodies.
This exposure to a variety of new musical styles and traditions contributed to the development of Delius's distinct musical voice, which blended European classical music with elements of American folk and African-American musical traditions.
In 1886, Delius left Florida and moved to Leipzig, Germany, where he attended the prestigious Leipzig Conservatory. He honed his skills as a composer, studying with notable musicians such as Carl Reinecke and Salomon Jadassohn.
After leaving Leipzig, Delius settled in Paris, where he would spend most of his adult life. He became friends with other composers, including Edvard Grieg, who encouraged him to develop his unique compositional style.

Delius's music gained recognition in the early 20th century, with the help of notable musicians such as conductor Sir Thomas Beecham, who championed his works.
Delius's compositions comprise various musical forms, including operas, choral works, orchestral pieces, and chamber music.
His style is characterized by its rich harmonic language, influenced by the likes of Richard Wagner and Claude Debussy, and its incorporation of folk and spiritual melodies from his time in Florida.
Some of Frederick Delius's most celebrated works include:
Florida Suite (1887): Written in Leipzig and played to a small audience of fellow composers and musicians.  It later became the inspiration for the musical score of the movie "The Yearling", based on the novel by Marjorie Kinnan Rawlings.
Appalachia (1902): A set of variations on an old slave song, this orchestral work reflects the influence of African-American music and the memories of his time in Florida.

Sea Drift (1903): A choral work for baritone, chorus, and orchestra, based on a poem by American poet Walt Whitman, which showcases Delius's love for literature and his ability to create evocative soundscapes.

Brigg Fair (1907): An English Rhapsody for orchestra based on a traditional folk song, demonstrating Delius's ability to incorporate folk melodies into his compositions.

A Village Romeo and Juliet (1907): A lyrical drama based on a Swiss novella, it is considered one of Delius's most successful operas.

On Hearing the First Cuckoo in Spring (1912): A popular orchestral work that showcases Delius's gift for creating lush and evocative musical landscapes.
---

Our Facebook page has more than 128,577 followers who love off the beaten path Florida: towns, tourist attractions, maps, lodging, food, festivals, scenic road trips, day trips, history, culture, nostalgia, and more.  We post articles every day.  Please check it out and if you like it, we would appreciate a "like" from you.
---
By Mike Miller, Copyright 2009-2023
Florida-Back-Roads-Travel.com
Florida Back Roads Travel is not affiliated with or endorsed by Backroads, a California-based tour operator which arranges and conducts travel programs throughout the world.