THE GALLOPING GHOST OF INDIAN LAKE ESTATES, FLORIDA
Florida has been one of the fastest growing states in the USA for many years.  It's forests, prairies, and wetlands are home to many sprawling communities that began as mail order lot sales programs.
Some of those sales programs were unsuccessful, and one that comes to mind is Indian Lake Estates.
In 1955 a developer bought a 12 square mile tract of land in the wilderness between Lake Wales and  on State Road 60, paying about $35 per acre.
He planned an exclusive community of 15,000 residents with a golf course, country club, and marina on Lake Walk-In-Water (also known as Lake Weohyakapka.  He spent millions digging canals, 200 miles of roads, a golf course, several model homes and a sales center.
The project didn't work, and went bankrupt in the 1960s.  Today less than 1,000 people live there and most of the 8,000 lots are still vacant. Most residents live on the golf course. 
The most famous of those residents was Red Grange who lived there from 1959 until his death at age 87 in 1991.
Harold "Red" Grange was at one time America's most famous athlete.  He dominated college football while playing at the University of Illinois in the 1920s.  
His nickname was "The Galloping Ghost", and he was on the same level of stardom as Babe Ruth and Jim Thorpe.
Sports historians acknowledge him as the reason professional football became popular.  He joined the Chicago Bears after college and game attendance immediately skyrocketed.
One of his most famous college games was when his team, Illinois, played Michigan in 1924.  My father first told me about this game, and it was the beginning of Red becoming a national legend.

The Michigan Wolverines were heavy favorites in the game and had won the national football title the previous year.  
Red Grange returned the opening kickoff 95 yards for a touchdown.  In the next 12 minutes of the game he scored three more touchdowns on runs of 67, 56, and 44 yards.  He scored a fifth touchdown in the second half on an 11 yard run, and threw a touchdown pass.
Damon Runyon once wrote of him,

          "He is three or four men rolled into one.
           He is Jack Dempsey, Babe Ruth, Al Jolson,
           Paavo Nurmi and Man o' War." 

This game inspired the famous sportswriter Grantland Rice to write this poem:

          A streak of fire, a breath of flame
          Eluding all who reach and clutch;
          A gray ghost thrown into the game
          That rival hands may never touch;
          A rubber bounding, blasting soul
          Whose destination is the goal
          Red Grange of Illinois!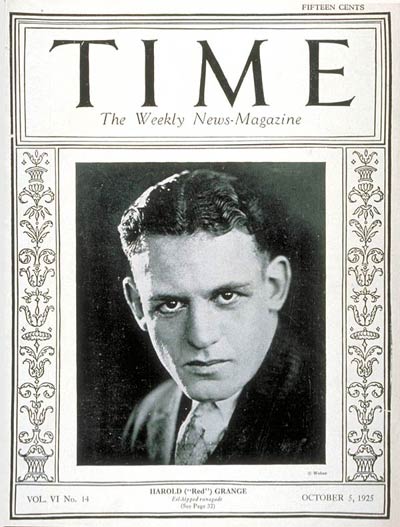 I was a member of an Optimist Club in Orlando in the early 1970s and met Red Grange at one of our meetings.  He was the guest speaker.  I was excited to meet one of the most famous athletes in history.
He was one of the most down to earth and friendly super stars I ever met.  I was surprised to learn he lived in Indian Lake Estates. He was rich and famous enough he could live anywhere he wanted.
After his speech, we talked and I told him he was my dad's hero.  
"My dad also played football", I said.  "He is in the Franklin College Athletic Hall of Fame in Indiana."
He said he had heard of Franklin and that they had some good football teams for a small school.
I asked him why he chose to live in Indian Lake Estates.  He told me that he loved to play golf.  The developer had given him a deal on a golf course home in exchange for doing some promotion work.  He had moved there in 1959.
"I love the solitude of the place", he said.  "Only about 150 people live there and it's in the middle of nowhere.  You can't believe how many stars you can see at night in the skies."
He invited me to come visit him, and I did so a few months later during a road trip I was making from Tampa to Vero Beach. 
I expected to see a mansion, but his house was a typical concrete block ranch home on a quiet street along the golf course.
He introduced me to his wife Muggs, who told me her real name was Margaret.   He was a gracious host and we sipped coffee on his lanai overlooking the golf course.
I asked him if Grantland Rice had given him the nickname of "The Galloping Ghost". 
"A lot of people think so," he said.  "But it was dreamed up by a Chicago sports writer named Warren Brown."
Even today when I drive by Indian Lake Estates, I think of how different Red Grange was than many of today's super stars. 
No mega million dollar mansions for The Galloping Ghost, just peace and quiet in the middle of nowhere.
---
---
---

Our Facebook page has more than 129,275 followers who love off the beaten path Florida: towns, tourist attractions, maps, lodging, food, festivals, scenic road trips, day trips, history, culture, nostalgia, and more.  We post articles every day.  Please check it out and if you like it, we would appreciate a "like" from you.
---
By Mike Miller, Copyright 2009-2023
Florida-Back-Roads-Travel.com
Florida Back Roads Travel is not affiliated with or endorsed by Backroads, a California-based tour operator which arranges and conducts travel programs throughout the world.