GREENVILLE, FLORIDA
Greenville, Florida Things To Do, Lodging, Dining, & Real Estate At End Of Article
Greenville, Florida is 44 miles east of Tallahassee on US-90 and Interstate 10. It has a population of about 793 and is 14 miles west of Madison.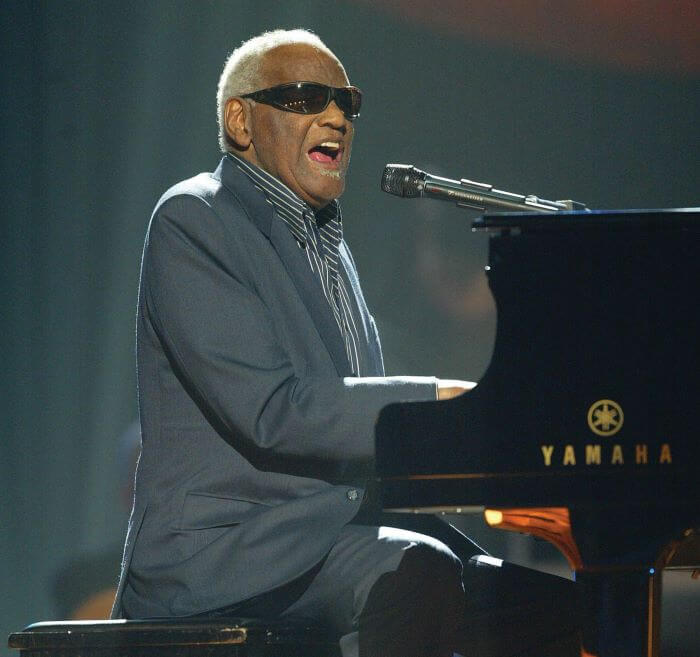 Ray Charles
The iconic musician Ray Charles spent some of his boyhood years in Greenville.
GREENVILLE, FLORIDA HISTORY
Sandy Ford was the name given the community first established here in 1850. 
The name was changed to Station Five during the Civil War.  This was in reference to its location as the fifth station east of the state capital, Tallahassee, on the Pensacola and Georgia Railroad.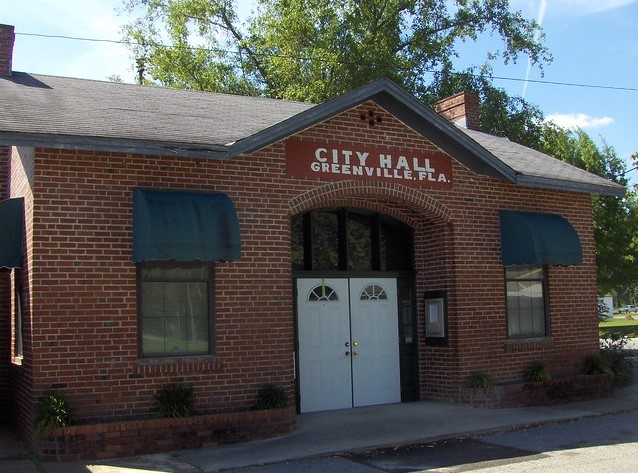 Greenville City Hall
The railroad reached Station Five in 1858, a few years before the Civil War, and continued east to Lake City.

During the Civil War the women of this community formed a sewing society and sewed uniforms and other cloth supplies for Confederate Soldiers. 
The first box of supplies mailed to the Confederate capital of Richmond was marked as coming from Station Five.  
The quartermaster of the Confederate Army wrote the women and said the packages in the future would have to be given in the name of a town.
The women decided to name the town Greenville in honor of the hometown in South Carolina of the sewing society president, Mrs. U. M. Roberts.
The Town of Greenville was incorporated in 1907.
Greenville is a typical small Florida country town with one big difference:  it honors the memory of one of its own, the great Ray Charles.
Ray Charles Robinson was born in 1930 in Albany, Georgia. His mother, Aretha, was only 15 years old when he was born.
After Ray's birth, she left Georgia with her son to be with her family in Greenville.  Charles was deeply devoted to his mother.
There was a restaurant in Greenville when Ray was a child known as Wylie Pitman's Red Wing Cafe.  When Ray was three years old he heard Pitman playing boogie woogie on a piano and loved the music.
Wylie Pitman taught Ray how to play the piano, and he and his mother spent a lot of time at the cafe.
Ray began losing his sight when he was four or five years old, and by the age of seven he was completely blind.  His mother searched for a school that would accept a blind black student.
The school that accepted him was the Florida School for the Deaf and Blind in St. Augustine.  Ray attended the school from 1937 to 1945.
While at the school he learned how to play classical piano including the music of Mozart, Bach, and Beethoven.
A bronze statue of Ray Charles is displayed in Greenville's Haffye Hayes Park.  The statue was carved and donated by local residents Bradley Cooley and Brad Cooper Jr.
The restored boyhood home of Ray Charles has been converted into a museum honoring the famous musician who won 17 Grammy awards and a star on the Hollywood Walk of Fame.
Grace Manor Bed and Breakfast
The Grace Manor Bed and Breakfast is located in the historic Bishop-Andrews Hotel, a charming Queen Anne Victorian building that is the centerpiece of downtown Greenville.
The inn has several nicely furnished rooms and suites as well as a fully furnished two bedroom guest cottage.
Learn more at Grace Manor Inn.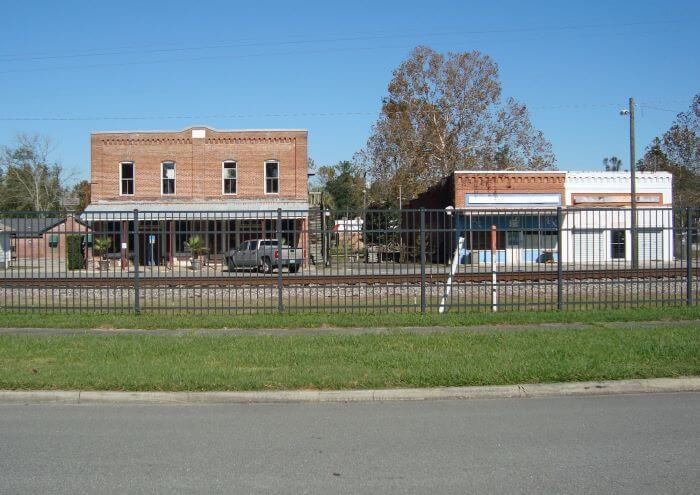 Downtown Greenville by the Railroad Tracks
Greenville has an assortment of businesses typical of a small North Florida town of less than a thousand people.
The main road through town is US-90 that stretches across the entire state of Florida.  There is a Dollar General store on this highway, two or three gas stations with convenience stores, and two churches.
A well regarded local restaurant, Charlie's Kitchen, is also located on the main highway.
---
 ALL ABOUT GREENVILLE, FLORIDA
---
GREENVILLE, FLORIDA INTERACTIVE GOOGLE MAP
---
---
---

Our Facebook page has more than 128,577 followers who love off the beaten path Florida: towns, tourist attractions, maps, lodging, food, festivals, scenic road trips, day trips, history, culture, nostalgia, and more.  We post articles every day.  Please check it out and if you like it, we would appreciate a "like" from you.
---
By Mike Miller, Copyright 2009-2023
Florida-Back-Roads-Travel.com
Florida Back Roads Travel is not affiliated with or endorsed by Backroads, a California-based tour operator which arranges and conducts travel programs throughout the world.