MADISON, FLORIDA
Madison, Florida Things To Do, Lodging, Dining, & Real Estate At End Of Article
Madison, Florida is a small city of 2,800 people in North Central Florida about 55 miles east of Tallahassee and 112 miles west of Jacksonville.
It is located on US-90, the historic East-West main highway in North Florida, and is just north of I-10 not far south of the Georgia state line.

HISTORY OF MADISON, FLORIDA
The land that became the town of Madison was originally owned by Madison C. Livingston.  
Even though Mr. Livingston was the first major landowner, most historical sources say that Madison County and the town of Madison were both named for former President James Madison.
Madison was founded by cotton planters in 1838 at a time when cotton was king in the old south. 
This northern region of Florida was part of the old south plantation region and still has many southern cultural traditions. 
In the days before and during the Civil War, Madison raised long staple cotton and had the biggest long staple cotton gin. 
Madison was a boom town in those days.  Madison County plantations had a population of more than 4,000 slaves during the years before the Civil War. 
The African American slaves were critical to the prosperity of the community both before and after the Emancipation Proclamation.
Even after the Civil War, Madison produced a lot of cotton.  Things were great for the planters until the boll weevil arrived in 1916 and wiped out the entire cotton industry. 
Madison is a regional agricultural center, and was named by Visit Florida as one of the "Best Little Towns In Florida".
In 1996, the citizens of Madison raised money to build a stone memorial to the slaves who had labored on the plantations.
The memorial is located in Four Freedoms Park in downtown Madison.

The memories of the old days of Madison can be seen in a park on the south side of town near the railroad station. 
The oldest house in town was built in 1849 and is still occupied.

St. Mary's Episcopal Church is a historic Carpenter Gothic Episcopal church located at 108 Northwest Horry Street in Madison. 
It is on the U.S. National Register of Historic Places, and was completed in 1881.

The Wardlaw-Smith-Goza house in Madison is a large mansion built just before the American Civil War. 
It served as a hospital for wounded Confederate soldiers. It is also known as the Smith Mansion.
Four Freedoms Park in downtown Madison has a monument dedicated to Colin Kelley, Jr., a Madison County native, who is recognized as the first American hero of World War Two.  
He was killed fighting the Japanese a few days after Pearl Harbor and was awarded the Distinguished Service Cross for his skill and bravery in aerial combat.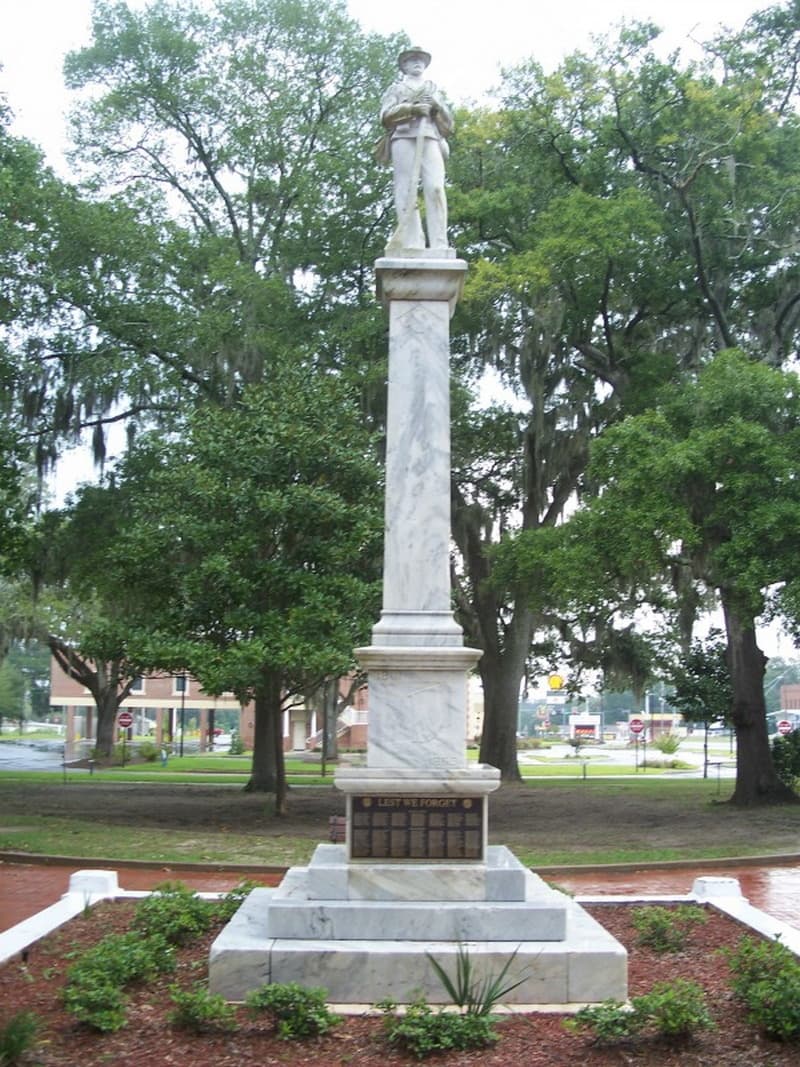 Madison County Confederate Memorial
The Civil War veterans of Madison County were remembered for many years by the Confederate Memorial located in Four Freedoms Park.
When I visited Madison in early 2022, local people told me the monument was going to be taken down in the near future.
Downtown Madison is a busy little place with many gift shops, antique stores and restaurants. 
The small town is the seat of government of Madison County, and is the home of North Florida Community College and has an out-campus for St. Leo University.
The downtown area has numerous classic homes and buildings more than 100 years old. 
Four Freedoms Park is beautifully landscaped and home to monuments to heroes of various wars in our nation's history.
---
Madison, Florida Recommended Restaurant
O'NEAL'S COUNTRY BUFFET
558 W. Base Street
Madison, Florida 32340
Tel: 850-973-6400 

O'Neal's Country Buffet is on US-90 on the western edge of downtown Madison, Florida.  It's about 3.5 miles from busy Interstate Highway 10. 
These highways are the main thoroughfares between Jacksonville and Tallahassee.
The building is not fancy, but that's the way a good restaurant with Southern cooking should be.
The restaurant features a country buffet with many favorite Southern favorites.  They serve smoked chicken, for example, smoked on their own property. 
It's an "all you can eat" venture, so it's best to come in hungry and leave well filled.
Fried chicken, fried catfish, green beans. butterbeans, are among the daily vegetables, always fresh. 
On some nights they have seafood offerings like large shrimp prepared various ways.  The menu changes daily.
The salad bar is fresh, and there is a large variety of vegetables.  Your glass if kept full of ice water or ice tea (sweet tea, please), and the servers come by frequently.
Desserts include peach or blueberry cobbler, banana pudding, ice cream.
O'Neal's is open 7 days a week.
Monday, Tuesday, Wednesday, and Thursday their hours are 10:30 am to 2:30 pm.
Friday hours are 10:30 am to 9:00 pm.
Saturday hours are 4:00 pm to 9:00 pm.
Sunday hours are 10:30 am to 3:00 pm.
---
THINGS TO DO IN MADISON FLORIDA
Four Freedoms Trail: Enjoy a peaceful stroll or bike ride through Madison's historic Four Freedoms Trail, which honors President Franklin D. Roosevelt's famous "Four Freedoms" speech. The paved trail stretches for 12 miles, winding through picturesque landscapes and offering plenty of spots to rest and take in the natural beauty.
Madison Blue Spring State Park - 8300 NE State Road 6, Lee, FL 32059, (850) 971-5003 - Take a dip in the crystal-clear waters of Madison Blue Spring, which maintains a constant temperature of 72 degrees year-round. The park also features hiking trails, picnic areas, and opportunities for kayaking and snorkeling.
Wardlaw-Smith-Goza Conference Center - 1100 2nd Ave, Madison, FL 32340, (850) 973-9432 - Learn about Madison's rich history at the Wardlaw-Smith-Goza Conference Center, which hosts exhibits and events that showcase the town's cultural heritage. The center also offers meeting and conference spaces for events of all kinds.
Treasures of Madison County - 195 SW Range Ave, Madison, FL 32340, (850) 973-2277 - Shop for unique gifts and souvenirs at Treasures of Madison County, a boutique that specializes in locally made arts and crafts. From pottery and jewelry to clothing and home decor, you'll find a wide variety of one-of-a-kind items.
Lanier Field - 1161 SW Pinckney St, Madison, FL 32340, (850) 973-5070 - Catch a football game or other sporting event at Lanier Field, the home of the Madison County High School Cowboys. The stadium boasts a seating capacity of 5,000 and has hosted numerous championship games over the years.
Madison County Courthouse - 125 SW Range Ave, Madison, FL 32340, (850) 973-1500 - Marvel at the beautiful architecture of the Madison County Courthouse, a historic building that dates back to 1913. The courthouse features a classic Greek Revival style and is listed on the National Register of Historic Places.
Yogi Bear's Jellystone Park - 1051 SW Old St Augustine Rd, Madison, FL 32340, (850) 973-8269 - Also known as Ragans Family Campground, bring the whole family for a fun-filled camping adventure at Yogi Bear's Jellystone Park. The park features cabins, RV sites, and tent camping areas, as well as a swimming pool, playground, mini-golf course, and other amenities.
---
 ALL ABOUT MADISON, FLORIDA
---
MADISON, FLORIDA INTERACTIVE MAP
---
---
---

Our Facebook page has more than 128,577 followers who love off the beaten path Florida: towns, tourist attractions, maps, lodging, food, festivals, scenic road trips, day trips, history, culture, nostalgia, and more.  We post articles every day.  Please check it out and if you like it, we would appreciate a "like" from you.
---
By Mike Miller, Copyright 2009-2023
Florida-Back-Roads-Travel.com
Florida Back Roads Travel is not affiliated with or endorsed by Backroads, a California-based tour operator which arranges and conducts travel programs throughout the world.