28 HAUNTED PLACES IN FLORIDA
By  Mike Miller June 25, 2023

Why do certain places creep out some people?  Why do they get feelings of confusion and fear?
Quite often it is because they have heard from other people who swear they have seen ghosts, felt spirits, or heard noises such as footsteps and voices when nobody was supposedly around.
Cemetery and Moon on a Foggy Night
Mike Miller with OpenAI
Just the knowledge that somebody you trust passes these things on to you gets you halfway to believing.  Then if you experience anything unusual yourself, you become a believer.
We can't vouch for the actual hauntedness of the following places, but plenty of people have believed it over the years. 
Give some of these a visit and see what you think.
28 HAUNTED PLACES IN FLORIDA
---
ST. AUGUSTINE LIGHTHOUSE
100 Red Cox Drive
St. Augustine, FL 32080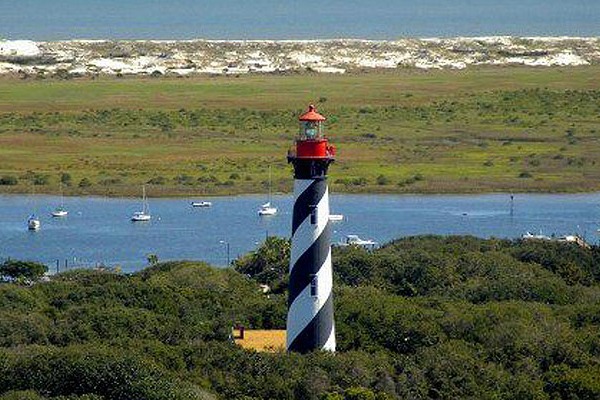 The 165-foot-tall St. Augustine Lighthouse, which was built in 1874 and has 219 spiral steps to the top, is one of the city's most fabled haunted locations.

Two teenage children of a lighthouse worker are said to have drowned in the nearby bay in the late 1800s, and some visitors to the haunted lighthouse have heard a young girl and other children laughing.
Others have heard footsteps and eerie voices, smelled cigar smoke, seen a shadowy figure at the top of the lighthouse, and/or encountered the rumored "Man in Blue" in the lighthouse's basement.
Even the now-defunct paranormal reality TV program Ghost Hunters included the St. Augustine Lighthouse on multiple occasions.
The St. Augustine Lighthouse was also included in Country Living magazine's list of "25 of the Most Haunted Places in America That Horror Fans Need to Visit." 
---
THE OLD JAIL
167 San Marco Avenue
St. Augustine, FL 32084
Old Jail in St. Augustine
Wikimedia Commons, Ebyabe
Henry Flagler financed the construction of this famous structure in St. Augustine in 1891, and it is on the National Register of Historic Places.
For more than 60 years, this ancient jail serviced the city and could house up to 72 inmates at once.

Many people think that even though the jail no longer houses inmates, it is still a prison for wounded souls who are caught between the realms of life and death.
When you visit this place you will see a collection of actual crime-related weaponry,  death row and high security cells, and hear tales of jail hangings.
---
VILLA PAULA
5811 N. Miami Ave
Miami, FL 33127
Villa Paula, Miami
villapaulamiami.com
Midway through the 1920s, this imposing white mansion was built as the Cuban consulate and was the residence of Consul Domingo Milord and his wife, Paula.

Paula was known to spend her days relaxing with a book and a cup of Cuban coffee until she passed away in 1932 as a result of post leg amputation complications.
According to legend, Domingo buried his late wife in a sarcophagus that was placed in the garden. The sarcophagus is still there, but is now almost inaccessible due to ficus tree roots covering it.
It is uncertain if it actually holds her mortal remains, but rumors of her ghost still circulate.
Visitors to Villa Paula since its consulate days have had existential experiences of many kinds. Among them are phantom piano music, coffee odors, and a woman with one leg wandering around.
---
STRANAHAN HOUSE
335 SE 6th Ave
Fort Lauderdale, FL 33301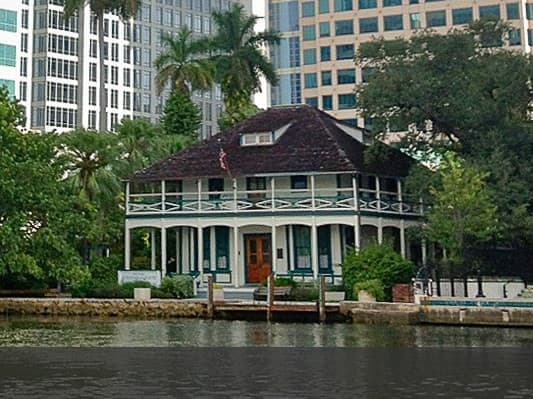 Stranahan House on New River, Fort Lauderdale
Unsurprisingly, Ft. Lauderdale's oldest mansion is also its spookiest.  Tour guides there forewarn visitors that a certain Frank Stranahan might just photobomb their selfies.

Mr. Stranahan left this world by tying a weight around his waist and jumping in the New River back in 1929.  He had been suffering from poor health.
The original occupants of the mansion are rumored to still be in charge and frequently appear in visitors' photos.
Frank Stranahan's wife, Ivy, is said to lead guests up the stairs by placing a hand on their shoulder while her aroma is said to linger in the air. 
---
CASA MONICA RESORT AND SPA
95 Cordova St.
St. Augustine, FL 32084
Casa Monica Hotel
The most haunted hotel in St. Augustine is also one of its most luxurious. There is a lot of phantom activity reported at this five-star, Mediterranean revival treasure.

Although nobody is present, you can hear kids running along the fourth floor of this historic hotel. There is no one there when the radio abruptly starts playing in the Ponce de Leon Suite.
When the guests of a certain room awaken feeling they are being stared at they find nobody around them.
The spookiest place in the tower is the three-story Flagler Suite.
The first floor bathroom mirror has a child's handprint on it.  Once a maid knocked and she heard a man reply, "We've been expecting you," from a vacant bedroom.
The scariest of all, however, is the male ghost who is staring out of the top tower window.
He is thought to be the ghost of either Henry Flagler, who bought the hotel, or Franklin Smith, the architect who designed it.
---
THE BLUE ANCHOR PUB
804 E. Atlantic Ave
Delray Beach, FL 33483
Blue Anchor Pub
Courtesy Blue Anchor Pub
Given that this bar was constructed in 1840s London, the heyday of Jack the Ripper, it's hardly shocking that it's haunted.

The tavern reportedly burned down in London, but in 1996, its wooden interior and New York City facade were shipped to this resort town in South Florida.
Nobody realized that Bertha Starkey, an unfaithful woman who was killed by her husband, was a part of the pub's original story.
She still makes noises at The Blue Anchor at odd hours, rattling pots, knocking things over, and screaming.
Bertha likes to remind everyone that she is still here every night at around 10 o'clock (the hour she was slain), so the current owners sound the "ship's bell" to frighten her away.
---
BELLAMY BRIDGE
4057 Bellamy Bridge Heritage Trail
Marianna, FL 32446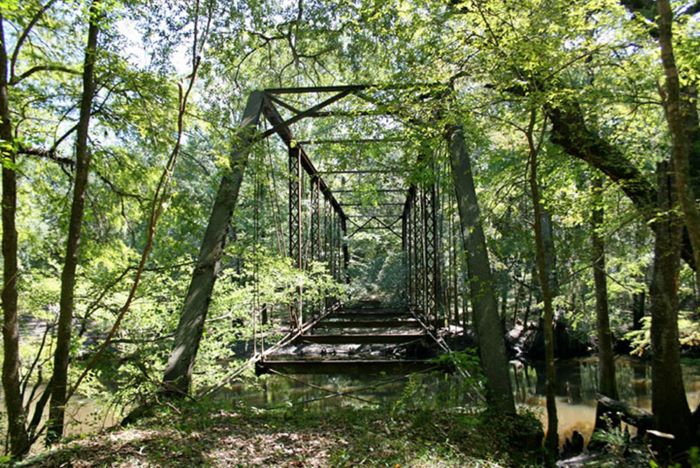 Bellamy Bridge
Bellamy Bridge Heritage Trail
One of Florida's oldest bridges is the Bellamy Bridge. The bridge was constructed in 1914 and is situated along the Bellamy Bridge Heritage Trail in Jackson County.

It is reputed to be haunted and the setting of one of Florida's most well-known ghost tales.
According to legend, Elizabeth Jane Bellamy, who passed away in 1837, haunts the bridge and the nearby marsh in an effort to locate her husband, who was interred 15 years later and miles away.
But be sure to visit the Bellamy Bridge in Marianna if you happen to be there because Elizabeth's spirit has allegedly been seen there.
The Bellamy Bridge Heritage Trail is accessible every day for no charge. Visit Jackson County's website to learn more.
---
KEY WEST CEMETERY
701 Passover Lane
Key West, FL 33040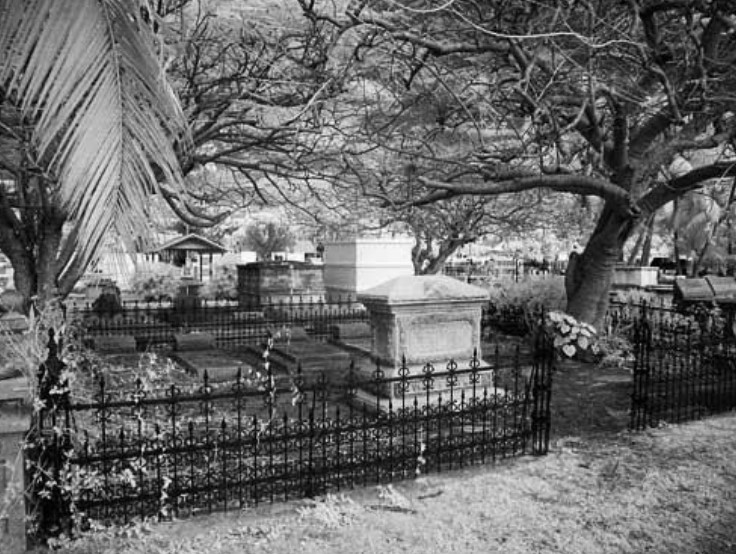 Key West Cemetery
City of Key West
One of South Florida's most eerie locations is thought to be Key West Cemetery.

Following a terrible hurricane in 1846, the beachside cemetery was built in 1847. Up to 100,000 souls are thought to have found their final resting place in this cemetery.
Learn more about the cemetery's past and the lives of those interred there by visiting Key West Cemetery.
There are ghost tours available that take you at night to the most haunted locations in Key West.
---
THE DEERING ESTATE
16701 SW 72nd Ave
Miami, FL 33157
Deering Estate
Facebook Deering Estate
This mansion is the former home of industrialist Charles Deering and is built on a 444-acre archaeological site and Indian burial mound.

So it makes sense that it has Miami's highest percentage of ghostly spirits. In the mansion, ghost hunters have captured a total of 60 voices in just one night.
Today, paranormal researchers still visit and investigate using dowsing rods, EMF meters, and pendulums to find out what exactly is going on.
---
SPANISH MILITARY HOSPITAL
3 Aviles Street
St.Augustine, FL 32084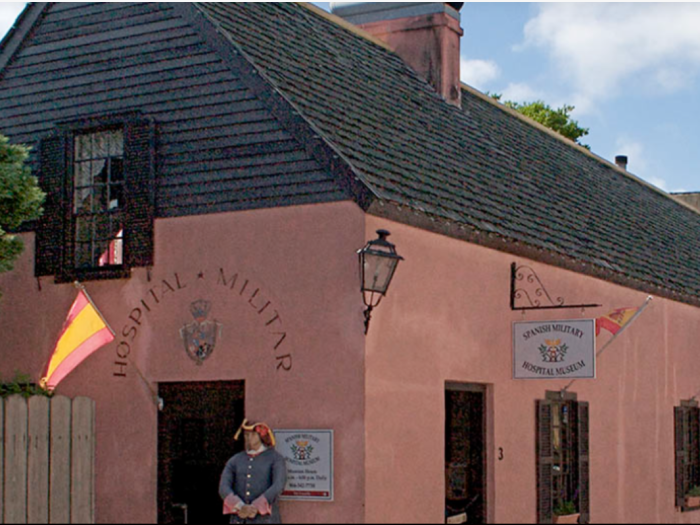 Spanish Military Hospital
Spanish Military Hospital Museum
The Spanish Military Hospital of today, which is a duplicate of the original structure and is situated close to the Spanish Quarter, is well-known for its profusion of paranormal activity.

During the course of its operation, this hospital treated thousands of patients, including badly wounded combatants from numerous wars.
Many sick and injured persons received treatment over the years 1784–1821, and many more passed away. There were numerous amputations and a large yellow fever pandemic.
Visitors have reported seeing sickbeds move across the floor, smelling sulfur, and hearing the tormented cries and moans of dead spirits.
During a renovation of the building, mounds of human bones were discovered beneath it.
According to sources, the building was apparently built immediately over the burial ground of a Timucuan Indian Tribe, whose remains were most likely found there.
Even today, visitors to the hospital report encounters with the paranormal, including objects shifting and shaking for no apparent cause, orbs and ectoplasm appearing in photos, and intense emotions of fear.
---
GILBERT'S BAR HOUSE OF REFUGE
301 SE MacArthur Blvd
Stuart, FL 34996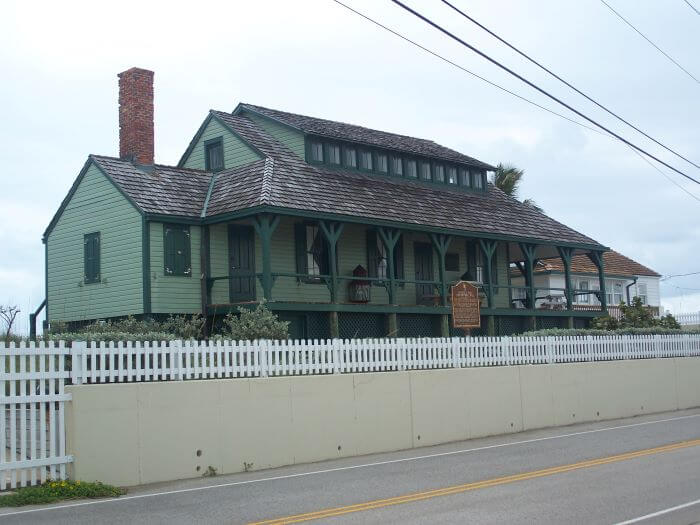 Gilbert's Bar House of Refuge
This Florida landmark was established in 1876 as a part of the U.S. Life-Saving Service, which built 10 houses of refuge along Florida's Atlantic Coast and was designated as a haven for shipwrecked seamen.

Gilbert's is the only one of the original 10 houses of refuge still standing on Florida's coast, and it is listed on the National Register of Historic Places.
Visitors can enjoy guided tours of the structure to discover more about its intriguing and eerie past. Some visitors have reported smelling beef stew coming from the kitchen, which hasn't been used since the 1940s.
Cold spots have been recorded in various parts of the building, and ghostly figures have been seen strolling the beach's rocks.
---
BILTMORE HOTEL
1200 Anastasia Avenue
Coral Gables, FL 33134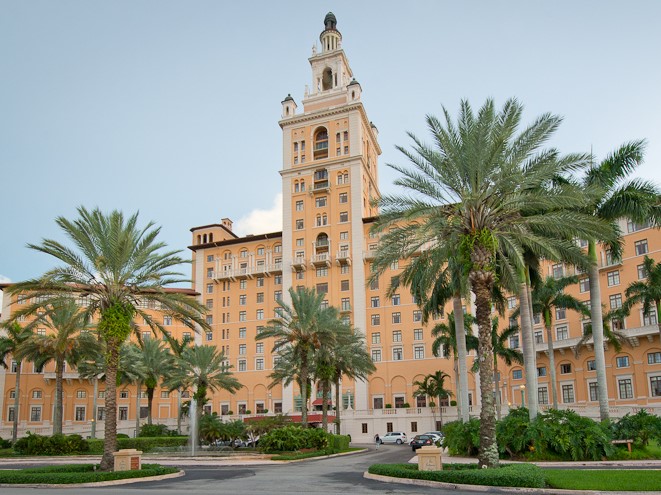 Biltmore Hotel, Coral Gables
The enormous Biltmore Hotel in Coral Gables went into operation in 1926.  In later years is served as a military hospital during World War II and VA hospital after the war.

For a time it served as facilities for the University of Miami medical school, before reverting to its original status as a luxury hotel in 1987.
During its early years, the Biltmore hosted everyone from President Franklin D. Roosevelt to the criminal Al "Scarface" Capone.
Johnny "Tarzan" Weissmuller also worked as a swim instructor here before becoming well-known.
The Biltmore is regarded as one of Florida's most haunted hotels and was designated a National Historic Landmark in 1996.
Thomas "Fatty" Walsh, a legendary gangster who was killed on the Biltmore's 13th floor in 1929 over a gambling disagreement, is one of the ghosts said to be haunting the building.
Visitors have reported strange occurrences like lights turning on and off, elevators taking them to the incorrect levels, eerie noises, and cryptic inscriptions written on mirrors. 
---
THE DEVILS CHAIR
Kicklighter Road & Root Street
Lake Helen, Florida 32744
The Devil's Chair Near Cassadaga
The lovely town of Cassadaga, which is tucked away off Interstate 4 between DeLand and Deltona, is well-known for its spooky past, particularly the reputedly haunted "Devil's Chair" at Lake Helen-Cassadaga Cemetery.

The Devil himself will allegedly emerge if you sit in the enormous brick chair at midnight, and if you put a beer can on the Devil's Chair, it will allegedly be empty the next morning!  They say sometimes the can will be empty even though unopened.
The Devil's Chair was originally built as a "mourning chair" so visitors to the cemetery might sit and pay homage to their dearly departed loved ones. 
Cassadaga, which is referred to as "The Psychic Center of the World" and is included on the National Register of Historic Places, was established as a spiritualist community in 1875 by George Colby.
The historic Cassadaga Hotel, built in 1928 and home to Sinatra's Ristorante and a Psychic Center, is another rumored haunted location in Cassadaga.
---
ROBERT THE DOLL
Fort East Martello Museum
3501 S Roosevelt Blvd
Key West, Florida 33040
Robert the Doll in Key West
Fort East Martello Museum in Key West was constructed during the Civil War and is listed on the National Register of Historic Places.

It is also home to Robert the Doll, one of the spookiest dolls in existence.
The eccentric Key West artist Robert Eugene Otto (1900–1974) owned the doll as a child.  It was supposedly given to him as a gift from a Bahamian servant girl.
He often blamed the doll for all sorts of trouble when he was a kid, and kept the doll into adulthood.  People witnessed him talking to the doll.
Visitors to the museum have reported not only seeing Robert the Doll move and change facial expressions, but also hearing him giggling.
According to a popular urban legend, you should never even consider taking a photo of Robert without first getting his permission.
---
THE DEVIL'S TREE
Oak Hammock Park
1982 SW Villanova Rd
Port St. Lucie, Florida 34953
The Devil's Tree in Port St. Lucie
The "Devil's Tree" in Port St. Lucie's Oak Hammock park was the scene of several horrifying killings in the early 1970s and is now believed by many to be haunted by malevolent spirits.

Legend has it that there have been numerous unsuccessful efforts to cut down the large oak tree over the years.
Some visitors to the park claimed to have seen people in hooded capes practicing satanic rites close to the tree at night. Other park visitors assert that they saw ghosts clinging to The Devil's Tree's limbs.
Even an exorcism was apparently tried here in the early 1990s by a local clergyman.
GREENWOOD CEMETERY
1603 Greenwood Street
Orlando, Florida 32801

Greenwood Cemetery in Orlando
Orlando's Greenwood Cemetery is 86 acres in size and was first known as Orlando Cemetery when it was established in 1888.  It is the source of many stories about its eerie past.

People who have visited the cemetery have described witnessing spectral youngsters laughing and playing among the gravestones as well as Confederate army spirits wandering aimlessly among the massive live oak trees.
There are guided nighttime tours of Greenwood Cemetery that take you past the spooky Fred Weeks mausoleum. 
Fred's ghost is said to occasionally wander through the cemetery at night.

THE DEVIL'S SCHOOL
699 Chelsea Street
Jacksonville, Florida 32204
Annie Lytle Elementary School
Google Street View
The infamous "Devil's School" near I-95 and I-10 in Jacksonville, which is regarded as the "most haunted place in Jacksonville," has over the years given rise to a number of troubling urban legends.

These include the story of an insane school janitor who burned students alive in the boiler room.  Another legend is about a cannibalistic school principal.
The school, which had originally opened in 1918 as Riverside Grammar School (also known as Public School No. 4).  Its name was later changed to Annie Lytle Elementary School.
The school closed in 1960. The abandoned structure was then permitted to deteriorate.
The structure was purportedly utilized for satanic rituals in addition to being vandalized by graffiti artists and vandals.
Although the allegedly haunted school building is strictly off limits to visitors and is fenced in with "Keep Out" signs, curious onlookers can still see the Devil's School's exterior by simply driving by it on Chelsea Street.
The Devil's School was designated a historic landmark by the Jacksonville City Council in 2000.
FORT PICKENS
1801 Gulf Breeze Parkway
Gulf Breeze, Florida 32563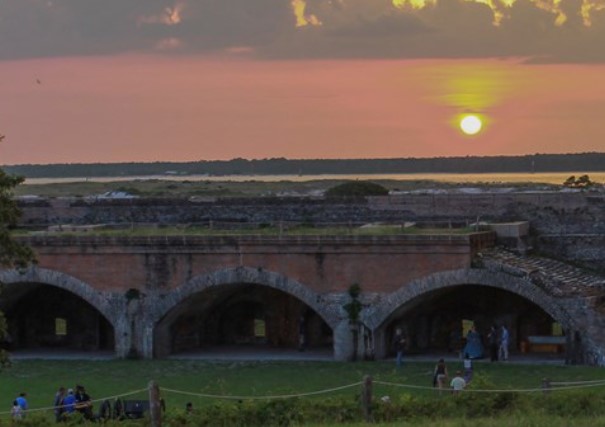 Fort Pickens at Sunset
National Park Service
Fort Pickens, which honors Andrew Pickens (1739–1817), a hero of the American Revolution, is situated on Pensacola Beach in the Gulf Islands National Seashore.

The renowned Apache Chief Geronimo (1829-1909) and his allies were imprisoned at Fort Pickens. The structure was built in 1834 by French engineer Simon Bernard out of 21.5 million bricks.
Visitors to Fort Pickens have reported seeing eerie lights, hearing footsteps, and seeing the ghosts of soldiers as well as the spirit of Geronimo. 
KORESHAN STATE PARK
3800 Corkscrew Road
Estero, Florida 33928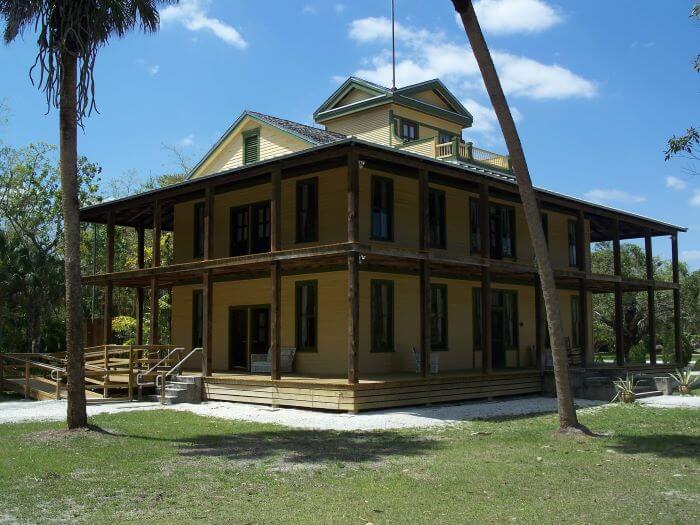 Koreshan State Park, Estero
More than a century ago, Cyrus R. Teed formed the Koreshan religious group in Estero, beginning the modern history of Lee County's Koreshan State Park.
When Teed moved 200 followers from Chicago to Estero in 1894, he did so in the name of his religion, which he called "Koreshanity."
Teed's goal was to create a "New Jerusalem." The Hebrew word "Koresh," which means shepherd, is where the name Cyrus originates.
According to the park's website, the communal group led a celibate lifestyle and created a farm, a nursery, and botanical gardens.
Teed promoted a form of the "Hollow Earth Theory" that believes the Earth and universe are contained withing a concave sphere.
The Koreshans considered Teed to be their savior and believed in immortality through reincarnation.
Koreshan State Park continues to be a reservoir of local myths and ghost stories, but campers love the wooded campsites and don't seem to mind.

OLD MAYFAIR HOTEL
1000 East 1st Street
Sanford, Florida 32771

Old Mayfair Hotel, Sanford
The 1926-built hotel on Lake Monroe operated under a number of hotel names, including the Mayfair Hotel, before becoming most recently the headquarters of the New Tribes Mission.

The Mission is no longer there, but it was announced by the city in 2019 that a developer would repair the structure and turn it back into a resort-style hotel, but this hasn't happened yet.
The hotel allegedly housed multiple ghosts, according to a former resident who resided there when it belonged to New Tribes Mission.
One spirit enjoys playing the piano in one of the sizable conference rooms. 
Guests have seen an apparition in white clothing haunting the apartments.  Footsteps have been heard and areas of extreme cold have been felt in the building.
SUGAR MILL RUINS
600 Mission Drive
New Smyrna Beach, FL 
Sugar Mill Ruins
Wikipedia, by Ebyabe
The Cruger-dePeyster Plantation is a 19th-century property that was raided during the Second Seminole War.  It included a sugar mill that is now in ruins.
The plantation was pillaged and set ablaze by Seminole Indians.  The plantation was pillaged and set ablaze by Seminole Indians.

The sugar mill's ruins are now a Volusia County park open for hiking, picnics, and ghost hunting.
Near twilight, shadowy figures have allegedly been spotted. Some people also claim to have spotted Seminole Indians in the early morning hours silently moving through the surrounding woods.
MA BARKER'S HOUSE
Carney Island Recreation & Conservation Area
13275 SE 115th Avenue
Ocklawaha, FL 32179

Ma Barker's House Moved Across Lake Weir
The home owned by a Mr. Bradford was rented in 1934 to a woman who said her name was Mrs. T.C."Kate" Blackburn.  She said she wanted a place to spend the winter with her sons.

After a time, the FBI figured out the woman was really the notorious Ma Barker and her son Fred.  The Barker family was known as "Ma Barker and Her Killer Brood."

Ma Barker and Fred were both killed by the FBI during the gunfight in 1935. The house was riddled by hundreds of bullets, and many believe Ma Barker herself haunts the place.
The house was moved recently from its original location in Ocklawaha to Carney Island Recreation Area across Lake Weir.
ANNIE RUSSELL THEATER
Rollins College
1000 Holt Avenue
Winter Park, FL 32789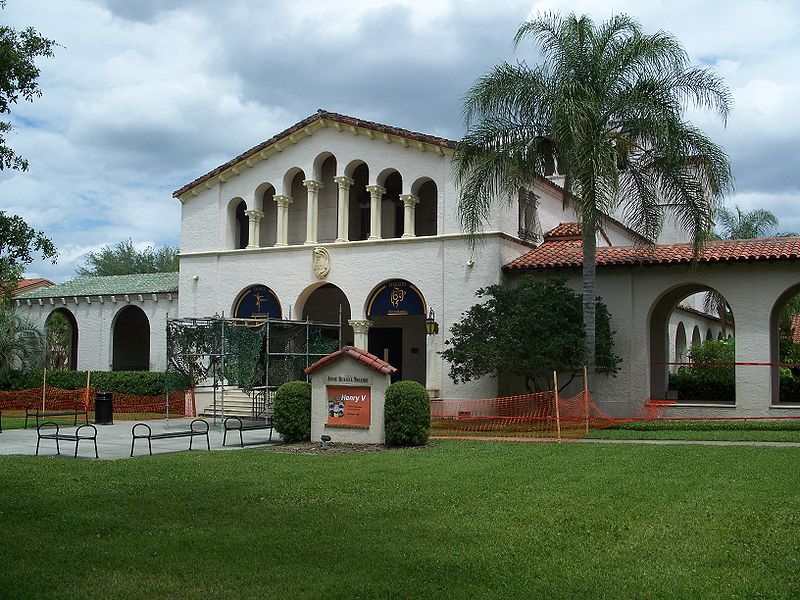 Annie Russell Theater, Rollins College
Rollins College in Winter Park has a supposedly haunted theater, and the school enjoys telling people about it.
Up until her passing in 1936, renowned actress Annie Russell taught at the college and directed the theater.

According to rumor, her favorite theater seat automatically reclines and remains in place, and occasionally applause can be heard coming from the area of her seat.
The door of the Russell's former dressing room automatically opens.
These ghost stories are told to new students each fall at the Department of Theatre and Dance so they will be prepared.
HUGENOT CEMETERY
3 Cordova Street
St. Augustine, FL 32084
St. Augustine Hugenot Cemetery
Wikipedia, photo by Ebyabe
More than 400 bodies are interred in the Huguenot Cemetery, which is close to the Old City Gate. Many of the deceased were affected by the early 1800s yellow fever epidemic.

The most renowned ghost at the cemetery is the ghost of a judge who is unable to rest since grave robbers stole several of his possessions, including his gold teeth.
While many of the cemetery's occupants are thought to haunt these grounds from the afterlife, the judge is the most well known one.
FAIRCHILD OAK
Bulow Plantation State Park
3501 Old Kings Road
Flagler Beach, FL 32136

Bulow State Park Fairchild Oak
Florida State Parks
Bulow Creek State Park, a little-known off-the-beaten-path Florida state park close to Flagler Beach, is home to one of the state's oldest and most majestic live oaks.

In 1955, it was given the name Fairchild Oak in honor of botanist David Fairchild, whose name is well-known throughout Florida because of Fairchild Botanical Gardens in Coral Gables. 
The giant oak, which stands 70 feet tall and has limbs that spread 300 feet. It is said to be between 400 and 600 years old.
The tree was given the nickname "the Haunt Oak" according to a tradition that claims a well-known businessman who was drowning in debt killed himself there in the 1880s.
ISLAND HOTEL
373 2nd Street
Cedar Key, FL 32625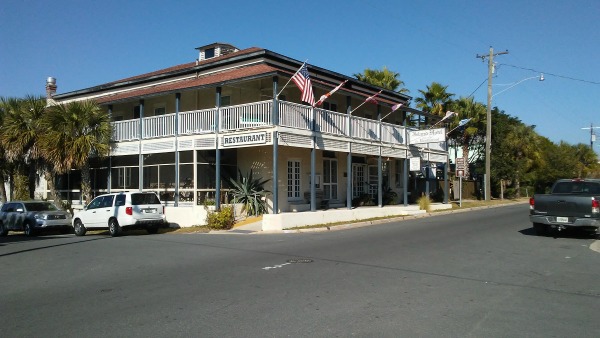 Island Hotel, Cedar Key
The Island Hotel is charming with its hardwood floors and historical paintings of bare-breasted mermaids in the bar.
Several reports say there are several ghosts who either live at or visit the hotel. A floating head has been seen and believed to be a former owner, Simon Fienberg.

Established as a general store in 1859, the hotel was later used by Union soldiers during the Civil War as a headquarters.
In 1865 Confederate troops overtook strategically located Cedar Key and took up operations in the Island Hotel.
President Grover Cleveland, Jimmy Buffet, Richard Boone, Myrna Loy, and Tennessee Ernie Ford were among its past visitors.
The ghosts include two Native Americans, a fisherman, a moonshiner, a Confederate Army guard, and a small boy who drowned in the hotel cistern in its basement.
INTERSTATE 4 DEAD ZONE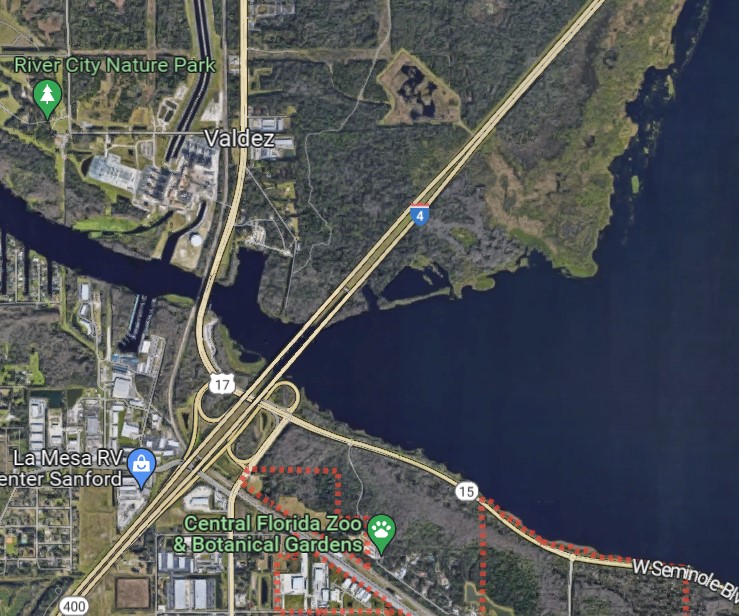 Google Map Interstate 4 at St. Johns River
This is a section of highway that thousands of people use every day.
Most of them are not aware of the background of the Seminole County Interstate 4 stretch near the St. Johns River Bridge.

According to legend, a family of four immigrants who perished from yellow fever in 1886 were buried where the I-4 route is today.
The government bought the site and chose to construct over the graves when they designed the highway.  Since then, some people say the burial site beneath the highway is haunted.
Whatever the cause, I-4 is known for being a hazardous road and this section near the St. Johns River Veterans Memorial Bridge has had an unusually large number of accidents.
ASHLEY'S OF ROCKLEDGE
1609 US Highway 1
Rockledge, FL 32955
An English Tudor-style wood and stucco building with stained glass windows and numerous vintage photographs has been known over the years as Jack's Diner, The Loose Caboose, and now Ashley's of Rockledge.
Ashley's of Rockledge is the backdrop for several ghost stories.

The body of 19-year-old Ethel Allen was discovered in nearby Eau Gallie on the bank of the Indian River on November 21, 1934, according to the Ashley's tradition.
She had been burned and tortured before she was killed. She  was last seen alive at Jack's Tavern, which is now Ashley's of Rockledge.
It is believed that the primary cause of the paranormal activity is Ethel's murder. During the night, lights flicker, alarms go off for no apparent reason, and dishes fall and break.
In the women's restroom, many people can feel the ghost's presence.
An employee at Ashley's claimed to have seen a woman's feet in a stall wearing 1930s vintage shoes but then discovered the stall was empty.
Customers have described hearing a mystery toilet flush and seeing apparitions of a young woman in the restroom mirror.

Others claim they have been pushed from behind by some kind of invisible force.
---

Our Facebook page has more than 128,577 followers who love off the beaten path Florida: towns, tourist attractions, maps, lodging, food, festivals, scenic road trips, day trips, history, culture, nostalgia, and more.  We post articles every day.  Please check it out and if you like it, we would appreciate a "like" from you.
---
By Mike Miller, Copyright 2009-2023
Florida-Back-Roads-Travel.com
Florida Back Roads Travel is not affiliated with or endorsed by Backroads, a California-based tour operator which arranges and conducts travel programs throughout the world.