HIALEAH, FLORIDA
Hialeah, Florida Things To Do, Lodging, Dining, & Real Estate At End Of Article
Hialeah, Florida is in the Miami metropolitan area adjacent to Miami, Miami Springs, and Miami Lakes.  The city's population in 2021 is 230,135, which makes it the sixth largest city in the state of Florida. 
According to IndexMundi.com, Hialeah's Hispanic population is 96.1%, the largest percentage of any city in the United States with a population over 100,000.
Like most Florida places, the Native Americans were here first.  The name derives from the Seminole-Creek word "hiyakpo" which kind of translates to "pretty prairie."
It remained a prairie and cattle range until 1921 when rancher James H. Bright hooked up with famous aviator Glenn Curtiss and started developing a new town.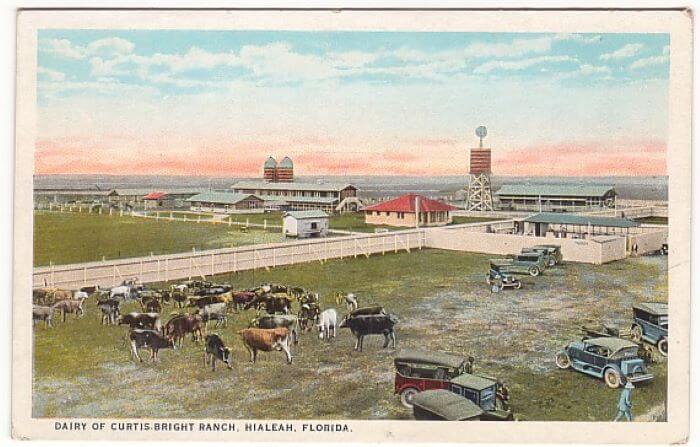 Vintage Postcard of Bright Dairy Farm in Hialeah
The town was incorporated in 1925 and the same year the famous Hialeah Park Race Track opened.  The park quickly became the Miami area's most popular attraction.

Thousands of people attended Hialeah Park racing.  Some of the more famous of these include Harry Truman, Joseph Kennedy, Winston Churchill, and J.P. Morgan.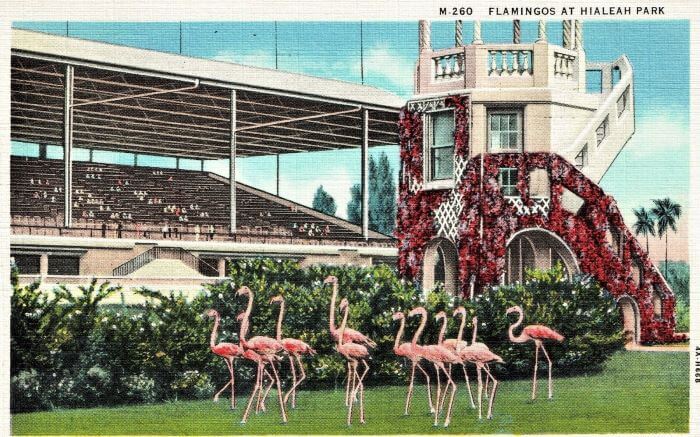 Vintage Postcard of Flamingos at Hialeah Park
A massive hurricane in 1926 wiped out a lot of Hialeah and much of Miami.  It was the beginning of the end of the Florida land boom of the twenties.

The town is north of and adjacent to Miami International Airport, of which Glenn Curtiss had been the main creator and promoter.  
Aviation remained important in the area.  Amelia Earhart took off on her famous flight around the world in 1937 from Miami Municipal Airport. 
Her trip was ill fated and her fate remains a mystery to this day.
After World War Two many U.S. military veterans settled in Hialeah and the town began to grow again.  Even though it started out with the race track and was to be a place for the rich and famous, it became a blue-collar city.
When Fidel Castro and his communist revolution in Cuba was successful in 1959, Cubans began to escape to Miami in large numbers.
The earliest Cubans came over in the late fifties and early sixties, and the number increased with the "Freedom Flights" from 1965 to 1973 and the Mariel Boatlift in 1980.
The Freedom Flights alone brought in more than 300,000 Cuban refugees.
There was a lot of friction in the beginning between the new Cuban-Americans and the largely Anglo residents of Hialeah. 
Gradually more and more Cubans moved in until it reached its majority status of today.
Hialeah is the hands down winner of any American city in the percentage of Cuban-Americans.  The population has 73% Cuban ancestry.  As a long time Floridian this amazes me. 
When I moved to Florida I doubt if there were more than a few Hispanics in the almost entirely Anglo Hialeah.  Anglo is the Miami Dade County word for a non-Hispanic American.
Just about every country in Latin America is represented in the county's population. 
It is possible to survive in the county without speaking the English language, but most people do as a second language.
For the younger generations, English is the first language and Spanish the second.
Rick Sanchez
Hialeah is the home town of many well known Cuban-Americans such as Ricardo "Rick" Sanchez, a journalist and radio/television personality. 
He came to Hialeah with his parents from Cuba when he was two years old. 
His full name is Ricardo "Rick" León Sánchez de Reinaldo
It looks like Fidel Castro was the creator of the biggest real estate boom in Hialeah history.  But the late Fidel has very few fans in Hialeah or any nearby location.
The Cuban-Americans are the ethnic group that despises him most.  Most Cuban-Americans I know love America very much.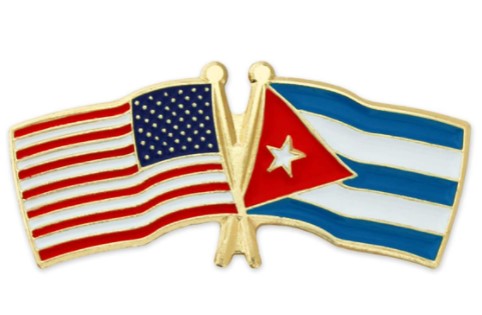 American Flag and Cuban Flag
The southern city limit of Hialeah is along the Miami Canal and US-27, known locally as Okeechobee Road because the canal runs from Lake Okeechobee to the Miami River.
The neighboring small city of Hialeah Gardens is also located along the canal.
There is a lift bridge over the Miami Canal that connects Hialeah to Miami Springs.  Glenn Curtiss was also the developer of Miami Springs.
Hialeah continues to grow even though there isn't much space left for new development.  It has many industries and warehousing businesses and the city's slogan is "The City of Progress."
It also has a large number of big box stores including Target, Best Buy, Walmart, Lowes, Home Depot, and others.  You will have no trouble finding a Starbucks or any fast food franchise you can think of.
You won't be surprised to learn there are a lot of great Cuban restaurants in town.
Westland Mall has over one hundred stores and several restaurants, including a Macy's and a J.C. Penney. 
Palm Springs Mile is another large shopping mall similar in size to Westland Mall.
Telemundo, the large Spanish language TV network is headquartered in Hialeah.

Hialeah has 14 public parks, including 500 acre Amelia Earhart park with a petting zoo, beach, bike trails, and picnic facilities.
Another one, Milander Park, has an auditorium for events and a 10,000 seat stadium. 
It is named for Henry Milander, a popular Hialeah mayor who served from 1942 to 1974 with two years off to serve in World War Two. 
When the Hialeah population became largely Cuban-American, the mayor became Raúl L. Martínez, who served for 24 years from 1981 to 2005. .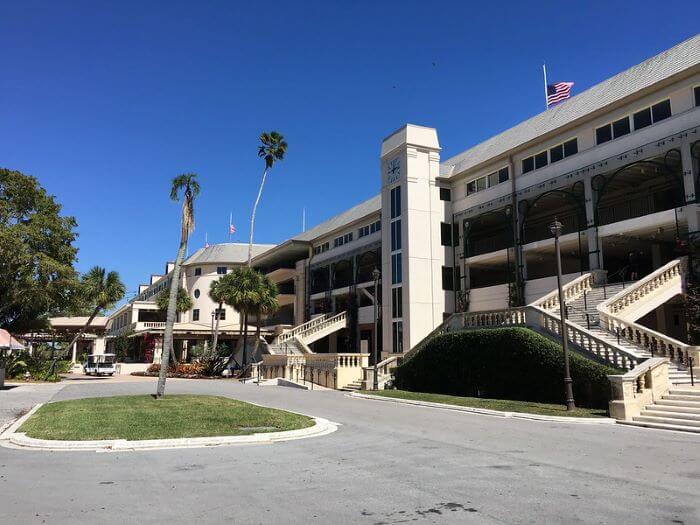 Hialeah Park in 2018
Flickr/Phillip Pessar
The Hialeah Park Racetrack is on the National Register of Historic Places, but no longer has thoroughbred horse races. 
The state passed a law that kept the track from having exclusive dates with its main competitors, Gulfstream Park and Calder Race Course.  Today a casino operates in the old historic property.
Hialeah is served by several elementary and secondary public schools including Westland Hialeah Senior High School, Hialeah Senior High School, and Hialeah-Miami Lakes Senior High School.
An interesting charter school is iMater Charter Middle High School.
There are also several private schools in the area, and Miami-Dade College has a Hialeah campus as does Florida National University.
Many Hialeah residents go into Miami for their jobs, either by car or Miami Metrorail and Tri-Rail transfer stations.
The average commute time is not as bad here as in some of the other South Florida communities because Hialeah is closer to the major employment centers.
---
 ALL ABOUT HIALEAH, FLORIDA
---
HIALEAH, FLORIDA INTERACTIVE GOOGLE MAP
---
---
---

Our Facebook page has more than 128,577 followers who love off the beaten path Florida: towns, tourist attractions, maps, lodging, food, festivals, scenic road trips, day trips, history, culture, nostalgia, and more.  We post articles every day.  Please check it out and if you like it, we would appreciate a "like" from you.
---
By Mike Miller, Copyright 2009-2023
Florida-Back-Roads-Travel.com
Florida Back Roads Travel is not affiliated with or endorsed by Backroads, a California-based tour operator which arranges and conducts travel programs throughout the world.