HILLSBORO INLET, FLORIDA
Pompano Beach and Lighthouse Point
Hillsboro Inlet connects the Intracoastal Waterway to the Atlantic Ocean near Pompano Beach, Florida. 

This inlet can be treacherous under certain conditions of wind and tidal current, so it is prudent to have local knowledge before entering and exiting. 

I spent a rough night many years ago tied up to an old wooden dock in the small harbor inside the inlet. The ancient Alden yawl I was on took quite a pounding from the rollers that came in from the ocean.
Some 40 years later, I still remember that rough night as I pass over the bridge that spans the connection from the inlet harbor to the Intracoastal Waterway.

The lighthouse was first lit in 1907, and can be seen from ships 28 miles at sea.
In the years before the lighthouse, in the 1880s, the U.S. mail could only be delivered periodically by schooner from Key West to settlements like Miami south of Palm Beach.
The History of the Barefoot Mailman
There was no regular mail delivery to these southern outposts by land.
In 1885, the U.S. Postal Service established a mail route that was 136 miles there and back and covered by mailmen going part of the way by boat and the rest of the way walking on the beach.
The route was in operation between 1885 and 1893 and involved several mailmen.  They are now known collectively as "The Barefoot Mailman".

The mailman traveled about 80 miles on foot and 56 miles by boat on his round trip.
The route began in Palm Beach and ended in Lemon City, now known as the Little Haiti neighborhood of Miami.
By walking along the beach and crossing inlets and streams in small boats, he finally made it to Lemon City. 

The trip took 6 days. The mailman would leave Palm Beach on Monday morning and take a boat to the southern end of Lake Worth.
He would then walk over to the beach at what is now Delray Beach, spend the night, and continue walking on the beach in the morning.
He'd finally make it down to Lemon City on Wednesday night.
He started heading back north on Thursday morning and got back to Palm Beach on Saturday evening, if all went well.
It was a hazardous trip, and the mailman had to cross several inlets on the route including the one at Hillsboro Inlet.

One of the mailmen, Ed Hamilton, disappeared and was apparently drowned or eaten by sharks or alligators in Hillsboro Inlet. His body was never recovered.
The lonely area that claimed the life of the barefoot mailman has become populated with some of the most expensive homes in south Florida in the past hundred years.
The area immediately north of the inlet along State Road A1A is known as "Hillsboro Mile" and is in the town of Hillsboro Beach.
Some magnificent mansions along this coast stretch from the ocean to the Intracoastal Waterway.
Pompano Beach is to the southwest of the inlet, and Lighthouse Point is to the west.
Pompano Beach is Named for a Tasty Fish
Pompano Beach is a major Broward County city gets its name from the pompano, a fish that is plentiful in the ocean near Hillsboro Inlet.
The population of the town is more than 100,000.
There was a small settlement in the area when Henry Flagler's train came to town in 1896.  Since then, the town has been in an almost continual growth patter.
The town was incorporated in 1908, and is even older than Broward County which came into existence in 1915.
Like most South Florida towns, there are not too many historic buildings that have survived the passage of time.
One that has is the historic Sample-McDougald House that goes back to 1916.  It is listed on the National Register of Historic Places.
Albert Neal Sample built the house.  He was an early pioneer in this area.  Sample Road is named for him.  He was active in Pompano Beach until his death in 1941.
His heirs sold the home to the McDougald family in 1943, and they lived there for many years and took good care of it.
The home was moved from its original site to Centennial Park in 2001.
Today the home serves as a museum and community event venue.
Lighthouse Point is Named for Hillsboro Inlet Lighthouse
Lighthouse Point is a small town of 10,000 people on the Intracoastal Waterway immediately west of Hillsboro Inlet.
The community is laced by canals and upscale waterfront homes.  It's proximity to the inlet makes its a prime location for sport fishing.
Large sport fishing boats are prominently displayed in local marinas and docked at waterfront homes.
---
Recommended Restaurant in Hillsboro Inlet Area
CAP'S PLACE

(Dock Location) 2765 NE 28th Court
Lighthouse Point, Florida 33074
Tel:  954-941-0418
Cap's Place is an Old Florida icon that should be visited at least once by everyone interested in Florida History and the old way of life.
It is on the U.S. National Register of Historic Places.
People go to Cap's for the ambience more than the food.
The food and service get mixed reviews on all of the rating sites like TripAdvisor, Yelp, Urban Spoon and others. Just keep that in mind and go anyway.
You'll enjoy the ambience and maybe you'll get lucky with the food.
I've had a couple of great dinners there while stopping overnight on my boat at the Lighthouse Point Marina right next door.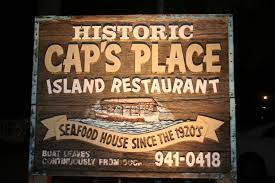 Cap's is a place that has had it's share of famous visitors. The much traveled Al Capone and movie stars and tycoons have enjoyed its food and drink since it was first opened in 1928.
It was originally known as Club Unique, and specialized in prohibition era rum drinks and casino style gambling.
In addition to Scarface, some early visitors included Joe DiMaggio, Susan Hayward, Casey Stengel, Jack Dempsey, Kate Smith, Myrna Loy, George Jessel and many others.
Cap's Place was owned by Captain Theodore Knight, an early settler in the Hillsboro Inlet area and an alleged rumrunner.
This old place is not really on an island, but is on the tip of a residential peninsula. You can only get there, however, by boat.
You can catch a boat that operates out of the Lighthouse Point Marina.
The boat trip only takes about 5 minutes, but you will be transported to a different time.
The walls of the restaurant and bar are filled with photos and newspaper clippings of the old days and nautical memorabilia of all kinds.
Windows in the dining room overlook the Intracoastal Waterway with passing yachts and the mansions beyond and a lot of shoreline mangroves.
Having a meal at Cap's is like eating in a museum but with better smells.
The food can be good or not so good, but never terrible as far as I know.
It's fun to sit at the bar and soak up the history from the old newspaper clippings and enjoy the feeling of sitting among antique cash registers, parts of old ships and various wooden carvings.
The menu specializes in fresh fish. I had dolphin (mahi mahi) one time, and snapper another and both meals were delicious.
The salad I enjoy the most is made from fresh hearts of palm (swamp cabbage) and is an Old Florida classic.
Meals and drinks are very expensive at Cap's, but your Old Florida experience will make up for it.
Other specialties at Cap's include scallops wrapped in bacon, crab cakes, various shrimp dishes and lobster.
The dessert to try is their Key Lime Pie. The pricey menu may be what we have to tolerate to keep this valuable piece of real estate from becoming just another ritzy mansion or condominium.
I am willing to pay the price.
---
---
20181225
---
Our Facebook page has more than 88,112 followers who love off the beaten path Florida: towns, tourist attractions, back road maps, lodging, festivals, highway maps, scenic road trips, day trips, history, culture, nostalgia, and more.
Take a look. If you enjoy what you see, please give us a like.
---
Subscribe to our Free Ezine, Florida Heritage Travel