HILLSBORO INLET, FLORIDA
Pompano Beach and Lighthouse Point
Hillsboro Inlet connects the Intracoastal Waterway to the Atlantic Ocean near Pompano Beach, Florida. 

This inlet can be treacherous under certain conditions of wind and tidal current, so it is prudent to have local knowledge before entering and exiting. 

I spent a rough night many years ago tied up to an old wooden dock in the small harbor inside the inlet. The ancient Alden yawl I was on took quite a pounding from the rollers that came in from the ocean. Some 40 years later, I still remember that rough night as I pass over the bridge that spans the connection from the inlet harbor to the Intracoastal Waterway.

The lighthouse was first lit in 1907, and can be seen from ships 28 miles at sea. In the years before the lighthouse, in the 1880s, the U.S. mail could only be delivered periodically by schooner from Key West to settlements like Miami south of Palm Beach.
There was no regular mail delivery to these southern outposts by land. In 1885, the U.S. Postal Service established a mail route that was 136 miles there and back and covered by mailmen on foot. The trip took 6 days. The mailman would leave Palm Beach on Monday morning and take a boat to the southern end of Lake Worth.
He would then walk over to the beach at what is now Delray Beach, spend the night, and continue walking on the beach in the morning. It was a hazardous trip, and the mailmen had to cross several inlets on the route including the one at Hillsboro Inlet. One of the mailmen, Ed Hamilton, disappeared and was apparently drowned or eaten by sharks or alligators in Hillsboro Inlet. His body was never recovered.

The lonely area that claimed the life of the barefoot mailman has become populated with some of the most expensive homes in south Florida in the past hundred years. The area immediately north of the inlet along State Road A1A is known as "Hillsboro Mile" and is in the town of Hillsboro Beach. Some magnificent mansions along this coast stretch from the ocean to the Intracoastal Waterway.
Pompano Beach is to the southwest of the inlet, and Lighthouse Point is to the west. Waterfront homes in this area fulfill the Florida dreams of thousands of residents.
A favorite restaurant in the Hillsboro Inlet area is Cap's Place in Lighthouse Point.
---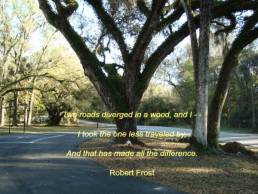 Over 65,000 followers can't be wrong. Learn about off the beaten path Old Florida, historic towns, attractions,  festivals, scenic drives and more.
Like Us On Facebook