HOWEY-IN-THE-HILLS,  FLORIDA

Howey in the Hills, Florida Things To Do, Lodging, Dining, & Real Estate At End Of Article
Howey-in-the-Hills is a small rural town of about 1,643 people located in Lake County, Florida.  It is near Mount Dora and Tavares about 36 miles west of Orlando.
This quaint town is on the western shore of Little Lake Harris on the Central Florida Harris Chain of Lakes.
Howey in the Hills is a scenic family-friendly place with many old buildings in the Spanish mission style of architecture.
Even the US Post Office is a Spanish looking building set among beautiful large oak trees.
HISTORY OF HOWEY IN THE HILLS, FLORIDA
The town father was William John Howey, who built the first citrus juice plant in Florida in 1921, and owned 60,000 acres of citrus producing land.

Howey founded Howey-in-the Hills in 1925, and his mansion along with several other historic buildings are still prominent in the town.
Howey was a visionary for his time, and planned to create a citrus empire in the rolling hills of Lake County with Howey in the Hills Florida as the commercial center.
He created a "Tent City" on the shore of Little Lake Harris, and for the first four years of the town's history, he put up prospective buyers in tents.
As business picked up, he built the Floridan Hotel on the south side of town, and his mansion on the north side. He also built the Floridan Country Club and golf course in 1928.

Other prominent pioneer families in Howey included C. V. Griffin and Dodge Taylor.
The small Taylor Cemetery just south of town on Highway 19 is the final resting place of many of the town's pioneers.
HOWEY-IN-THE-HILLS AND HULK HOGAN
The Floridan Hotel was converted into the administration building for a new school, Howey Academy, in 1956, but the school didn't make it and closed in the late 1970's.  
The building was finally blown up as a prop in a 1994 Hulk Hogan movie, "Thunder in Paradise." It was sad to see all that history go up in smoke.
HOWEY IN THE HILLS FLORIDA TODAY
In 1964 the Floridan Club property, including the golf course, was purchased by Nick Beucher and incorporated into today's Mission Inn Resort and Club.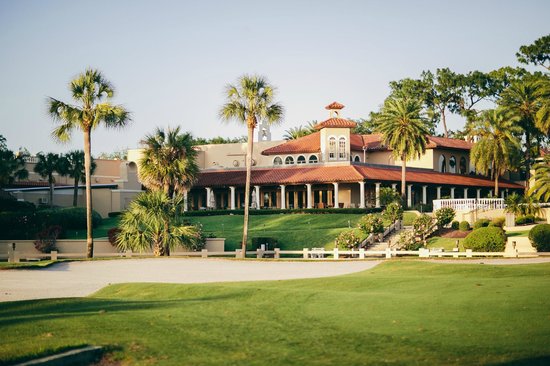 Mission Inn Resort and Club
This golf and tennis club is a beautiful place and one of the most famous establishments in Lake County and certainly in Howey in the Hills.

I attended a corporate retreat at Mission Inn in 1968.  It was beautiful then and even more so today. The resort is still run by the Beucher family.
The Mission Inn and Resort Club has a small marina on Lake Harris that is one of my favorite nature spots and a great place to keep a boat.

If Howey has what could be called a downtown, it is where the only traffic signal is on SR-19.  It is a flashing yellow light at that.
The Howey Market is right downtown and is a great place for a drink and a snack and some good browsing.
The William Howey mansion still stands on a heavily wooded lot near the entrance to the town on Highway 19. 
New owners have restored the mansion and it is now open to the public. 
It has become a popular destination with lodging, meeting and event venues, gift shop, and tours.
Stop by Boondocks on the lake on the south side of town and enjoy a cold beer and a good hot meal.
Just north and west of Howey on SR-19 is the Yalaha Bakery, a real operating bakery that is fun to visit and has sandwiches, coffee, wine, beer and entertainment in addition to their famous bread products.
---
 ALL ABOUT HOWEY IN THE HILLS, FLORIDA
---
HOWEY IN THE HILLS, FLORIDA GOOGLE MAP
---
We post articles each day on our Facebook page which has more than 121,719 followers. 

 Please check it out and if you like it, we would appreciate a "like".

---
By Mike Miller, Copyright 2009-2022
Florida-Back-Roads-Travel.com
Florida Back Roads Travel is not affiliated with or endorsed by Backroads, a California-based tour operator which arranges and conducts travel programs throughout the world.