JIMMY BUFFETT
Jimmy Buffett was born in Pascagoula, Mississippi on Christmas Day, 1946, and passed away on September 1, 2023. This review of his life and career is still in the present tense because it's too hard to believe he's no longer with us.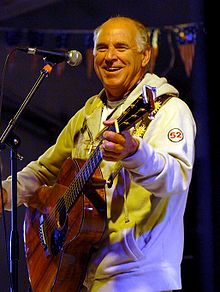 Jimmy Buffett
He lives in homes in Florida, the Caribbean, and New York.
He is famous as a singer, songwriter, businessman, movie producer and writer. His thousands of devoted fans are known as Parrotheads.
Count me among them.
Jimmy's band is called the Coral Reefer Band; like much of Mr. Buffett's work, there is a double meaning in the name.
He is a licensed pilot with instrument, single and multi-engine land and sea ratings.
He is also known to be a good sailor and excellent seaman, owning many powerboats and sailboats over in his life.
When I lived aboard my boat at Lauderdale Marine Center in Fort Lauderdale, I was a few slips away from his Cheoy Lee trawler, "Continental Drifter II".
I never met him, but the crew told me they were always on standby for his latest cruising adventure.
If his voice or writing skills ever fail him, he won't starve.
He has interests in several successful businesses including two restaurant chains, "Cheeseburger in Paradise" and "Margaritaville".
He began playing guitar during his college days, and received a bachelor's degree in history from the University of Southern Mississippi.
After graduating from college, Buffett worked as a correspondent for Billboard Magazine in Nashville.
He is the reporter who broke the news of Flatt and Scruggs separating. Big news back then, especially for Beverly Hillbilly fans who loved the theme song.
Buffett began his musical career in Nashville, Tennessee during the late 1960s as a country artist.
He soon discovered Key West and moved there, where he began to develop the laid-back beach bum image. His music is a combination of tropical, pop and country.
Jimmy Buffett continues to tour throughout the year although he has shifted recently to a more relaxed schedule of around 20–30 dates.  Most of his concerts sell out in minutes.
He is less well known as a Florida author, but has written three No. 1 best sellers.
His books "Tales from Margaritaville" and "Where Is Joe Merchant?" each spent over seven months on the New York Times Best Seller fiction list.
His book "A Pirate Looks At Fifty" went straight to No. 1 on the New York Times Bestseller non-fiction list, making him one of seven authors in that list's history to have reached No. 1 on both the fiction and non-fiction lists.
The other six authors who have accomplished this are Ernest Hemingway, John Steinbeck, William Styron, Irving Wallace, Dr. Seuss and Mitch Albom.
His books are lighthearted fun that are loaded with adventure, romance and a salt sea air feeling. He must have invented the bar sign that says It's Five PM Somewhere In The World.
Buffett is a master story teller in the mold of Garrison Keillor.
His tales, like Keillor's about Lake Wobegon, are full of empathetic characters doing the best they can to get through life.
I can't think of a better book than one of Jimmy's to take on a cruise or for a day at the beach.
Bring a pitcher of Margaritas and enjoy this Florida author!
Buffett is currently writing a follow-up to his autobiography "A Pirate Looks At Fifty", which he says may take up to ten years to write.
Maybe it will be called "A Pirate Looks At Seventy".
Jimmy recently became one of several new minority owners of the Miami Dolphins NFL football team.
Some of Jimmy Buffett's books include:
(1988) The Jolly Mon
(1989) Tales From Margaritaville
(1991) Trouble Dolls
(1992) Where Is Joe Merchant?
(1998) A Pirate Looks At Fifty
(2004) A Salty Piece Of Land
(2008) Swine Not? A Novel Pig Tale
His books and music are available at Jimmy Buffett at Amazon.com
---

Our Facebook page has more than 128,577 followers who love off the beaten path Florida: towns, tourist attractions, maps, lodging, food, festivals, scenic road trips, day trips, history, culture, nostalgia, and more.  We post articles every day.  Please check it out and if you like it, we would appreciate a "like" from you.
---
By Mike Miller, Copyright 2009-2023
Florida-Back-Roads-Travel.com
Florida Back Roads Travel is not affiliated with or endorsed by Backroads, a California-based tour operator which arranges and conducts travel programs throughout the world.