LOG CABIN WINERY
Log Cabin Farm & Vineyard & Winery
376 County Road 309
Satsuma, Florida 32189
Tel: 386-467-0000

Log Cabin Winery is officially known as Log Cabin Farm and Vineyard and Winery. We will use the short form on this page.
This winery is temporarily closed.  Call in case they are open again.
This is a family owned winery with a 10 acre vineyard. It is located near Satsuma, about 12 miles south of Palatka.
This is a part of the state that is still very much Old Florida.
Satsuma is just east of the Ocala National Forest and the St. Johns River. It is named after the Satsuma Mandarin orange that is found all over north Florida.  It is hardier than most oranges, and is more likely to survive a freeze than other types of Florida citrus.
This winery, however, does not make wine out of oranges.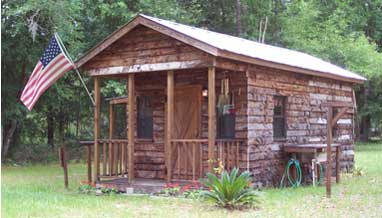 They make a quality wine from muscadine grapes grown in their own vineyard. Most of their grapes are used to make wine, but the rest are available for table grapes.
If you want table grapes to compliment your muscadine wine, you can call ahead and they will pick them for you. They grow Noble, Carlos and Welder varieties of muscadines.
They also grow Blanc Du Bois, a bunch grape variety developed by the University of Florida. The muscadine grapes are usually harvested in August and September.
Log Cabin has an "Annual Old Florida Harvest Festival" in August. 

The festival features music, exhibits, and an opportunity to do some grape stomping.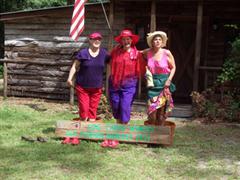 They have complimentary wine tastings, and a nice country store.
Several types of wines are made at the winery. Their labels include River White, Log Cabin White, Nashua Red, River Red and Log Cabin Red. Their website is also set up for buying wine online.
There is something there to please every palate.
Satsuma is not far from St. Augustine, Palatka or Daytona Beach.  A visit to this winery would be a nice addition to any vacation or Florida day trip.
HOURS OF OPERATION
Wednesday-Saturday: 10:00am - 6:00pm
Sunday: Noon - 6:00pm
Closed Monday and Tuesday
Closed Thanksgiving Day, Christmas Day, and New Years Day
DIRECTIONS
From St. Augustine, take SR-207 west to East Palatka. Then take US-17 to Satsuma. Turn right at CR-309 to Log Cabin Winery. About 35 miles, will take you about one hour.
From Daytona Beach, take I-95 north to SR-40. Go west on SR-40 to US-17 at Barberville. Go north on US-17 to Satsuma. Turn left at CR-309 to Log Cabin Winery. About 60 miles, will take you about one and a half hours.
Both of these are relaxing country drives through Old Florida.
More information is available by calling 386-467-0000.
---
---
---

Our Facebook page has more than 129,275 followers who love off the beaten path Florida: towns, tourist attractions, maps, lodging, food, festivals, scenic road trips, day trips, history, culture, nostalgia, and more.  We post articles every day.  Please check it out and if you like it, we would appreciate a "like" from you.
---
By Mike Miller, Copyright 2009-2023
Florida-Back-Roads-Travel.com
Florida Back Roads Travel is not affiliated with or endorsed by Backroads, a California-based tour operator which arranges and conducts travel programs throughout the world.