MAIN STREET EATERY

101 North Main Street
Brooksville, Florida
Tel 352-799-2789
By  Mike Miller July 7, 2023

The Main Street Eatery has been serving homemade lunch, and only lunch, since it was opened in 1989 by Mr. and Mrs. Bill Bell.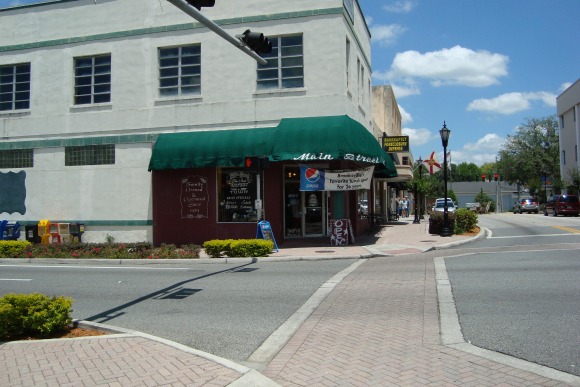 Main Street Eatery
It is very popular with the locals who work in the nearby shops and government buildings, but it has also been discovered by tourists.
The paper table mats have ads for many of the downtown Brooksville businesses, so it is a good place to get oriented.
The Eatery has a delicious selection of sandwiches, salads, soups and desserts.
Their offerings range from healthy to decadent. For example, you can have their house salad with garden fresh veggies, celery and carrots and a healthy dressing.
Or you can also have their Buzzard Breath Chili, a spicy concoction topped with Cheddar Cheese and crispy tortilla chips.
If you can eat one bowl of this hot chili, the second bowl is free.
They serve spicy chicken wings, cheese nachos, pasta salad, Greek salad, and even have a diet platter made with Jell-O and cottage cheese.
All of their sandwiches are made using 97% fat free meats.
They proclaim that their Cuban sandwich is the finest north of Havana. That would include those in Miami, of course, so that is quite a claim!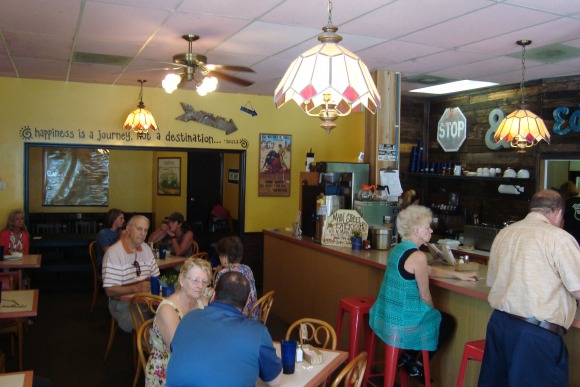 Main Street Eatery
My favorite soup at this cozy small restaurant is their "Bill's Famous Cajun Bean with Hamburger Soup".
This delicious meal is not as spicy as the chili, and is sometimes made with three or four different kinds of beans.
I once asked Mrs. Bell for the recipe and was politely refused, so I just have to keep going up there to have it when the craving hits me.
The interior of Main Street Eatery is "retro art deco", with a small counter and maybe two or three booths and ten tables.
It's smack dab in the middle of historic downtown Brooksville. They even have free WiFi if you get lonely for your e-mail.
---

Our Facebook page has more than 128,577 followers who love off the beaten path Florida: towns, tourist attractions, maps, lodging, food, festivals, scenic road trips, day trips, history, culture, nostalgia, and more.  We post articles every day.  Please check it out and if you like it, we would appreciate a "like" from you.
---
By Mike Miller, Copyright 2009-2023
Florida-Back-Roads-Travel.com
Florida Back Roads Travel is not affiliated with or endorsed by Backroads, a California-based tour operator which arranges and conducts travel programs throughout the world.