MANDARIN, FLORIDA
Mandarin is on State Road 13 not too far south of Jacksonville, Florida.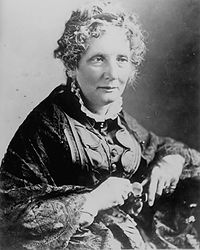 It is probably most famous as the Florida home of Harriet Beecher Stowe, the author of "Uncle Tom's Cabin".
Abraham Lincoln once referred to her as the little lady that started a great war.
Mandarin was named after the Mandarin Orange by an early settler in the area named Calvin Reed.
It is a small place on the eastern shore of the St. Johns River, and was called a tropical paradise by Mrs. Stowe. 
It prospered in the late 1800's as a bustling farm village that shipped citrus and vegetables to northern cities via steamboats that plied the river.
One reminder of the old days is the Church of Our Saviour, an example of Florida Carpenter Gothic architecture that stands on the banks of the St. Johns River.  Mrs. Stowe and her husband attended church at this location for many years.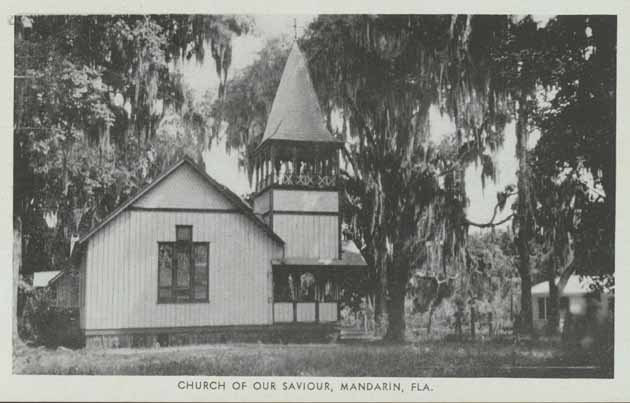 Original Church of Our Saviour, 1920s
Although the original church was totally destroyed by Hurricane Dora in 1964, a new chapel of similar design was built on the same site with pieces salvaged from the old church.  This building still serves today as the meeting place of the Episcopal Church of Our Saviour.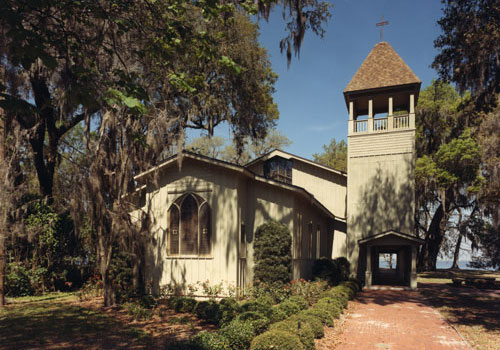 Modern Church of Our Saviour
The village is an example of Old Florida with huge ancient oak trees providing canopies over the narrow streets.  The Spanish Moss drifting in the breeze is on every tree, and several quiet parks provide a place to rest.
Mandarin today is surrounded by nice residential subdivisions, but it's still possible to recapture the serenity and peacefulness of the formerly isolated village by relaxing in one of the parks.
Enjoy a podcast by Erin Thursby:  Harriet Beecher Stowe &Mandarin

Recommended Mandarin Restaurant
CLARK'S FISH CAMP

12903 Hood Landing Road
Jacksonville, Florida 32258
Tel:  904-268-3474
Clark's Fish Camp is a dining tradition in the Mandarin area of Jacksonville.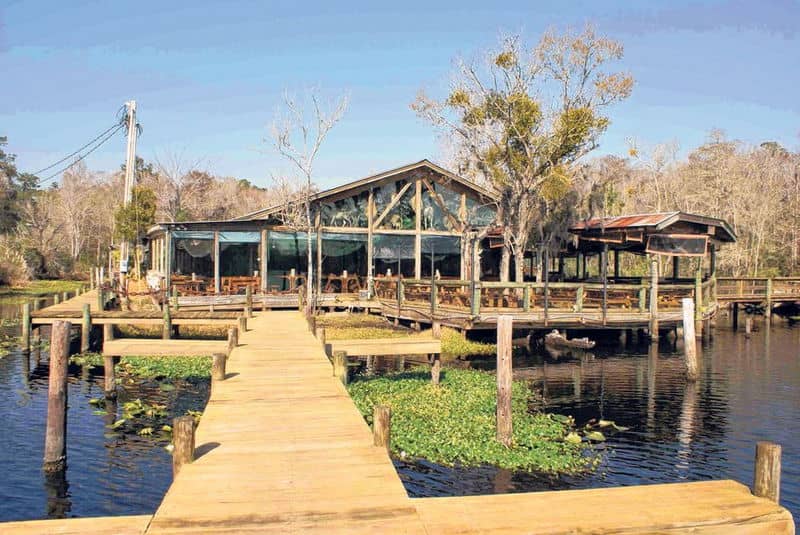 It is located in a rustic structure on Julington Creek on Hood Landing Road. Take Julington Creek Road east from State Road 13 for about two miles and you will come to Hood Landing Road.
Go south on it for a short distance to Julington Creek and Clark's. People visit Clark's both by boat and car. The food at Clark's is above average, but the atmosphere is unlike anything else you will find in Florida.
The interior is loaded with what many consider to be the world's largest private taxidermy collection, artistically displayed.
Read more about Clark's Fish Camp.
---
---
---
---
Our Facebook page has more than 88,112 followers who love off the beaten path Florida: towns, tourist attractions, back road maps, lodging, festivals, highway maps, scenic road trips, day trips, history, culture, nostalgia, and more.
Take a look. If you enjoy what you see, please give us a like.
---
Subscribe to our Free Ezine, Florida Heritage Travel
20200214-7-71