MANDARIN, FLORIDA
Mandarin, Florida Things To Do, Lodging, Dining, & Real Estate At End Of Article
Mandarin is on State Road 13 on the south side of Jacksonville, Florida. It once had an identity as a separate town, but is now part of Jacksonville.
Like many small villages near major Florida cities, Mandarin has been surrounded by residential and commercial developments.
You still get a sense of its history and tranquility once you get off busy State Road 13 and take a leisurely drive along the road that parallels the St Johns River.
HISTORY OF MANDARIN FLORIDA
Mandarin prospered in the late 1800's as a bustling farm village that shipped citrus and vegetables to northern cities via steamboats that plied the river. 

Mandarin was named in 1830 after the Mandarin Orange by an early settler in the area named Calvin Reed.  Citrus used to grow well in this area until the Great Freezes at the end of the 1800s.
Mandarin is probably most famous as the Florida home of Harriet Beecher Stowe, the author of "Uncle Tom's Cabin".
Abraham Lincoln once referred to her as "the little lady that started a great war."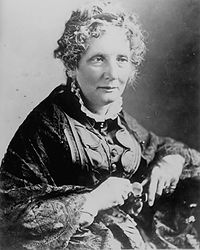 After that great war, the American Civil War, Mrs. Stowe also wrote about Florida, a place she called a "Tropical Paradise." 
She wrote a book in 1872 titled "Palmetto Leaves" that is considered to be one of the first "promotional" books about the state.
The book is still in print and is an interesting read for those who love Florida.  Read more about Harriet Beecher Stowe.
One reminder of the old days is the Church of Our Saviour, an example of Florida Carpenter Gothic architecture that stands on the banks of the St. Johns River. 
Mrs. Stowe and her husband attended church at this location for many years.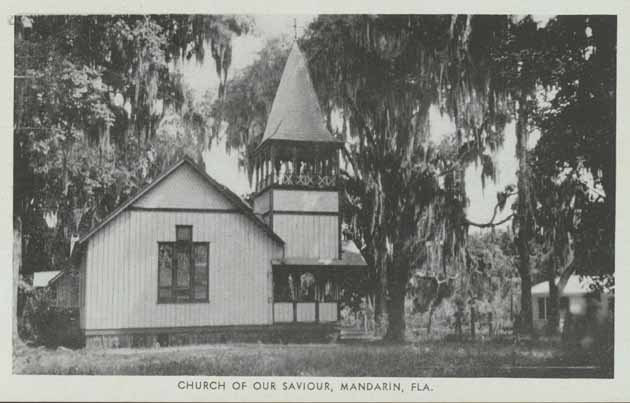 Original Church of Our Saviour, 1920s
Although the original church was totally destroyed by Hurricane Dora in 1964, a new chapel of similar design was built on the same site with pieces salvaged from the old church. 
This building still serves today as the meeting place of the Episcopal Church of Our Saviour.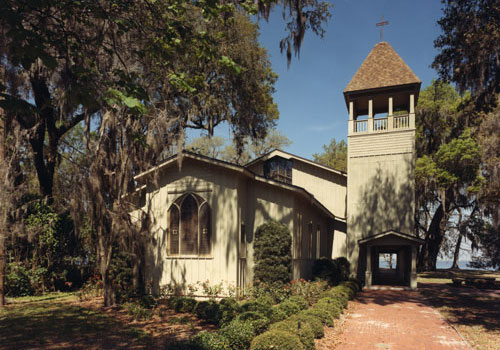 Modern Church of Our Saviour
The village is an example of Old Florida with huge ancient oak trees providing canopies over the narrow streets. 
The Spanish Moss drifting in the breeze is on every tree, and several quiet parks provide a place to rest.
You can learn about the history and culture of Mandarin at the Mandarin Museum and Historical Society
Mandarin today is surrounded by nice residential subdivisions, but it's still possible to recapture the serenity and peacefulness of the formerly isolated village by relaxing in one of the parks.

---
THINGS TO DO IN MANDARIN, FLORIDA
Mandarin Museum & Historical Society - 11964 Mandarin Road, Jacksonville, FL 32223 - This museum features exhibits on the history of Mandarin and the surrounding area, including displays on the Timucuan Indians and the Civil War.
Walter Jones Historical Park - 11964 Mandarin Road, Jacksonville, FL 32223 - This park features a replica of an 1876 barn, a restored 1875 farmhouse, and several walking trails that wind through the woods and along the St. Johns River.
Alpine Groves Park - 2060 State Road 13, Jacksonville, FL 32223 - This park offers hiking trails, a boat ramp for access to the St. Johns River, and picnic areas with scenic views of the river.
Mandarin Park - 14780 Mandarin Road, Jacksonville, FL 32223 - This park features a playground, picnic areas, and a boat ramp for access to Julington Creek.
St. Joseph's Mission Schoolhouse for African-American Children - 1380 Haldumar Terrace, Jacksonville, FL 32223 - This historic schoolhouse was built in 1898 to serve the African-American community in Mandarin.
Mandarin Mill Family Golf & Batting Cages - 10910 San Jose Boulevard, Jacksonville, FL 32223 - This family-friendly attraction offers a miniature golf course and batting cages.
Jax Cooking Studio - 14035 Mandarin Road, Jacksonville, FL 32223 - This cooking school offers classes on a variety of cuisines and cooking techniques, as well as private events and team building activities.
Peterbrooke Chocolatier - 11701 San Jose Boulevard, Jacksonville, FL 32223 - This local chocolatier offers a variety of handcrafted chocolate confections, including truffles, chocolate-covered popcorn, and chocolate-dipped strawberries.
The Avenues Mall - 10300 Southside Boulevard, Jacksonville, FL 32256 - This indoor shopping mall features over 150 stores, including major retailers like Dillard's, and JCPenney.

---
 ALL ABOUT MANDARIN, FLORIDA
---
MANDARIN FLORIDA GOOGLE INTERACTIVE MAP
---
---
---

Our Facebook page has more than 127,538 followers who love off the beaten path Florida: towns, tourist attractions, maps, lodging, food, festivals, scenic road trips, day trips, history, culture, nostalgia, and more.  We post articles every day.  Please check it out and if you like it, we would appreciate a "like" from you.
---
By Mike Miller, Copyright 2009-2023
Florida-Back-Roads-Travel.com
Florida Back Roads Travel is not affiliated with or endorsed by Backroads, a California-based tour operator which arranges and conducts travel programs throughout the world.