JACKSONVILLE, FLORIDA

Jacksonville, Florida things to do, lodging, dining, real estate at end of article.
Jacksonville, Florida is in the northeast corner of Florida at the intersection of I-95 and I-10.  It is on the magnificent St. Johns River 20 miles west of the Atlantic Ocean.
Its population is almost 900,000, which makes it the most populous city in Florida.  Jacksonville is also the largest city in the contiguous United States by land area.
The river is navigable for large ships all the way from the ocean to downtown Jacksonville.  This makes Jacksonville one of the largest commercial ports in Florida.

Jacksonville is about 25 miles south of the Georgia border, and 340 miles north of Miami.  It's proximity to its northern neighboring state has given it the moniker of "The Capital of South Georgia."
Many natives of Jacksonville came from that region or their parents and grandparents did.
HISTORY OF JACKSONVILLE, FLORIDA

Jacksonville, Florida has a long history that goes back to the Timucuan Indians who lived in the area along the banks of the St. Johns River 6,000 years ago.

The first Europeans came in 1562. French Huguenot explorer Jean Ribault explored and charted the St. Johns River. 
René Goulaine de Laudonnière established the first European settlement at Fort Caroline two years later.
READ MORE ABOUT THE HISTORY OF JACKSONVILLE
JACKSONVILLE, FLORIDA TODAY
Jacksonville today is a wonderful place to live or visit.

There are more than 500 individual neighborhoods and numerous shopping districts.  There are many activities like festivals and art shows along the banks of the St. Johns River.
Jacksonville, Florida and Duval County Consolidated Governments
Duval County and Jacksonville consolidated their governments in 1968.  Only four communities in the county elected to keep their own governments:
Baldwin, Atlantic Beach, Neptune Beach, and Jacksonville Beach.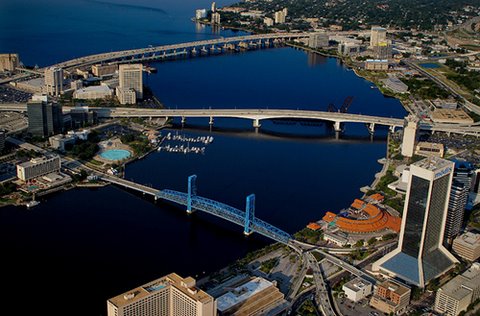 People who live in Jacksonville typically refer to where they live in the general terms of location such as Northside, Westside, Southside, Arlington, and the Beaches.
Then they can narrow that down to individual neighborhoods like Avondale, Lakeshore, Ortega, Riverside, Springfield and more.
Jacksonville is very much a city of neighborhoods spread over the sprawling huge area of Duval County.
The neighborhoods north of downtown - Northside - are typically the most rural and laid back.  Some of these Northside places are Dinsmore, Garden City and Oceanway.
Communities on the south side of the St. Johns River include Arlington, upscale San Marco, Mandarin and Sunbeam.
Beach communities include Mayport, Atlantic Beach, Jacksonville Beach.
West Jacksonville neighborhoods include Normandy, Ortega, Riverside and Panama Park.
The urban core includes LaVilla and Springfield.
Jacksonville is home to the Jacksonville Jaguars of the National Football League.  They play in TIAA Bank Field in the downtown area.
This stadium is also home to the annual Florida-Georgia football game between the University of Florida and the University of Georgia.

In years past is was known as "The World's Largest Outdoor Cocktail Party", but the nickname has fallen out of fashion except among a handful of old timers.

Jacksonville, Florida Is A Military Town
The city's strategic location on the deep water St. Johns River and Atlantic Ocean has made it an important location for military installations.
Some of these include Mayport Naval Air Station at the mouth of the river, Naval Air Station Jacksonville on the river, the Blount Island Command of the U.S. Marine Corps.
The Port of Jacksonville on the St. Johns River has become Florida's third largest seaport.
Most areas of Jacksonville are safe, but like all big cities it's best to have some local advice before wandering around in some neighborhoods.

Each neighborhood has its own special restaurants, hotels and bed and breakfast inns, museums and theaters.
There are more than one thousand motels, hotels and inns in Jacksonville and Duval County.
There are probably two or three times that many restaurants.
In addition to regional shopping malls, many neighborhoods have their own small "downtown" areas with interesting places to visit.
The Jacksonville Southbank Riverwalk is located on the south bank of the St. Johns River in downtown Jacksonville. It is a 1.25 mile promenade along the river with art displays, benches, and a great view of the city skyline.
On a sunny day, the view from the walk epitomizes what Florida is all about: blue water, sunshine, modern buildings and beautiful boats.
The Riverwalk is among the most popular and well-used attractions in the downtown area.
Many Movies Made in Jacksonville, Florida 
A lot of modern movies have also been made in the Riverwalk and other areas of Jacksonville since the end of the silent movie area in the early history of Jacksonville.
Some of these include:
Creature from the Black Lagoon (1954)
G.I. Jane (1997)
The Devil's Advocate (1997)
Why Do Fools Fall In Love (1998)
Forces of Nature (1999)
Sunshine State (2002)
The Manchurian Candidate (2004)
Monster House (2006)
Moving McAllister (2007)
The Year of Getting to Know Us (2008)
Jacksonville is also a great place to explore Northeast Florida using our website at JACKSONVILLE FLORIDA DAY TRIPS

---
 ALL ABOUT JACKSONVILLE, FLORIDA
---
GOOGLE INTERACTIVE MAP JACKSONVILLE, FLORIDA
---
---

Our Facebook page has more than 129,275 followers who love off the beaten path Florida: towns, tourist attractions, maps, lodging, food, festivals, scenic road trips, day trips, history, culture, nostalgia, and more.  We post articles every day.  Please check it out and if you like it, we would appreciate a "like" from you.
---
By Mike Miller, Copyright 2009-2023
Florida-Back-Roads-Travel.com
Florida Back Roads Travel is not affiliated with or endorsed by Backroads, a California-based tour operator which arranges and conducts travel programs throughout the world.