MIAMI MARINE STADIUM

Updated September 24, 2020
Rickenbacker Causeway
Virginia Key
Miami, Florida
Miami Marine Stadium is a famous lost Florida tourist attraction you are not allowed to enter.  
You can only stand in the weedy parking lot and look forlornly at the graffiti adorned structure that was once the proud venue for millions of screaming boat racing and concert fans.

The silence is deafening and the atmosphere is eerily sad.  It is listed on the National Trust for Historic Preservation's 11 Most Endangered Historic Places List.

It is endangered because it may not be saved; it might be torn down and replaced by something else.
FloridaBackroadsTravel.com values Florida history and culture.
Miami Marine Stadium is an important part of the history of South Florida.
The stadium is located on the west end of Virginia Key with a beautiful view of the downtown Miami skyline. It was originally built for powerboat racing.
It is plainly visible from the Rickenbacker Causeway that connects Miami to Virginia Key and Key Biscayne.
The 7,500 seat facility was built in 1964 on land donated to the City of Miami by the prominent Matheson family for water sports.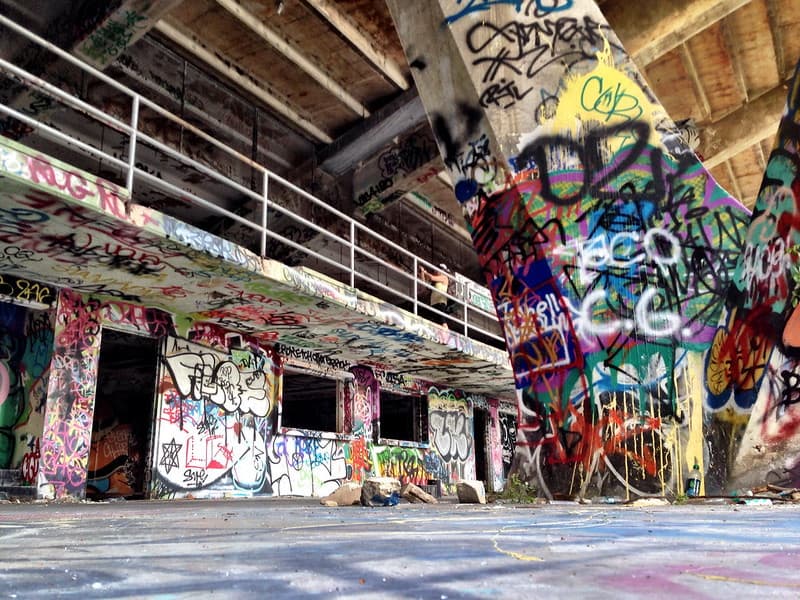 Miami Marine Stadium
Flickr/Ines Hegedus-Garcia
FAMOUS CUBAN-AMERICAN ARCHITECT
DESIGNED MIAMI MARINE STADIUM
It was designed in 1963 by a young architect, Hilario Candela, who had recently come to Miami from Cuba.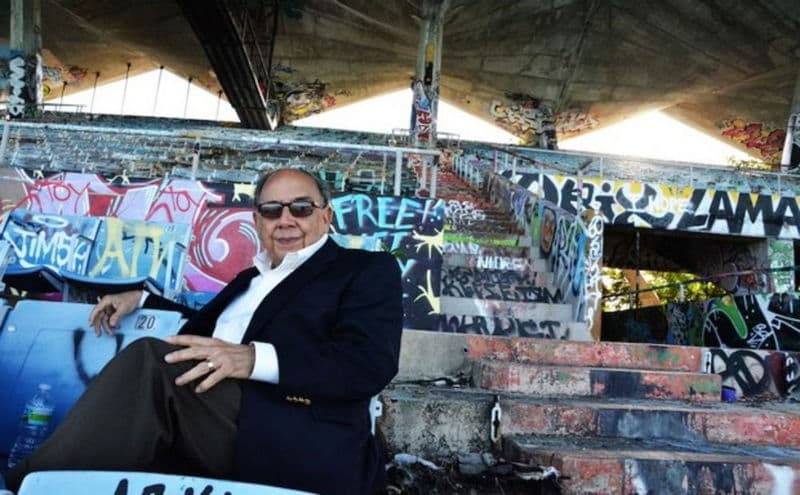 Hilario Candela in 2012
Bloomberg-Robby Campbell
Mr. Candela is now a world famous architect with dozens of major structures to his credit around the world. His firm is one of the largest Hispanic owned consulting firms in the United States.
His ultra-modern design with dramatically cantilevered roof structures became an instant classic.
Many Floridians and tourists over the years watched powerboat races on the oval shaped lagoon that the stadium overlooks, but boat races were not the only attraction at Miami Marine Stadium.
FAMOUS PEOPLE CAME TO MIAMI MARINE STADIUM
Many musical concerts were also held there. It was there in 1972 that the normally reserved President Richard M. Nixon showed up in front of the crowd to enthusiastically greet Sammy Davis Jr..
Jimmy Buffett gave a concert once, and television host Phil Donahue filmed one of his shows there.  There was even a Mitch Miller "Sing Along" concert in the early 1970's.
Miami Marine Stadium
Flickr/Tzef Pine
And every year there was an early morning Easter sunrise service. The ceremonies were conducted from a floating platform on the water in front of the stadium.
But the stadium's fortunes began to decline in the 1980's, and boat races and concert bookings began to be scarce.
It was competing for arena events and concerts with new weather protected venues like the Miami Arena and the James L. Knight Center.
HURRICANE ANDREW VISITS MIAMI MARINE STADIUM
What free-market economics started, Hurricane Andrew finished in 1992.
The stadium suffered extensive damage and was closed down for safety reasons. There was no will at the time to spend the money required to bring the stadium back to a safe condition.
Since Hurricane Andrew's destruction, much of the land surrounding the stadium has been leased by the City to a marina, a rowing club and a couple of restaurants.
The stadium will probably never again be a venue for powerboat racing. What else might it be?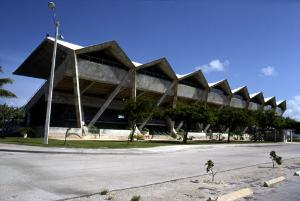 Miami Marine Stadium
Miami's citizens are divided over the stadium's fate.
Some want it preserved as a historic treasure. Others want it torn down and turned into something else.
Another consideration for both sides to consider is the Matheson family's restrictions on what the property can be used for: water sports.  Boat shows are also a possibility; the 2016 Miami International Boat Show was held in the waters in front of the stadium.
A group has been organized to try to save the stadium.  More information about this group can be found at their website,
Friends of Miami Marine Stadium.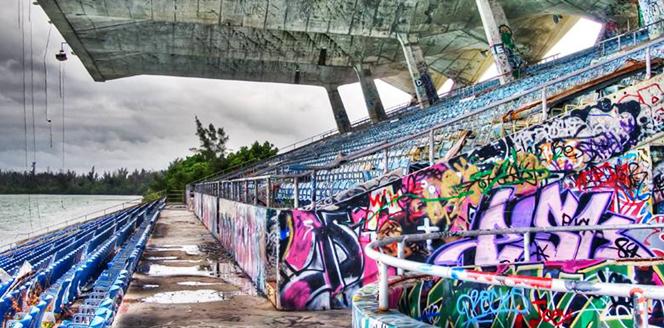 Miami Marine Stadium
Some of the graffiti in the stadium is excellent. I hope the preservation attempt will include trying to photograph or otherwise document and preserve some of this art.
Jimmy Buffett recently donated a video endorsement for saving the stadium. Enjoy his words and the background music.
---
DIRECTIONS TO MIAMI MARINE STADIUM

Miami Marine Stadium is on the western approach end of Virginia Key as you leave the Miami mainland.

From US-1 or I-95, take the Rickenbacker Causeway toward Key Biscayne. Shortly after you go through the toll booth, you will pass over a high rise bridge over Biscayne Bay.
As you reach the top of the bridge, you will see the Miami Marine Stadium and its elongated lagoon ahead of you and to your left.
Stay in the left lane and exit into the Miami Marine Stadium property.
You can enjoy the restaurants, including The Rusty Pelican, if you have time for lunch or dinner.
---
---

Our Facebook page has more than 128,577 followers who love off the beaten path Florida: towns, tourist attractions, maps, lodging, food, festivals, scenic road trips, day trips, history, culture, nostalgia, and more.  We post articles every day.  Please check it out and if you like it, we would appreciate a "like" from you.
---
By Mike Miller, Copyright 2009-2023
Florida-Back-Roads-Travel.com
Florida Back Roads Travel is not affiliated with or endorsed by Backroads, a California-based tour operator which arranges and conducts travel programs throughout the world.