MYSTERY FUN HOUSE
Orlando was an exciting place to be in the early years after Walt Disney World opened in 1971. Other big projects were in the wind, including Florida Center at Interstate-4 and Kirkman Road where Universal Studios is located today.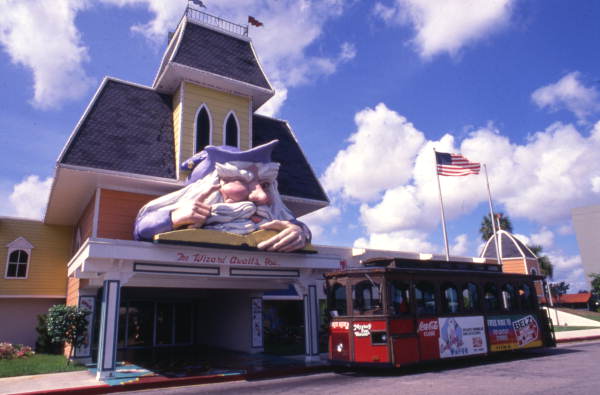 I started a small engineering firm in 1973 and located it in the Major Realty building on Major Boulevard just east of the Sheraton Twin Towers on Kirkman Road.
Major Realty was a prominent real estate development firm headed by a flamboyant entrepreneur named R. F. Raidle. In 1972 Major entered into a joint venture with Gulf Oil Real Estate Corporation to develop Florida Center on 2,700 acres straddling the Florida Turnpike and I-4 along Kirkman Road. Gulf Oil became my client, and I was in hog heaven with visions of engineering projects for eternity dancing in my head.

A large preview center was built along I-4 between Kirkman Road and the Turnpike. Florida Governor Reuben Askew and many local politicos joined Raidle in the grand opening ceremony of the preview center in 1973. I remember thinking that Governor Askew's suit was a bit plain and worn for a man in his lofty position.

But by 1975, the country was in recession and the dream of Florida Center was dead. My engineering firm was starving. Major Realty and Gulf Oil got divorced in 1977.

But prior to that, in 1976, the preview center building was turned into Mystery Fun House.

My kids loved this place, and when given a choice between Walt Disney World and Mystery Fun House would often choose the latter. Some of the big draws were the full laser tag facility, a huge video game arcade, a putt putt golf course with a dinosaur theme and many other smaller attractions.

The Mystery Fun House was made up of 15 different chambers that included a maze of mirrors, rolling barrel tunnels to crawl through, scary haunted areas, a moving wobbly bridge, fortune telling machines. The place was filled with flashing confusing lights, loud music and screaming kids. There was also a significant pizza presence there that might have been the inspiration for Chuck E. Cheese in later years.

I don't know exactly when Mystery Fun House finally closed, but I remember when I was working at Universal Studios in 1989 some of the scenes from the Steve Martin movie "Parenthood" were filmed there.

The lobby of the defunct Mystery Fun house is now the check-in lobby for Westgate Resorts. 

Others Have Shared Their Memories of Mystery Fun House
Feb 04, 2018
Who replied to this message 
by: Christibie 

Other people find work else where. I have to find out if anyone is still around when I fell.

Feb 03, 2018
Hated 
by: Christibe 

Worst visit of my life, I fell off a swivel ladder, my leg went right between the floor and the air mattress. I broke my ankle.
I have 3 metal plates and 20 screws in the ankle. 
Currently, suffering from neuropathy from this fall. Need to talk to anyone, about this , I am serious. 

EDITOR SAYS

So sorry to hear about your accident. The attraction closed in 2001 and we have no idea who you could talk to.

Mar 13, 2015
Great memories !! 
by: Brian 

The Mystery Fun House and Ramada Court Of Flags Resort were my favorite memories. It was my first trip to Florida in 1978. I remember going to the Mystery Fun House in the evening after a long hot day in the sun and I had a pretty good sun burn. I was 7 years old and I'm 44 now. I was wearing a green zip-up jacket and I can still remember the feeling of pain of the jacket rubbing on my sun burnt shoulders, but it was worth it. The Fun House was truly fun. I remember going through the slanted room the most. I'm sure the Fun House didn't have everything that it had in the later years but it was a great time on a warm summery night. The Court Of Flags was a nice hotel back then too --- swimming in the clover pool and eating danish's for breakfast and watching lizards crawl up the sides of the building in the morning sun. Florida looks a lot different now.

Jan 23, 2015
Mystery Fun House 
by: Chris 

I loved the smaller attractions in Orlando. They were so much more fun. I did not like following the crowds, dressing like others, eating the same foods. I like difference and attractions like the Mystery Fun House were different. It will forever live on in my memories.
Dec 16, 2013
Mystery fun house lives on in our memories 
by: Scott 

This place will always hold special memories from long ago. 

I know it's not the caliber we expect from attractions these days but it was a great distraction from the highly commercialized Orlando attractions of today. 

We have lost so much over the years. Little places squeezed out by the big boys in town. Very sad. 

http://bigfloridacountry.com/mysteryfunhouse.htm

I have been keeping the place alive in pictures and videos found, shared, and taken. 

We are also on Facebook. https://m.facebook.com/mysteryfunhouse

Aug 30, 2013
I recall 1987 
by: Eve 

I remember taking my first real adult vacation at age 19, with my boyfriend...who would be my future husband. We stayed five nights in Orlando..visiting the parks and Daytona beach. The most fun memory we had was from the Mystery Fun House...that we had stumbled across. We come out laughing so hard...we could not breathe. Someone could really bring this back. Too many people enjoyed :)

Dec 05, 2012
Great Memories!! 
by: Lisa, Central Florida 

My husband and I had our first date at Mystery Fun House in 1987. We had such a fun time! We visited there several times after that and always had a ball. We have been married 22 years now and have 2 teenage boys. I wish it was still around for them to take dates to as well!

Apr 15, 2012
I guess it was 1976 or 1977 
by: Anonymous 

I, my sister and cousin visited the mystery fun house in the latter mid 70's. I recall the entrance, a moon room, and a disco floor. Don't recall much else, but do remember it as a fun visit.

Even today I look for the location and point it out to my kids. Ironically, I opened a family fun center in NH last year, and mystery fun house fans will discover a few elements reminiscent of the Orlando attraction.

Mar 26, 2012
Mystery Fun House 
by: Robert Weber 

I remember this place. I went in July 1976....we were staying across the street at the Howard Johnsons Florida Center hotel.

Jan 20, 2011
Before Mystery Fun House Was The Sea World Preview Center! 
by: Greg May 

Mike, your article brought back memories of taking my cousin, Shannon, to the Mystery Fun House one night! The Preview Center at Major Boulevard was the site of Sea World's Preview Center while the park was under construction in 1972 and 1973. It featured a topographical layout of the park, a 400-gallon saltwater aquarium and a small movie theatre. The Sea World Preview Center was where I purchased my Charter Gold Pass for $8. It was the best investment I ever made! I renew it every year for $8!
---
Our Facebook page has more than 73,000  followers who love off the beaten path Florida:  towns, lodging,  road maps, festivals, attractions, scenic road trips, day trips, history, and more.
Take a look and if you enjoy what you see, please give us a like.
---
---
---
SUBSCRIBE TO OUR FREE MONTHLY EZINE
The latest updates to our website and stories about people, places, and events.