Northeast Florida Fish Camps
and
Mom and Pop Motels
Northeast Florida fish camps and Mom and Pop motels are located along the Intracoastal Waterway and rivers of this northernmost region of the state.  The majestic St. Johns River flows north through this part of the state on its way to the ocean and offers some of the finest bass fishing in Florida.
Some of the camps have good lodging and others are great places to launch your boat or rent one of theirs and have a great day on the water.
Most of the fish camps and Mom and Pop motels are on the less traveled roads in this region of the state.
Here Are Some Northeast Florida Fish Camps
Here is the motto from the home page of Stegbone's Fish Camp:


Ever wonder where that place went where your Grandfather first took you fishing; that place where life-long memories were made? The place where you fished during the day and told stories about the day's catch over a camp fire? Join us for new memories on the St. Johns River in Welaka, Florida.
Stegbone's Fish Camp is a natural spot tucked along the banks of the St. John's River between Satsuma and Welaka. It's a quiet part of Old Florida with several neat cottages available for daily or weekly rentals. It has been around under several different owners and names since 1946.
It is secluded, yet close enough to Palatka, St. Augustine and Daytona for easy day trips.
---
Welaka Lodge & Resort
1001 Front Street
Welaka, FL 32193
386‑467‑7171
As fish camps go, this fish camp, lodge and RV park is a Ritz Carlton. You also have to love a place whose home page quotes Florida literary icon Marjorie Kinnan Rawlings:
If I could have, to hold forever, one brief place and time of beauty, I think I might choose the night on that high lonely bank above the St. Johns river.
Welaka is about 40 miles southwest of St Augustine, and about the same distance northwest of Daytona Beach. It is close enough for comfortable day trips, but far enough away from the maddening crowds.
This resort caters to fishing enthusiasts and their families, and it is on a magnificent stretch of the majestic St Johns River in the village of Welaka. The resort boasts a swimming pool and a variety of cottages of varying sizes perfect for a couples getaway or a larger family. Most of the cottages are fully equipped with kitchens and are set up so you can live there for long periods of time.
You may just want to do that once youʹve tried this place with its great views of the largest river in Florida.
Here Are Some Other Northeast Florida Fish Camps
Browns Creek Fish Camp, Jacksonville
Bull Creek Fish Camp, Bunnell (Crescent Lake)
Gateway Fish Camp, Fruitland (Fort Gates Ferry)
Georgia Boys Fish Camp, Satsuma
Georgetown Marina and Lodge, Welaka
Lunker Lodge Fish Camp, Georgetown
---
---
Return To Florida Backroads Travel Home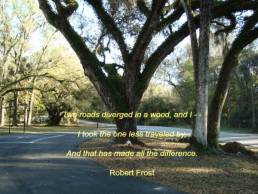 Over 67,000 followers can't be wrong. Learn about off the beaten path Old Florida, historic towns, attractions,  festivals, scenic drives and more.
Like Us On Facebook