INVERNESS, FLORIDA
Inverness, Florida Things To Do, Lodging, Dining, & Real Estate At End Of Article
Inverness, Florida is a small city of 7,500 located about 75 miles north of Tampa.
It is nestled against the western shore of Lake Tsala Apopka, perhaps the most unique lake in Florida.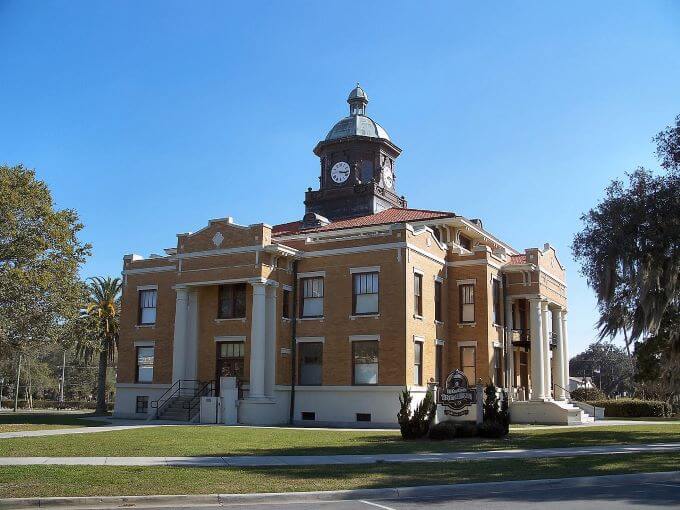 Citrus County Courthouse, Inverness
Wikipedia, Photo by Ebyabe
It is not to be confused with the much larger Lake Apopka many miles east closer to Orlando.
HISTORY OF INVERNESS FLORIDA
An early Scottish settler came up with the name for the town.  Inverness is the County Seat of Citrus County.
Lake Tsala Apopka is really a chain of lakes in a bend of the Withlacoochee River.  The chain is about 18 miles long.
The lake is composed of dozens of smaller lakes and marshes dotted with islands that make it a paradise for fishermen, boaters and day trippers.
The lake has a total surface area of about 19,000 acres spread across an area of about 63,000 acres located between State Road 200 to the north, State Road 48 to the south and U.S. 41 to the west.
State Road 44 crosses the center of the area on its way across the state through Inverness from Crystal River to New Smyrna Beach.

The location of Inverness is a natural when you take a look at the map and realize the geography of the area.
Native Americans were the first settlers in this area because of the abundance of food provided by the river, lakes and swamps.
The State of Florida has identified at least 30 archaeological sites in the Tsala Apopka area.
Hernando de Soto and his boys tramped through the area on one of their expeditions in 1539 as they were heading north to what is now Ocala.
In later years, many Seminoles lived in the area up until the Second Seminole War.
Major battles of that war took place in this region in 1835 and 1836.
INVERNESS,  FLORIDA TODAY
The lake is an abundant source of bass and catfish and it pains me that the two most famous restaurants in the area do not serve fresh catfish.
I won't name them here;  the locals can tell you.

Anybody can thaw out frozen catfish and fry them up; I think they are missing a golden opportunity.
Those local restaurants do, however, serve another famous food of the region: Florida cooter. 

The cooter is a freshwater turtle that provided many a meal to the early Native American and Florida Cracker settlers.
It is still served at many restaurants in the smaller towns in the central and northern regions of Florida.
Inverness celebrates this shelled creature in its "Great American Cooter Festival" held each year during the last full week of October.
The cooter critter is further memorialized in one of the local Inverness parks.

Like most small Florida cities, the best parts of Inverness are off the beaten path. You need to get a block or two away from the major highways and poke around.
The Citrus County Courthouse is a beautiful old structure that dominates the vibrant little downtown area. Just look for it and drive toward it. You can't go wrong.
The city still has many fine old homes, some in great shape, others needing a loving hand to fix them up. The streets are quiet and tree canopied.
The Withlacoochee Trail goes through town on its 46 mile path through several counties along an old railroad route. It is a multi-use rail trail for hikers and cyclists with no motorized vehicles allowed.
The neighborhood around the Citrus County courthouse is known as Courthouse Square and features many nice restaurants and shops.
It is a small business district but is very popular with locals and tourists alike.
One of the famous restaurants that advertises catfish is in the Square. It's a fun place to visit and the food is okay unless you like fresh catfish.
There is a sports bar, sandwich shop, wine shop and a lot of other neat places in this Square.
The old Orange Hotel was a popular vacation spot in Inverness back in the day. In more recent years it became the Crown Hotel, and now it has been reborn as Crown Court.
It is an assisted living facility and still looks great after more than 100 years of serving people in its different forms.
It's wonderful that the current owners spent the time and money to renovate and preserve this treasure.
THINGS TO DO IN INVERNESS FLORIDA
Fort Cooper State Park: 3100 S Old Floral City Rd, Inverness, FL 34450 Phone: 352-726-0315
Fort Cooper State Park is a beautiful natural oasis that provides visitors with a variety of recreational activities. Explore the park's five miles of nature trails, or rent a canoe to paddle around the serene Lake Holathlikaha.
Withlacoochee State Trail: 315 N Apopka Ave, Inverness, FL 34450 Phone: 352-726-2251
The Withlacoochee State Trail is a 46-mile long paved rail-trail that offers a scenic route for walkers, joggers, cyclists, and rollerbladers. The trail winds through small towns, farmland, and picturesque landscapes, making it an enjoyable outdoor adventure for all ages.
Whispering Pines Park: 1700 Forest Dr, Inverness, FL 34453 Phone: 352-726-3913
Whispering Pines Park is a local favorite, offering various recreational facilities like a swimming pool, tennis courts, playgrounds, and picnic areas. The park is surrounded by lush greenery and features well-maintained walking trails perfect for a leisurely stroll or a morning run.
Old Courthouse Heritage Museum: 1 Courthouse Square, Inverness, FL 34450 Phone: 352-341-6428
The Old Courthouse Heritage Museum is housed in a beautifully restored 1912 courthouse, showcasing the history and heritage of Citrus County. Exhibits feature Native American artifacts, early pioneer life, and the region's famous phosphate mining industry.
Cooter Pond Park: 181 US-41, Inverness, FL 34450 Phone: 352-726-2611
Cooter Pond Park is a picturesque park with a beautiful pond, providing visitors with opportunities for wildlife watching, fishing, and picnicking. The park features a wheelchair-accessible boardwalk that surrounds the pond, offering breathtaking views of the water and surrounding nature.
Inverness Golf and Country Club: 3150 S Country Club Dr, Inverness, FL 34450 Phone: 352-637-2526
Inverness Golf and Country Club is a semi-private club that boasts a challenging 18-hole golf course suitable for players of all skill levels. The course's lush greens and beautiful water features provide a relaxing and enjoyable golfing experience.
Wallace Brooks Park: 328 E Dampier St, Inverness, FL 34450 Phone: +1 352-726-2611
Wallace Brooks Park is a peaceful riverside park that offers a boat ramp, picnic areas, and a playground. The park is a popular spot for launching kayaks and canoes, providing access to the scenic Withlacoochee River.
---
ALL ABOUT INVERNESS, FLORIDA
---
INVERNESS, FLORIDA INTERACTIVE MAP
---
---
---

Our Facebook page has more than 128,577 followers who love off the beaten path Florida: towns, tourist attractions, maps, lodging, food, festivals, scenic road trips, day trips, history, culture, nostalgia, and more.  We post articles every day.  Please check it out and if you like it, we would appreciate a "like" from you.
---
By Mike Miller, Copyright 2009-2023
Florida-Back-Roads-Travel.com
Florida Back Roads Travel is not affiliated with or endorsed by Backroads, a California-based tour operator which arranges and conducts travel programs throughout the world.