NORTHWEST FLORIDA
ROAD TRIPS AND SCENIC DRIVES

The Northwest Florida road trips and scenic drives recommended on this website will take you into one of the most rural parts of Florida.  This region sometimes seems to be as much like Alabama as it is the rest of the Sunshine State.
I-10 is the major east-west interstate in this region. It crosses the state of Florida from Pensacola to Jacksonville, and leads on to Pensacola's neighbors Mobile and New Orleans to the west.

Like everywhere else in our country, the interstate highway exits are crowded with gas stations, fast food restaurants and motels. You can travel the state quickly and easily on this highway (unless you get caught in an accident), but not see as much scenery or real towns as on our recommended day trips.
The towns that you see mentioned on the exit signs are usually several miles away.  Your fun and adventure begins when get off the busy interstate and take your leisurely drive on the less traveled roads.
There are many state and county highways off the interstate that offer better scenery and a look at real towns. In Florida, many of the back roads are even four-laned because a few years ago they were main highways that succumbed to Florida's tremendous growth.
The maps below show a few Northwest Florida day trips that I recommend.
If you are more interested in places to visit than driving routes, see Pensacola Florida Day Trips.
---
Northwest Florida Road Trips and Scenic Drives with Highway Maps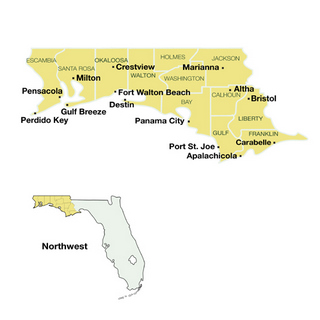 Northwest Florida
---
Road Trip 1: Pensacola to DeFuniak Springs on US-90
US-90 from Pensacola to DeFuniak Springs through Milton and Crestview. Pretty country and nice little towns. Enjoy the Red Bluffs area as you go through Pensacola with beautiful views of Escambia Bay. While in Pensacola, you can enjoy the National Naval Aviation Museum. It is a spectacular display, and admission is free.
DeFuniak Springs was the southern headquarters of the Chautauqua movement more than 100 years ago. Many old Victorian buildings from that era still decorate this quaint little town.
Another great spot to visit in DeFuniak Springs is Chautauqua Vineyards. This quaint place offers some great wine tasting sessions and wine gift baskets in Florida themes.
This trip is about 80 miles.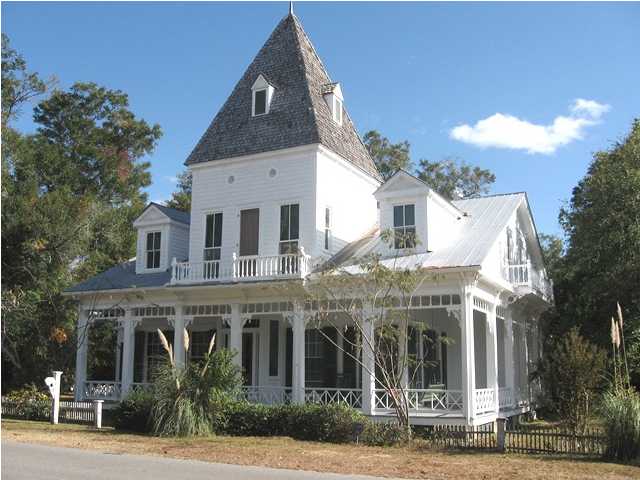 House in Milton, Florida
---
Road Trip 2:  DeFuniak Springs to Seaside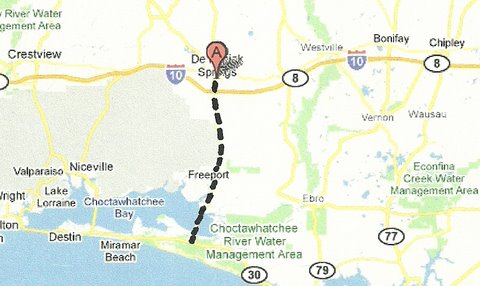 Take Circle Drive around the lake in downtown DeFuniak Springs to enjoy looking at the old Victorian houses. The town used to be the headquarters of the New York Chatauqua assemblies back in the day, so there is a lot of old charm in this town. After enjoying the sights, take US-331 south out of town to US-98 near Grayton Beach and Seaside. Northwest Florida wooded wilderness, peaceful and quiet. Not much to see, but that's the charm of this stretch of road.
This trip is about 30 miles.
St Agatha Church, DeFuniak Springs
---
Road Trip 3:  Pensacola to Seaside on US-98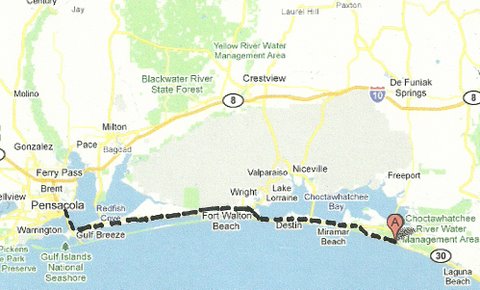 US-98 from Grayton Beach to Pensacola through Destin, Fort Walton Beach, and Gulf Breeze. Beautiful white sand beaches and blue green Gulf of Mexico views. Spend some time exploring the towns along County Road 30 and 30A. They parallel US-98 and are loaded with great scenery. Don't forget to visit Seaside when you are exploring.
Seaside is one of the country's leading examples of New Urbanism. This charming village is only 30 years old or so, but is designed for walkability. Once you are there, you don't even need a car. The beach is magnificent at Seaside. Seaside can be the starting point of many of your Northwest Florida day trips.
Take a look at some more beautiful beaches at Grayton Beach State Park and Topsail Hill Preserve State Park.
This trip, not including the wandering around you will want to do, is about 70 miles.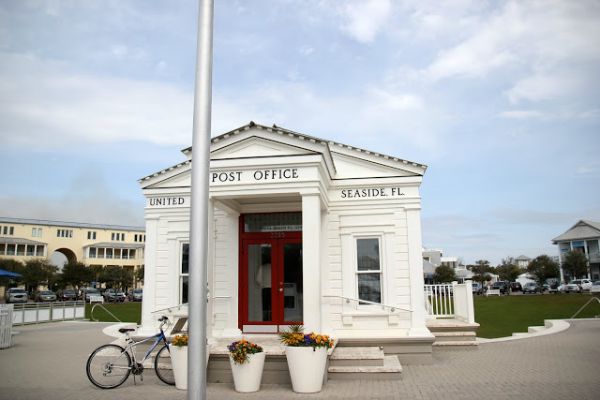 Seaside Post Office
---
Road Trip 4:  Pensacola to Perdido Key
County Road 292 from Pensacola to Perdido Key State Park. Lonely road and beautiful beaches. No camping, but good picnics and beach walks. This is one of the most scenic Northwest Florida day trips.
The trip from downtown Pensacola is about 18 miles.
Pensacola Lighthouse
---
Road Trip 5:  Panama City Beach to Grayton Beach on 30A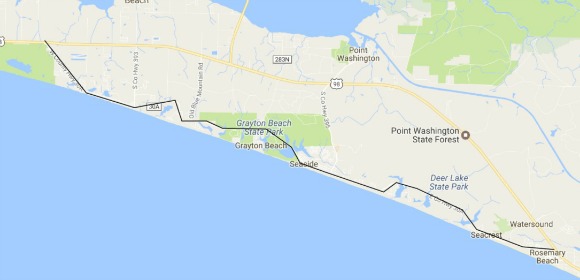 Turn left off US-98 onto County Road 30A from just west of Panama City Beach.  Drive through Rosemary Beach, Watersound, Seacrest, Seagrove, Seaside, and Grayton Beach and back to US-98.  The most beautiful beaches you will ever see.
The trip is about 20 slow miles.  Slowest in season (summer) and not quite so slow in winter.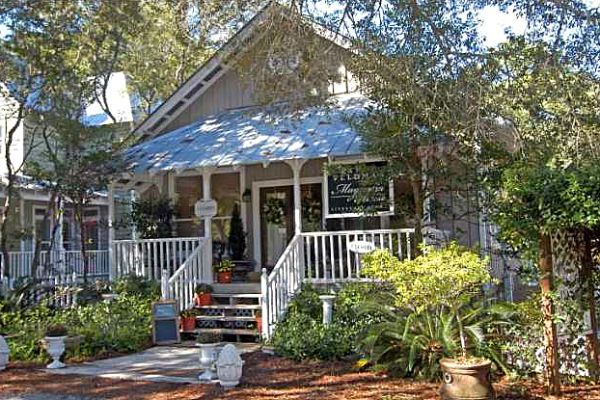 Grayton Beach Cottage
---
Road Trip 6:  Chattahoochee Loop through Sneads and Marianna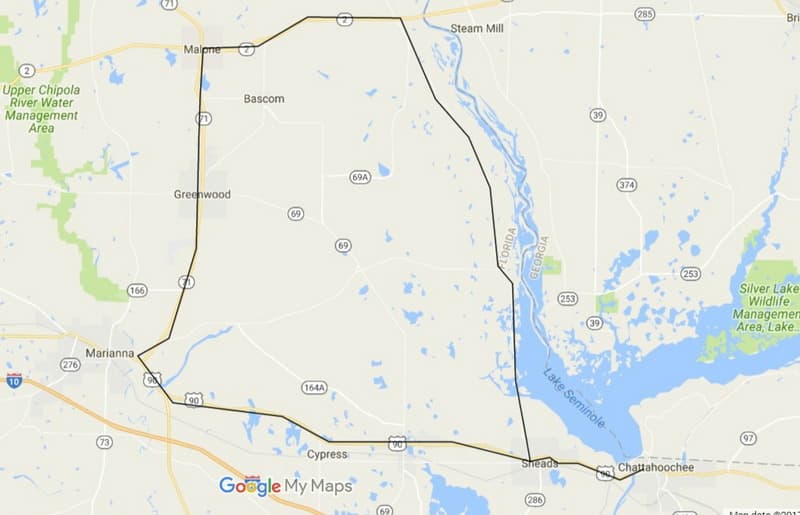 This trip takes you within 2 miles of the Alabama border, and directly on the Georgia border when you are in Chattahoochee. Start on US-90 in Chattahoochee and go west about 4 miles to River Road (CR-271) in Sneads. Turn right and go north along the west shore of Lake Seminole, Three Rivers State Park and the Chattahoochee River to CR 2, then left and west to Malone.  Take CR-71 from Malone south to US-90 on the east side of Marianna.  Follow US-90 back to Chattahoochee.  Wooded rural and farmland scenery, close to Two Egg if you want to say you've been there.  One of the most rurual northwest Florida day trips.
The trip is about 60 miles.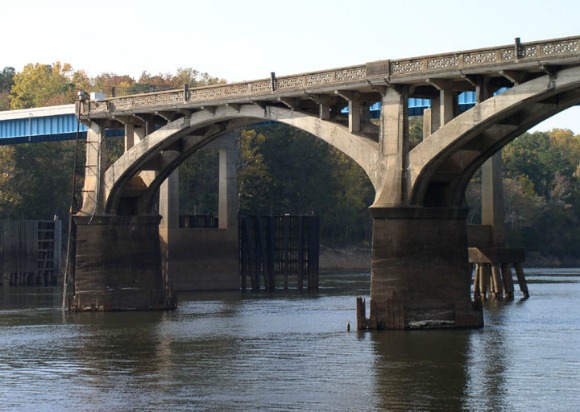 Victory Bridge in Chattahoochee
---
Road Trip 7:  Big Bend Scenic Byway from Apalachicola to St. Marks
An official Florida Scenic Highway, the Big Bend Scenic Byway begins on the west at Apalachicola and extends along the coast to St Marks at its eastern limit.  The route meanders through Franklin, Liberty, Wakulla, and Leon Counties as shown on the official route map above.
The trip is about 220 miles.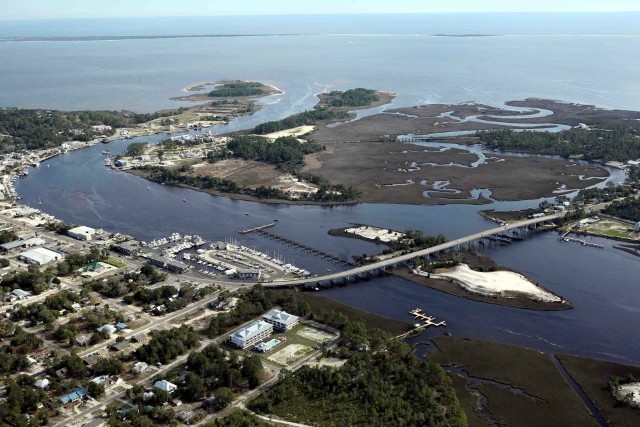 Carrabelle, Florida
---
---
---

Our Facebook page has more than 128,577 followers who love off the beaten path Florida: towns, tourist attractions, maps, lodging, food, festivals, scenic road trips, day trips, history, culture, nostalgia, and more.  We post articles every day.  Please check it out and if you like it, we would appreciate a "like" from you.
---
By Mike Miller, Copyright 2009-2023
Florida-Back-Roads-Travel.com
Florida Back Roads Travel is not affiliated with or endorsed by Backroads, a California-based tour operator which arranges and conducts travel programs throughout the world.