Orange Blossom Special - The Train
ORANGE BLOSSOM SPECIAL
Song Is At The End Of This Article
About Orange Blossom Special The Train
The Orange Blossom Special was a luxury train that rolled down the Florida tracks from 1926 until 1953. 
Even though it is no longer in service, its name is familiar to almost everyone who loves country music.
Fans of old time country music are very fond of songs about trains, and this train inspired a song that has been performed by dozens of artists.
At the end of this article, there is a link to an unusual video of the "Orange Blossom Special" being performed by a big time orchestra marching down Ocean Drive in Miami Beach.
ABOUT ORANGE BLOSSOM SPECIAL, THE TRAIN
The train traveled along a route almost 1,400 miles long on various track systems from New York City to Miami, Florida.
It went into service in 1925 and was the creation of S. Davies Warfield who wanted to take advantage of the booming real estate economy of Florida in those years. 
One of Warfield's early helpers was his young niece, Wallis Warfield Simpson, who later became the Duchess of Windsor.
The Orange Blossom Special made its first trip in February 1926 from New York to West Palm Beach.  It didn't go all the way to Miami then because Seaboard Airline Railway had not yet reached Miami. 
That first trip took 35 hours.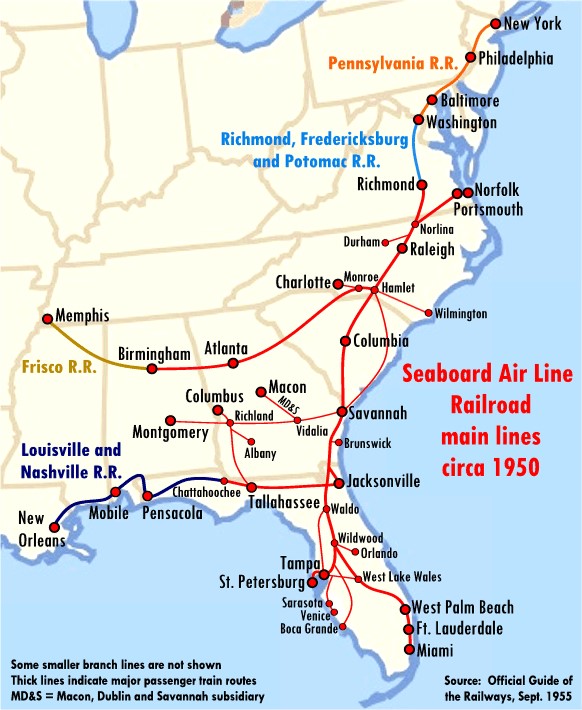 Although the train went from New York City to Miami, there were alternate track sections that served St. Petersburg and Venice.
As the years went on, the Orange Blossom Special became famous for the luxury of its coaches and the speed of its trips.
The food on board was prepared daily from fresh ingredients by skilled chefs who were carefully screened for their experience. 
The dining cars were luxurious and all varieties of wine and liquor could be ordered with your meal until Prohibition came along in 1929.
The train had private sleeping compartments for the wealthiest passengers, a club car for the drinkers and an observation car for the sight seers.
ABOUT ORANGE BLOSSOM SPECIAL, THE SONG
Legend says that two musicians saw the train in Florida in 1938 and were so impressed they wrote a song about it.
The musicians were fiddlers Ervin T. Rouse and Chubby Wise, and the song they wrote was "The Orange Blossom Special." 
The song was first performed by Rouse and his brother in 1939.
There has always been a bit of controversy over whether Rouse wrote the song or Wise did. 
That is a study in itself but it does not take away the enjoyment legions of people have taken from the song as performed by so many different artists.
Among those performing artists are Bill Monroe and Johnny Cash.
Many people have referred to the song as "the fiddle players national anthem."  If you can play this tune skillfully, you can play almost anything.
For one of the most unusual and entertaining performances of this classic song, check out this video of the James Last Orchestra performing the Orange Blossom Special on Ocean Drive, the South Beach area of Miami Beach.
JAMES LAST ORCHESTRA, ORANGE BLOSSOM SPECIAL
PERSONAL MEMORY OF THE ORANGE BLOSSOM SPECIAL
I have a fond personal memory involving this song.  I was having dinner back in the 1970s at Freddie's Steak House in Fern Park north of Orlando. 
It was an elegant and very popular restaurant back in those days.

During dinner an elderly gentleman in a tuxedo strolled among the tables playing classical and easy listening type songs on his violin as background music. 
From time to time he would entertain requests from diners, and one night he asked me if I had one.

To my wife's horror, I requested "Orange Blossom Special" thinking it would get a laugh and then I could counter with something more fitting for the ambience of the dining room.
Without hesitation, however, he played the country classic and it was better than any other version I ever heard, before and since. 
The applause almost brought down the house.
---
---
This brief video features some of the stations along the way.
---
---

Our Facebook page has more than 129,275 followers who love off the beaten path Florida: towns, tourist attractions, maps, lodging, food, festivals, scenic road trips, day trips, history, culture, nostalgia, and more.  We post articles every day.  Please check it out and if you like it, we would appreciate a "like" from you.
---
By Mike Miller, Copyright 2009-2023
Florida-Back-Roads-Travel.com
Florida Back Roads Travel is not affiliated with or endorsed by Backroads, a California-based tour operator which arranges and conducts travel programs throughout the world.