OZONA, FLORIDA
By  Mike Miller April 25, 2023

Ozona, Florida is a charming town located on the Gulf Coast of Florida in the Tampa Bay area.  It is on the west side of Pinellas County on the northern edge of Dunedin.
Ozona Aerial Vintage Postcard
It is situated on historic Alternate Highway US-19 and has a population of approximately 3,000 people.
HISTORY OF OZONA, FLORIDA
Ozona has a rich history dating back to the earliest Native American tribes who used the area for fishing and hunting.
It first went by the name Yellow Bluff and was settled in 1870 under the Homestead Act by early pioneers.
It was later renamed Bay St. Joseph because of the unpopular connection of the town's name with the dreaded "yellow fever."
Finally, the name was changed in 1889 to Ozona, a possible reference to the fresh breezes coming off the Gulf of Mexico.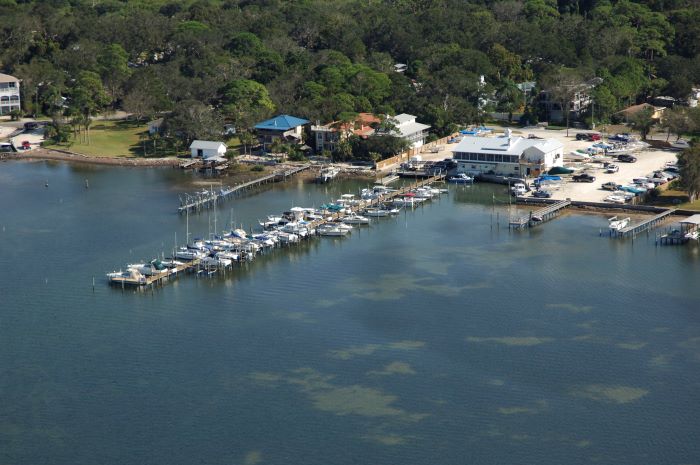 Ozona Fish Camp
Marinas.com
The first settlers were industrious and the area became well known for its citrus groves and fishing industry.
During the 20th century, Ozona experienced a boom in growth and development, with the construction of new homes, shops, and restaurants.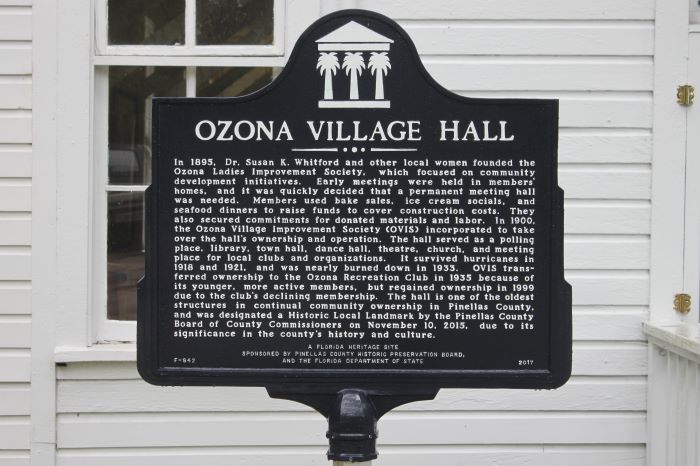 Ozona Village Hall Historical Marker
The Village of Ozona website has an interesting article about the history of Ozona.
Many of the original buildings from the town's early days have been preserved, giving Ozona a unique and nostalgic feel.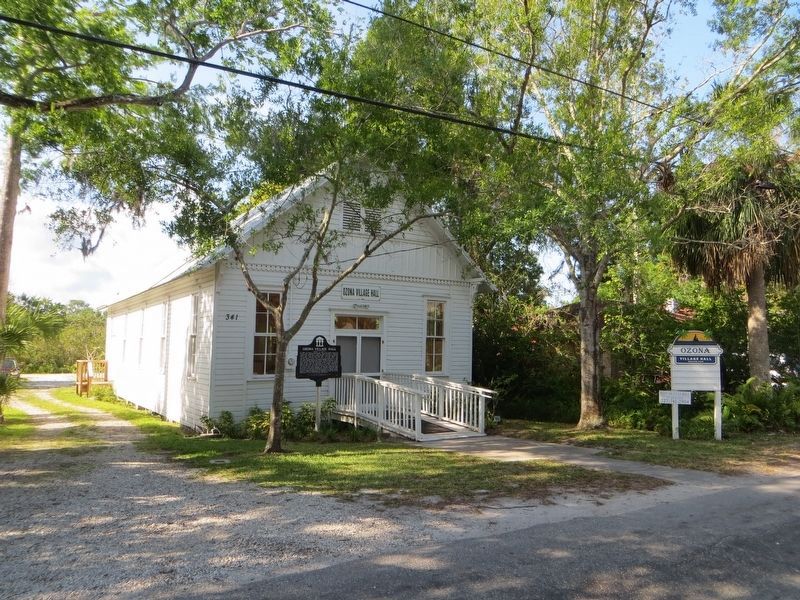 Ozona Village Hall
Today, Ozona is a thriving community with a variety of shops, restaurants, and businesses.

Employment centers include healthcare, education, and technology industries. The town also has several parks and nature trails, which are popular with both residents and visitors.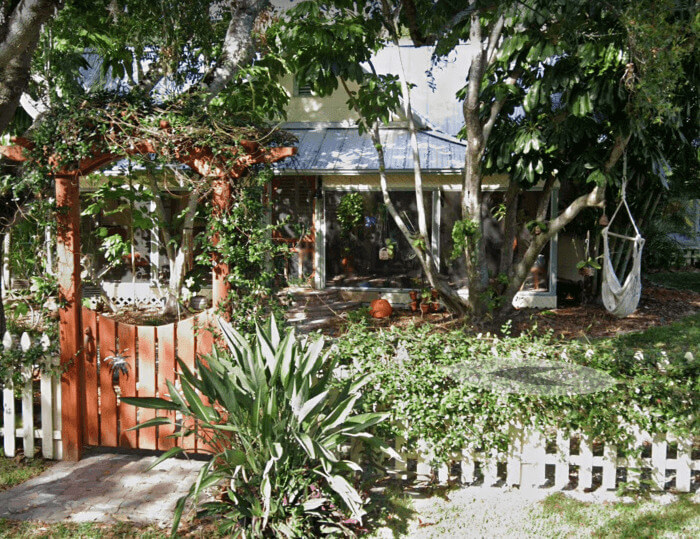 Ozona Home on Quiet Street
There are also some quiet neighborhoods where only non-commercial use is allowed.  Many homes are older, well kept, and a reminder of Old Florida.
THINGS TO DO IN OZONA, FLORIDA
John Chesnut Sr. Park - 2200 East Lake Road S, Palm Harbor, FL 34685 - A beautiful park with trails, playgrounds, and picnic areas.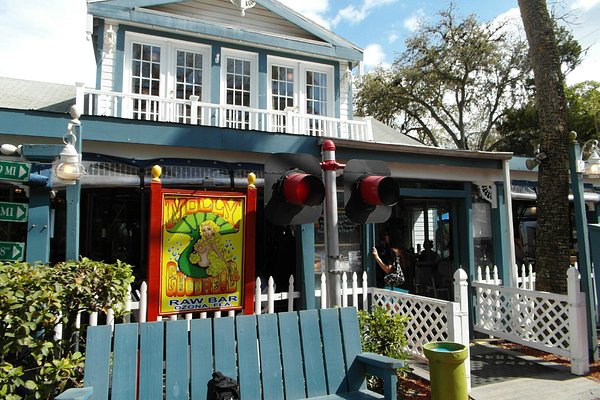 Molly Goodhead's, Ozona, Florida
Molly Goodhead's Raw Bar and Restaurant - 400 Orange St., Ozona, FL 34683. A two story restaurant with an oyster bar and seafood menu.
Ozona Village Hall - 401 Orange St, Ozona, FL 34660 - A historic building that serves as the town's community center.
Ozona Blue Grilling Co. - 125 Orange St, Ozona, FL 34660 - A popular restaurant serving fresh seafood and steaks.
Ozona Pig BBQ
Ozona Pig BBQ - 311 Orange St, Ozona, FL 34660 - A local favorite for delicious barbecue.

Pop Stansell Park - 797 Florida Ave, Palm Harbor, FL 34683 - A park with basketball courts, a playground, and picnic areas.
Pinellas Trail - 12077 118th St, Largo, FL 33778 - A popular biking and hiking trail that runs through Ozona.

Ozona Fish Camp - 288 Orange St, Palm Harbor, FL 34683 - A marina and fish camp offering boat rentals and fishing charters. It has larger docks that can accomodate the bigger yachts.
Wall Springs Park, Palm Harbor
Wall Springs Park - 3725 DeSoto Blvd, Palm Harbor, FL 34683 - A park with hiking trails, playgrounds, and picnic areas, as well as a historic spring.
---
INTERACTIVE MAP OF OZONA, FLORIDA
---
---
---

Our Facebook page has more than 129,275 followers who love off the beaten path Florida: towns, tourist attractions, maps, lodging, food, festivals, scenic road trips, day trips, history, culture, nostalgia, and more.  We post articles every day.  Please check it out and if you like it, we would appreciate a "like" from you.
---
By Mike Miller, Copyright 2009-2023
Florida-Back-Roads-Travel.com
Florida Back Roads Travel is not affiliated with or endorsed by Backroads, a California-based tour operator which arranges and conducts travel programs throughout the world.