RICHARD S. LEWIS
By  Mike Miller June 11, 2023

Richard S. Lewis was born in 1916 and died in 2001.
He was one of my favorite clients during my career as a consulting engineer.  I designed a condominium project for him on the ocean south of Melbourne Beach.
Richard S. Lewis
He named the project "On The Beach" after the popular novel by Nevil Shute written in 1957. 
It was made into a movie in 1959 starring Gregory Peck. 
He insisted I call him Dick, and he was a very soft spoken and modest man.  He had a slight limp from having had polio as a child.
Even so, he told me, he was able to be on the fencing team at his college.
He attended Penn State and graduated in 1937.  His first job was as a reporter for the Cleveland Press.  In 1943 he joined the army and became a reporter for their newspaper, Stars and Stripes.

I can't remember where it happened, but he was wounded during the war and had a Purple Heart.
After the war he went to work for the Chicago Sun Times along with other reporting jobs in Indianapolis and St. Louis.  In 1951 he joined the Bulletin of the Atomic Scientist as a reporter and eventually ended up as their science editor.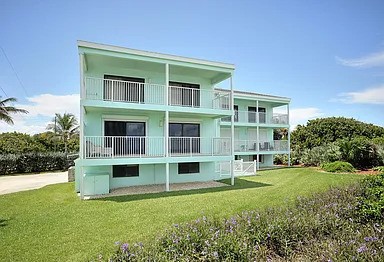 On The Beach
He had always been interested in science and the space program and made many trips to Kennedy Space Center in Florida to report on events there.

When he retired he moved to Indialantic, Florida and continued writing.  Among the books I recall him working on were:
Appointment on the Moon; The Full Story of Americans in Space from Explorer I to the Lunar Landing and Beyond
Challenger; The Final Voyage
Space in the 21st Century
Science and space were not his only interests.  He had a disabled son and his research for ways to help him resulted in another book:
The Other Child; a book for parents who have brain injured children
He also visited Antartica on two separate occasions and wrote a book about the history of the continent.
A Continent for Science – The Antarctic Adventure
He gave me a signed copy of his best known book about exploration:
From Vinland To Mars:  a thousand years of exploration
During his "retirement" years in Florida he also was elected to the Town Council in his hometown of Indialantic.
It was a pleasure to work with Dick on the "On The Beach" condo project.  It was completed in 1981 and all 8 units sold fairly quickly.
---

Our Facebook page has more than 128,577 followers who love off the beaten path Florida: towns, tourist attractions, maps, lodging, food, festivals, scenic road trips, day trips, history, culture, nostalgia, and more.  We post articles every day.  Please check it out and if you like it, we would appreciate a "like" from you.
---
By Mike Miller, Copyright 2009-2023
Florida-Back-Roads-Travel.com
Florida Back Roads Travel is not affiliated with or endorsed by Backroads, a California-based tour operator which arranges and conducts travel programs throughout the world.