SAFETY HARBOR, FLORIDA
Safety Harbor, Florida things to do, lodging, dining, real estate at end of article.
Safety Harbor is on the far northwestern shore of Tampa Bay.
Although surrounded by heavily populated Pinellas County, it is a tranquil spot far away from the noise and hectic life of its urban neighbors.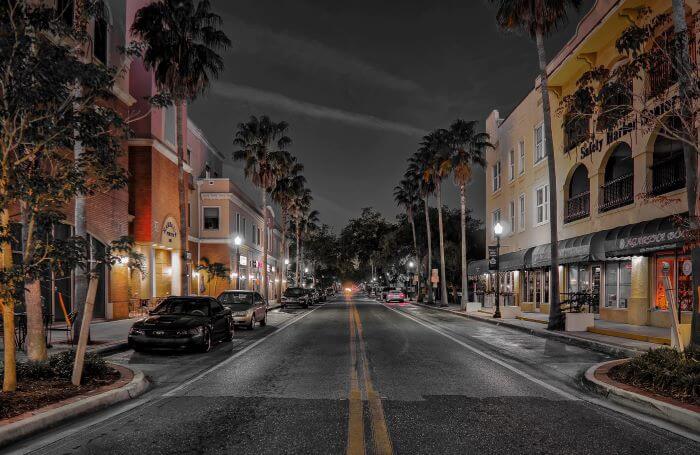 Main Street Safety Harbor
Photographic Destinations by Bob Kyle
The small town of 18,000 people is the home of the historic Espiritu Santo Springs.

HISTORY OF SAFETY HARBOR, FLORIDA
This "spring of the Holy Spirit" was given its name in 1539 by the Spanish conquistador Hernando de Soto. In the early 1900s water from the spring was bottled and sold around the country.

The little town was incorporated in 1917 and the famous Safety Harbor Resort and Spa was opened in 1924. 
The first section of the resort, where the current Four Springs ballroom is today, was the water dispensary.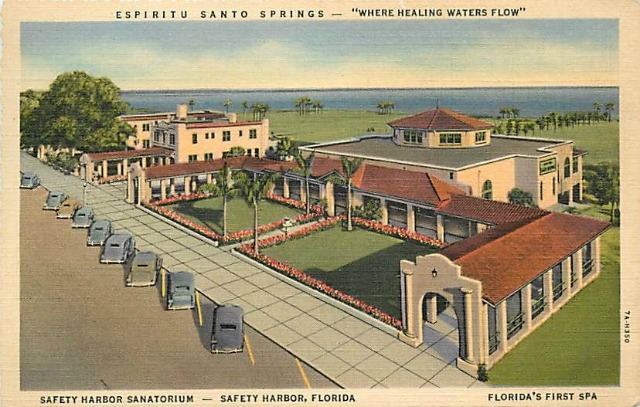 People came from all over the world to "take the water", the healing Espiritu Santo mineral spring water.
In 1926, the main part of the Safety Harbor Resort was opened, the sanitorium.  The site was designated a Historical Landmark by the U.S. Department of the Interior in 1964.
The resort is still a popular destination to this day.
The area was originally known as Worth's Harbor and was first settled by a French nobleman named Count Odette Phillippe.
He is known for introducing the first grapefruit to Florida in 1823.
His name is still honored around Safety Harbor in the beautiful Phillipe Park. This 122 acre treasure is a short walk from the Spa and is a great place for picnics or to just spend a quiet day.
Local legend says the name Safety Harbor comes from the 1700s when pirates were a big threat to the Florida gulf coast.
If a ship could get as far as the shallow waters of this part of Tampa Bay, it was safe from pirates.

SAFETY HARBOR, FLORIDA TODAY
The main drag in Safety Harbor is appropriately named Main Street. It runs east-west and ends at the Safety Harbor Resort and Spa located on Tampa Bay.

It is a pleasant street with dozens of neat shops, restaurants and art galleries. Art and artists are important elements of this little town.

The side streets also have lots of interesting old houses and buildings to look at. An example is the Safety Harbor Art and Music Center shown above.
The cozy little Safety Harbor City Marina is also at the end of Main Street adjacent to the Spa.

The downtown area in the Main Street neighborhood shows its artistic heritage with all kinds of buildings decorated with bright primary colors or pastels.
It is a pleasant experience just to walk around and soak up the ambiance. 
SAFETY HARBOR RECOMMENDED RESTAURANT
Southern Fresh
122 3rd Avenue
Safety Harbor, FL 34695
Tel: 727-216-6341
I've always thought of southern food as being comfort food.  Southern Fresh confirms that I am thinking correctly. 
This is a small restaurant with a plain inside dining room and a wonderful outside dining deck.
The prices are great and the ambiance is perfect for this kind of dining place.  The menu is limited, but that's okay too. 
You will be in heaven if you like meatloaf, mash potatoes, green beans, fried chicken, roast pork, collard greens and various grilled vegetables.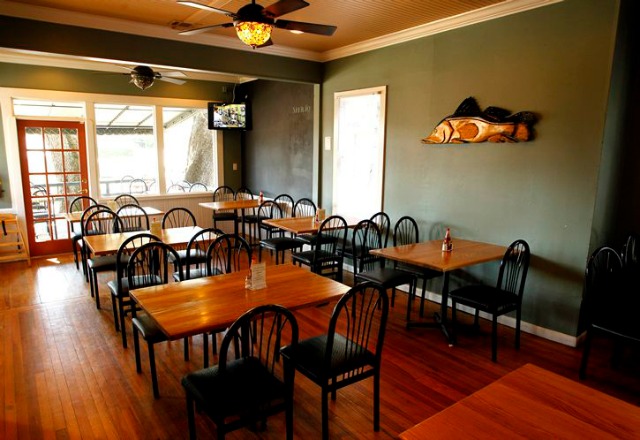 The restaurant is in a converted bungalow and would be fun to visit even if you didn't eat there.  The service is prompt and friendly. 
If you are of the sensitive skin type, the restaurant will even lend you some bug spray to use on their deck.  I did not find it necessary in October, but some people might. 
Sandwiches are great;  try the Boston Butt Pork Sandwich with a side of collard greens.  Delicious and filling.  If you don't like chicken, try their redfish.  It's just as good as the chicken. 
The fried chicken is not prepared in advance;  it is made to order while you wait.  This takes a little longer that Kentucky Fried Chicken or Chik Fil A, but you will feel that the wait is worth it. 
You can get chicken breast, legs, thighs or all of the above.  Desserts are more comfort food;  try the strawberry shortcake or the banana pudding.
Southern Fresh has a small but nice selection of beer and wine.
---
 ALL ABOUT SAFETY HARBOR, FLORIDA
---
SAFETY HARBOR FLORIDA INTERACTIVE MAP
---
---
We post articles each day on our Facebook page which has more than 121,509 followers. 

 Please check it out and if you like it, we would appreciate a "like".

---
By Mike Miller, Copyright 2009-2022
Florida-Back-Roads-Travel.com
Florida Back Roads Travel is not affiliated with or endorsed by Backroads, a California-based tour operator which arranges and conducts travel programs throughout the world.