SAFETY HARBOR, FLORIDA
Safety Harbor, Florida things to do, lodging, dining, real estate at end of article.
Safety Harbor is on the far northwestern shore of Tampa Bay. Although surrounded by heavily populated Pinellas County, it is a tranquil spot far away from the noise and hectic life of its urban neighbors.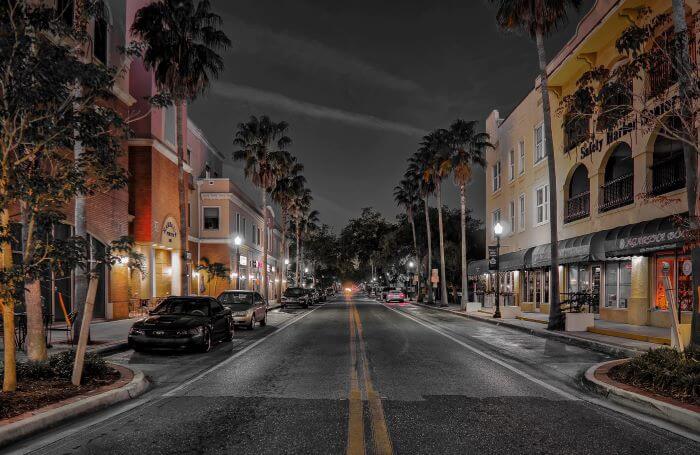 Main Street Safety Harbor
Photographic Destinations by Bob Kyle
The small town of 18,000 people is the home of the historic Espiritu Santo Springs.

HISTORY OF SAFETY HARBOR, FLORIDA
This "spring of the Holy Spirit" was given its name in 1539 by the Spanish conquistador Hernando de Soto. In the early 1900s water from the spring was bottled and sold around the country.

The little town was incorporated in 1917 and the famous Safety Harbor Resort and Spa was opened in 1924. 
The first section of the resort, where the current Four Springs ballroom is today, was the water dispensary.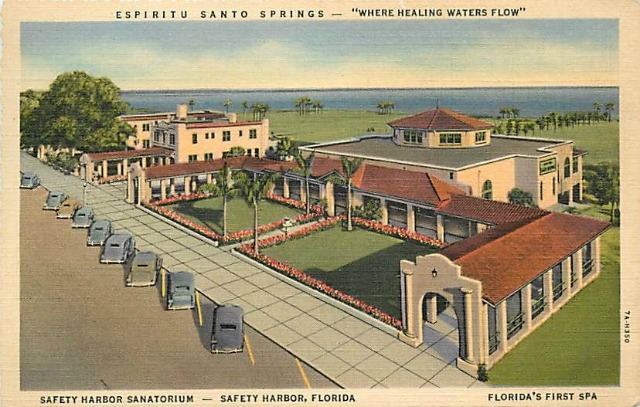 People came from all over the world to "take the water", the healing Espiritu Santo mineral spring water.
In 1926, the main part of the Safety Harbor Resort was opened, the sanitorium.  The site was designated a Historical Landmark by the U.S. Department of the Interior in 1964.
The resort is still a popular destination to this day.
The area was originally known as Worth's Harbor and was first settled by a French nobleman named Count Odette Phillippe.
He is known for introducing the first grapefruit to Florida in 1823.
His name is still honored around Safety Harbor in the beautiful Phillipe Park. This 122 acre treasure is a short walk from the Spa and is a great place for picnics or to just spend a quiet day.
Lovers Oak in Safety Harbor Park
Photographic Destinations by Bob Kyle
Local legend says the name Safety Harbor comes from the 1700s when pirates were a big threat to the Florida gulf coast.
If a ship could get as far as the shallow waters of this part of Tampa Bay, it was safe from pirates.
More About the History of Safety Harbor
One of our readers, Phil Esbach, has provided the following information from his family history:
"Here's the history of the place during the period between Desoto in 1539 and the Sanitorium in 1926.
The original spa at the springs was founded by my ancestor Felix Tucker (1844-1913).
His father-in-law William Bailey (1807-1872) was an Indian fighter during the Seminole Indian Wars and during that time when he was stationed at Tampa, a friendly Indian showed him the "secret" springs.
So in 1855 after the Seminole war, he bought the springs and much of the land all around it, planning to develop it.
The Civil War interrupted his plans but after the war his daughter, Virginia Bailey, married to Civil War hero Felix Tucker (he was a captain in the 9th Florida Infantry and was wounded at Cold Harbor) decided to take over from her father and establish a place where folks could "take the waters" – it was free to the public.
They built a grand Victorian house nearby (which is still there, just up the hill from the spa and now used by the public utilities as an office).
They founded the Episcopal Church in between the spa and their house (the original building is gone but the Tuckers and their children are buried to the rear of the new one).
After Felix died in 1913, Virginia ran the spa and started the sanitorium in 1926 until she died in 1931. The family sold the spa shortly thereafter.
SAFETY HARBOR, FLORIDA TODAY
The main drag in Safety Harbor is appropriately named Main Street. It runs east-west and ends at the Safety Harbor Resort and Spa located on Tampa Bay.

It is a pleasant street with dozens of neat shops, restaurants and art galleries. Art and artists are important elements of this little town.

The side streets also have lots of interesting old houses and buildings to look at. An example is the Safety Harbor Art and Music Center shown above.
The cozy little Safety Harbor City Marina is also at the end of Main Street adjacent to the Spa.

The downtown area in the Main Street neighborhood shows its artistic heritage with all kinds of buildings decorated with bright primary colors or pastels.
It is a pleasant experience just to walk around and soak up the ambiance. 
SAFETY HARBOR RECOMMENDED RESTAURANT
Southern Fresh
122 3rd Avenue
Safety Harbor, FL 34695
Tel: 727-216-6341
I've always thought of southern food as being comfort food.  Southern Fresh confirms that I am thinking correctly. 
This is a small restaurant with a plain inside dining room and a wonderful outside dining deck.
The prices are great and the ambiance is perfect for this kind of dining place.  The menu is limited, but that's okay too. 
You will be in heaven if you like meatloaf, mashed potatoes, green beans, fried chicken, roast pork, collard greens and various grilled vegetables.
Read more about Southern Fresh
---
THINGS TO DO IN SAFETY HARBOR, FLORIDA
Safety Harbor Resort and Spa (105 North Bayshore Drive, Safety Harbor, FL 34695) - Relax and rejuvenate at the iconic Safety Harbor Resort and Spa, known for its mineral springs and spa treatments, offering a serene oasis amidst picturesque waterfront views.
Philippe Park (2525 Philippe Parkway, Safety Harbor, FL 34695) - Immerse yourself in nature at Philippe Park, a scenic waterfront park featuring ancient Indian mounds, oak trees, hiking trails, picnic areas, and breathtaking views of Old Tampa Bay.
Safety Harbor Museum and Cultural Center (329 South Bayshore Boulevard, Safety Harbor, FL 34695) - Explore the rich history and culture of Safety Harbor at the Safety Harbor Museum and Cultural Center, featuring exhibits, artifacts, and interactive displays that showcase the town's heritage.
Whistle Stop Grill & Bar (915 Main Street, Safety Harbor, FL 34695) - Savor delicious comfort food and enjoy live music at the Whistle Stop Grill & Bar, a popular local eatery housed in a historic train depot, offering a charming atmosphere and mouthwatering dishes.
Espiritu Santo Springs (1610 Philippe Parkway, Safety Harbor, FL 34695) - Discover the healing waters of Espiritu Santo Springs, a natural spring park within Philippe Park, where you can take a refreshing dip in the mineral-rich springs and enjoy the tranquility of the surrounding nature.
Safety Harbor Public Library (101 2nd Street North, Safety Harbor, FL 34695) - Dive into a world of knowledge at the Safety Harbor Public Library, a community hub offering a wide selection of books, engaging programs, and a serene garden for peaceful reading.
Safety Harbor Art and Music Center (706 2nd Street North, Safety Harbor, FL 34695) - Immerse yourself in the local art and music scene at the Safety Harbor Art and Music Center, where you can attend concerts, art exhibits, workshops, and creative events that celebrate the vibrant arts community.
Baranoff Oak Tree (101 2nd Ave, Safety Harbor, FL 34695) - Marvel at the majestic Baranoff Oak Tree, a centuries-old landmark and one of Florida's largest and oldest living oak trees, standing tall in the heart of Safety Harbor and offering a sense of natural wonder and beauty.
---
 ALL ABOUT SAFETY HARBOR, FLORIDA
---
SAFETY HARBOR FLORIDA INTERACTIVE MAP
---
---
---

Our Facebook page has more than 129,275 followers who love off the beaten path Florida: towns, tourist attractions, maps, lodging, food, festivals, scenic road trips, day trips, history, culture, nostalgia, and more.  We post articles every day.  Please check it out and if you like it, we would appreciate a "like" from you.
---
By Mike Miller, Copyright 2009-2023
Florida-Back-Roads-Travel.com
Florida Back Roads Travel is not affiliated with or endorsed by Backroads, a California-based tour operator which arranges and conducts travel programs throughout the world.