SHADY OAK RESTAURANT

2984 West New York Avenue
DeLand, Florida 32720
Tel:  386-734-9715
Shady Oak Restaurant & Tavern is a little operation that looks like a fish camp on the St. Johns River just south of the State Road 44 bridge west of DeLand.
Beware the Google map for this place:  it shows the wrong location.
This restaurant is on the river, not way back east on the highway as shown by Google.
It is not a pretentious place, but it has a fantastic view of the river.
You can sit inside or outside.
There is a wooden wharf that parallels the shoreline on the river side of the restaurant building and gives you plenty of room to wander and enjoy the scenery. 
You can come to Shady Oak by car or boat.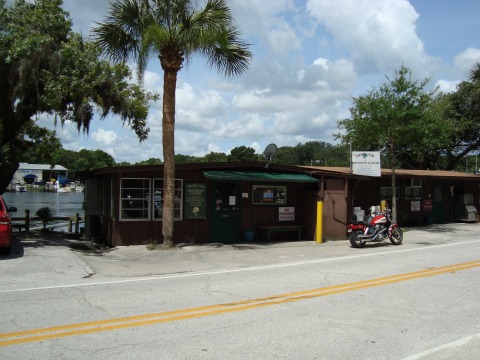 Shady Oak Restaurant advertises that it has the best catfish on the river, so I had to try their catfish fillet platter. It came with several delicious hushpuppies, cole slaw and fried okra. The hushpuppies, okra and cole slaw were great, but there are other places on the St. Johns River that have better catfish. It was average, and tasted like it had been recently thawed. I was hoping they had catfish caught by local fisherman from the river, but I don't think so.
Service was friendly and reasonably prompt. My Chardonnay wasn't bad; it comes in two sizes, small for $3 and large for $4. They also have a good selection of beer in cans and bottles and on tap. The menu is large and has the type of food you'd expect in an Old Florida fish camp restaurant.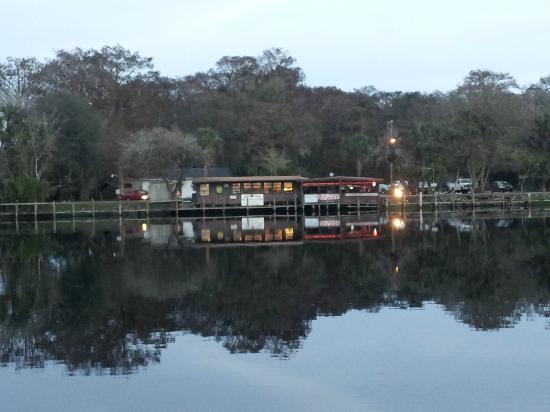 You can get chicken wings, crab cakes, shrimp, gator bites and frog legs. They also have a large selection of sandwiches like catfish, BLT, BBQ pork, grilled cheese and hotdogs. They have fried or grilled ponga, which I think is a fancy kind of Asian catfish.
Appetizers include cheese sticks, mushrooms, onion rings, jalapeno peppers and french fries. They also have several salads.
This is not gourmet food by any means, but I will go back. The view of the river and the fish camp ambience is what it's all about.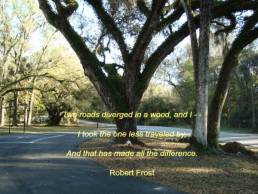 Over 65,000 followers can't be wrong. Learn about off the beaten path Old Florida, historic towns, attractions,  festivals, scenic drives and more.
Like Us On Facebook
Return From Shady Oak Restaurant and Grill To Florida Restaurants
Return To Florida Backroads Travel Home