Spurrier's Gridiron Grille
SPURRIER'S GRIDIRON GRILLE
4860 Steve Spurrier Way
Gainesville, FL 32608
Celebration Pointe
Tel: 352-500-4422
If you are a fan of Gator football great Steve Spurrier, you will love this restaurant. If you've never heard of Steve Spurrier, you will still love this restaurant for its great food and atmosphere.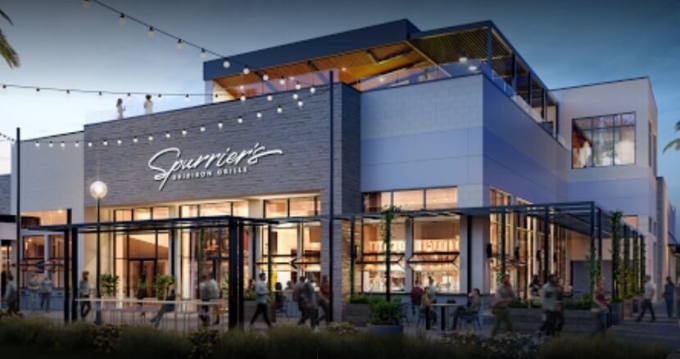 Spurrier's Gridiron Grille, Gainesville
Steve Spurrier was a Florida Gator football quarterback who won the Heisman Trophy in 1966.  He then played quarterback in the National Football League for several years.
He joins two other Gator quarterbacks who each became a Heisman Trophy Winner: Danny Wuerffel and Tim Tebow.
Steve Spurrier is No. 11 in the second row second from left.
After his playing career ended, he became one of the most successful head coaches in college football history.  His college coaching career included Duke University, University of Florida, and University of South Carolina.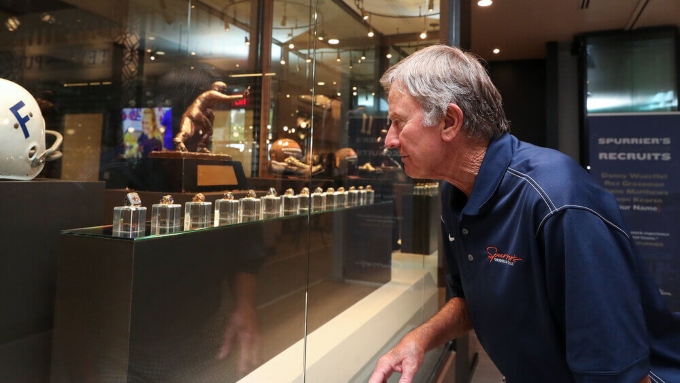 Steve Spurrier Inspecting Trophy Case
His coaching skills resulted in stellar winning records at all three schools.  His teams won conference and national titles and he is widely respected and known by his nickname, "Head Ball Coach."
He is in the College Football Hall of Fame and also won the 2007 Davey O'Brien Award in recognition of his life-long contributions to the game of football.
He is a partner in his namesake Gainesville restaurant and the place is a veritable museum of his personal football artifacts.
You will see trophies, helmets, championship rings, football, photos and more memorializing his career.

Spurrier's Gridiron Grille Main Dining Room
Steve Spurrier is noted as being a perfectionist in everything he does.  His restaurant is no exception.  The dining and ambiance are first class.
The cuisine features primarily American food, with your friendly local farmer providing a lot of fresh ingredients used in the kitchen.
The main dining room menu includes a wide selection of handcrafted cocktails including creative Martinis, Daquiris, and other creations with catchy names such as Spice Mango Mocktail.
The indoor-outdoor bars have a wide selection of wine and beer as well as non-alcoholic beverages.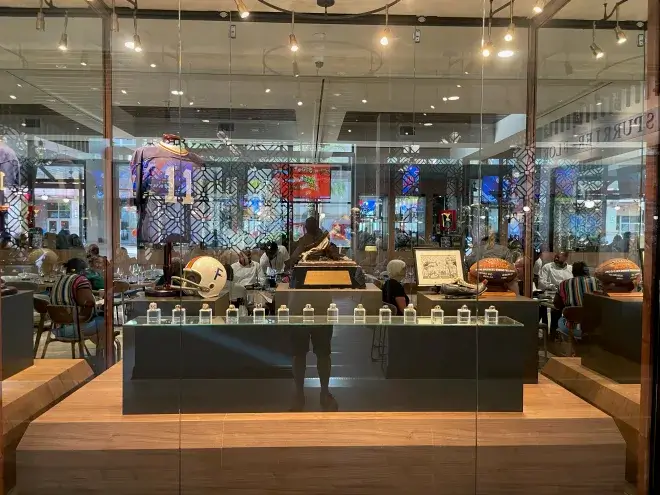 Spurrier's Heisman Trophy Case
Their appetizer menu is called "Starters" and has many creative selections such as Orange and Blue Shrimp, Eggplant Fritters, Truffle Short Rib Crostinis, and many more.
The soup and salad menu features Tailgate Chili and several delicious salads including Spurrier House Salad.
Entrees include Chicken Marsala, Shrimp and Grits, Macadamia Encrusted Mahi, and Blackened Redfish.
Spurrier's Gridiron Grille Helmet Collection
Pasta entrees feature Lemon Artichoke Chicken Pasta, Sweet Corn Raviolia, and many more.
A favorite sandwich is Spurrier's Bacon Cheese Burger which is a meal in itself. Another great sandwich is the Johnson City Tomato Grilled Cheese Sandwich.
The grill menu has 6 and 8 ounce filet mignon, a 14 ounce boneless ribeye, short ribs with wild mushroom risotto, lamb chops, and a "Work 'Em Silly" Tomahawk Porkchop.
---
SPURRIER'S VEGETARIAN, VEGAN, AND GLUTEN FREE OPTIONS
Spurrier's offers vegetarian, vegan, and gluten-free options on their main menu.  They have a Sweet Corn Ravioli, the House-Made Veggie Burger and the Hazelnut and Brussels Sprout Salad. Just look for the V and G icons on the menu.  Much of the produce comes from local farms.
---
SPURRIER'S GRIDIRON GRILLE VISORS ROOFTOP
Interior Visors Rooftop
Spurrier's has a unique feature called Visors Rooftop. As the name implies, it is a rooftop bar and restaurant on top of the main building.
It has a separate menu with some unique appetizers and entrees. Visors also has a private dining room for parties and private events.
Steve Spurrier was noted for wearing a visor during his coaching years. When things didn't go well on the field, he would quite often throw his visor on the ground in frustration.
Visors is open Friday and Saturday: 5 PM - Midnight.
Private Champions Dining Room at Visors
On a recent Tuesday evening visit my wife and I enjoyed a great experience with our first visit.  We both had a very nice time.
The hostess was warm and friendly and seating was prompt. Our server was friendly, fast and was helped out now and then by other attentive staff.
My wife had Macadamia Encrusted Mahi and I had a 6 ounce filet mignon with roasted asparagus. Both meals were fantastic, among the best we've had anywhere.
We consider our dinner to have been a 5-star experience and would recommend it to anyone.
We finished the evening by visiting the restaurant's store and buying some Coaches Signature Blend Opus Coffee to take home.
The Head Ball Coach has created another winner.
SPURRIER'S GRIDIRON GRILLE HOURS
Monday: Closed
Tuesday: 4 PM - 10 PM
Wednesday: 4 PM - 10 PM
Thursday: 4 PM - 11 PM
Friday: 4 PM - Midnight
Saturday: 11 AM - Midnight
Sunday: 11 AM - 10 PM

---
Mike Miller is a Florida Gator Alumnus
---
---

Our Facebook page has more than 128,577 followers who love off the beaten path Florida: towns, tourist attractions, maps, lodging, food, festivals, scenic road trips, day trips, history, culture, nostalgia, and more.  We post articles every day.  Please check it out and if you like it, we would appreciate a "like" from you.
---
By Mike Miller, Copyright 2009-2023
Florida-Back-Roads-Travel.com
Florida Back Roads Travel is not affiliated with or endorsed by Backroads, a California-based tour operator which arranges and conducts travel programs throughout the world.