ST AUGUSTINE, FLORIDA

St Augustine, Florida is the closest thing to an authentic history lesson in the entire state;  maybe even the entire country. 

You will be walking among ancient functioning buildings, some of them dating back to the Ancient City's founding in 1565.
Many of the ancient buildings and forts that were a major part of St Augustine, Florida history are still in daily use by residents and visitors alike.
This history of the city still lives and breathes and you can almost feel the ancient Spaniards keeping a benevolent eye on you.
St Augustine Florida History
The history of St Augustine, Florida can be traced back to 1493. Juan Ponce de Leon was a shipmate of Christopher Colombus on his second voyage to the New World.  He came back to Florida with his own expedition in 1513, and claimed the land - most of North America - for Spain. He named it "Florida the Great Country of North America."
The French also tried to claim this land, but failed.
Pedro Menendez de Aviles came to the area in 1565 from Spain with all the materials and people to establish a city. The official history of St Augustine began with its founding on September 8, 1565.
One hundred years later, English pirates killed most of St. Augustine's residents. After that massacre, the Spanish built the Castillo de San Marcos.
St Augustine Florida history includes a role in the American Revolutionary War. The Ancient City became an important British military center and supply depot.
St Augustine has survived under the Spanish, British, American and Confederate flags. It was a Union town after 1862 until the end of the Civil War.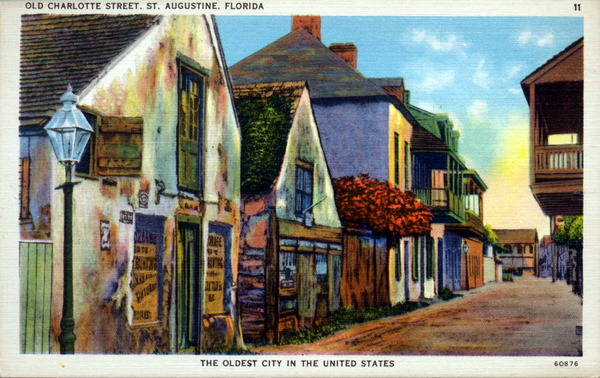 The modern history of St Augustine Florida began in the mid 1880's when Henry Flagler came to town. He built the Hotel Ponce de Leon and the Hotel Alacazar.  St. Augustine became the base for Flagler's Florida East Coast Railway. This railroad expanded down Florida's east coast and had more to do with developing and populating the state than anything else.
Some of the earliest settlers in modern St Augustine were Minorcans. They had been brought from Minorca to New Smyrna Beach in 1768 by Dr. Andrew Turnbull, a Scottish physician.  Minorca and Majorca are the Balearic Islands located in the Mediterranean Sea. They belong to Spain.
Dr. Turnbull thought these hardy people would be able to withstand the brutal Florida climate and conditions. His idea was to form a colony and develop a plantation.  Life was miserable among the alligators, snakes and mosquitoes in the mangrove swamps around New Smyrna. The colonists were very unhappy, and more than 900 of the 1400 died during the ten years of the New Smyrna venture.
The distraught colonists began to hear about St Augustine, and many of them decided to move up there. During May and June of 1777 most of the colonists migrated to St Augustine and by 17 July 1777 Turnbull's attorneys had set all the colonists free.
Many of the descendants of these early Minorcan colonists still live in the St. Augustine area. Some of the family names that you will see in the phone book and on local businesses include Acosta, Manucy, Pellicer, Pacetti, Ponce and Canova.
Other than the Seminoles, the Minorcans are probably the most senior of all ethnic groups in St Augustine Florida history.
In the years after the Civil War, and through the development sparked by Henry Flagler, St Augustine remained in many ways a typical small southern town.  The 1960's saw serious civil rights demonstrations in the Ancient City. Martin Luther King and other civil rights leaders of the time were in town during some stressful times.
Modern St Augustine  Florida
Since the late 1960's, St Augustine has seen a lot of development north, south and west of town, especially in the beach area.
None of this development has spoiled the special charm of the downtown area of this special old city. Original 450 year old buildings made of coquina still stand and are functional.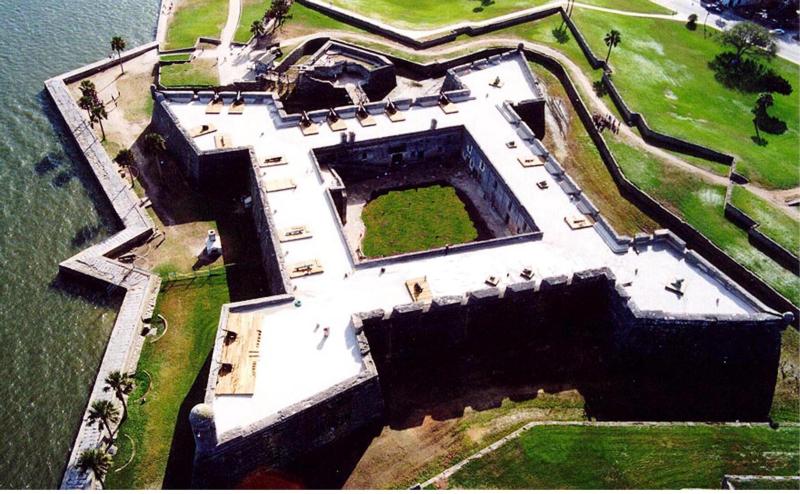 The Castillo de San Marcos is still impressive, in good condition, and is a major tourist attraction. St George Street remains a great place for people watching and breathing in the ambiance of the old buildings and costumed characters.
The Ancient City is still charming in spite of the intense tackiness of some of its tourist attractions.
St Augustine Fla is a great place to visit, and is a great place to live.
ST AUGUSTINE FLORIDA HOTELS
There are hundreds, and here are a few I know about.
Villa Victor Hotel, 42 San Marco Avenue, St Augustine, FL 32084.  Tel: 904-829-2292.  Totally renovated hotel in the heart of downtown.  Reasonable prices and walking distance to everything.
Conch House Marina Resort, 57 Comares Ave, St Augustine Fla 32080. Tel: 904-829-8646. A nice older place with interesting dining rooms located on ship-like crows nests with great views overlooking Salt Run. The first time I stayed here the owner was Jimmy Ponce, who said he was a direct descendant of Juan Ponce de Leon.

Casa Monica Hotel, 95 Cordova St, St Augustine Fla 32084.  Tel: 904-827-1888. An elegant older hotel, beautifully maintained with fine dining. In the heart of the ancient downtown area, across from Flagler College which used to be the Ponce de Leon Hotel.
The vintage colored postcard above is from the State Archives of Florida.  You will still recognize these buildings as you walk down the street today.

ST. AUGUSTINE RESTAURANTS
Athena Restaurant, 14 Cathedral Pl, St Augustine Fla 32084. Tel: 904-823-9076. My favorite place. Good southern style breakfast, wonderful Greek lunches and dinners. Across from the Slave Market in the heart of downtown.
Gypsy Cab Company, 828 Anastasia Blvd., St Augustine Fla 32080. Tel: 904-824-8244. This is a great restaurant, fine seafood and steaks, a good wine selection. A favorite with locals and tourists alike. 
Cellar 6, 6 Aviles Street, St. Augustine, FL 32804. Tel: 904-827-9055.  Great small place with good drinks and meals one block south of the main drag.
The Raintree Restaurant & Steakhouse, 102 San Marco Avenue, St. Augustine, FL 32084. Tel: 904-824-7211. One of the best anywhere. Casual dining, great seafood and steaks. Extensive wine list. Wonderful ambiance in a restored 1879 Victorian home. Outside dining patio and gazebo too.


O'Steens Restaurant, 205 Anastasia Blvd, St Augustine, FL 32080. Tel: 904-829-6974. I go to this place when I have cash in my pocket and am on the wagon. No credit cards, no alcohol. But plenty of great home cooked seafood and southern style veggies like squash and green beans. Small restaurant, the lines are sometimes pretty long.
ST. AUGUSTINE ATTRACTIONS
St. Augustine itself is actually the major attraction. Walk down St. George Street, wander through the fort, explore the back streets and alleys. The entire place is fun to be in.
Among the many attractions in town, I like these the best.
Alligator Farm & Zoo. On the National Register of Historic Places, you will enjoy the many shows featuring gators, birds, snakes and just about any other animal you can think of.


Ripley's Believe It Or Not. This place continues to fascinate adults and kids alike. It is in an old hotel once owned by author Marjorie Kinnan Rawlings and her husband, Norton Baskin.


Fountain of Youth. A visit to this place and a dip of its magic water will keep you young forever. Well, at least that's what old Ponce de Leon himself believed.
Castillo de San Marcos. This old fort has a magnificent view of Matanzas Bay, and is still a formidable structure. Open to the public.
HOW TO FIND ST AUGUSTINE FLORIDA
St Augustine Florida is in Northeast Florida about 40 miles south of Jacksonville.  I-95 and US-1 both go through the Ancient City, although I-95 is way out west of downtown.
State Road A1A also goes to St. Augustine from Jacksonville Beach.
St Augustine Florida is about 2 hours by car from Walt Disney World taking I-4.
HERE IS A BRIEF SLIDE SHOW OF GOOGLE STREET VIEWS ON KING STREET IN ST AUGUSTINE
---
---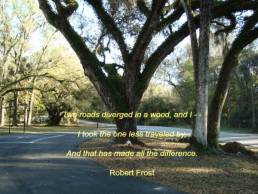 Over 65,000 followers can't be wrong. Learn about off the beaten path Old Florida, historic towns, attractions,  festivals, scenic drives and more.
Like Us On Facebook
Return From St Augustine Florida To Florida Towns

Return To Free Florida Travel Guide Northeast Florida

Return To Florida Backroads Travel Home