TAKIS PIZZA HOUSE II
1600 S. Bay Street
Eustis, FL 32726
Tel: 352-357-0022
Although Takis II has great pizza and other Italian food, that's not why I go there.  It's my favorite spot in Lake County for Greek food.  On top of that, I feel like a member of the family when I eat there.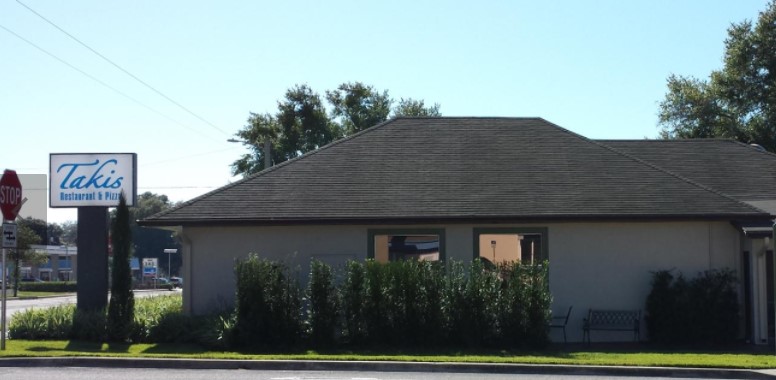 Takis II, Eustis, Florida
The good news is that when I have visitors who love pizza and other Italian treats, I can take them here.  They will be happy and so will I. 
Takis is owned by Steve and Anastasia Moumouris, known as Sia. The minute you meet them you will feel like you've known them forever.
They are always upbeat and happy to see their customers, old and new.  They are from Greece and met each other many years ago while working in a family restaurant.
Steve was a dishwasher and Sia was a server.  Needless to say, they know the restaurant business inside out.
Their place is called Takis II to differentiate it from the first Takis in the area located in Leesburg.  Although the same name, they are not affiliated.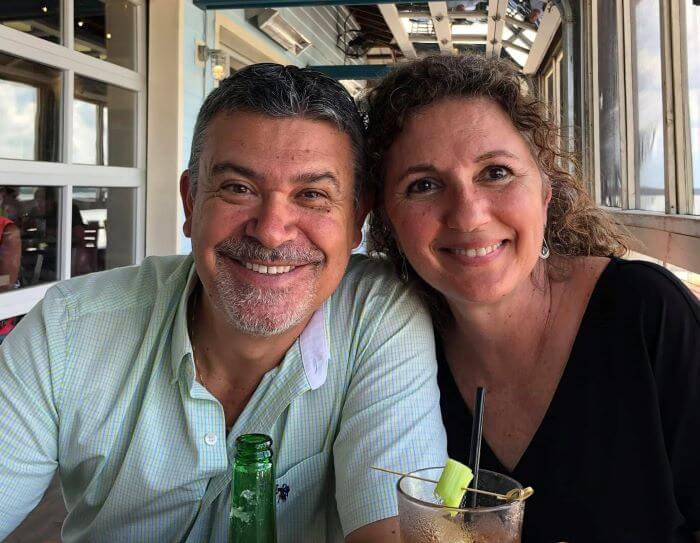 Steve and Sia Moumouris
Takis has both Italian and Greek items on the menu, with some typical favorites being pastas, pizzas, gyros and salads.
Appetizers include cheese sticks, fried okra, beer battered onion rings, fried pickles, fried zucchini, chicken tenders, calamari, and many more items.
They have a great collection of salads with descriptive names: 
Our Famous Greek Salad, Turkey Salad, Chicken Greek Salad, Tuna Salad, and the smaller dinner size Greek Salad.
If you are not super hungry, they have a great Hot Oven Sub they serve with a bag of chips.
Takis II, Eustis, Florida
Dinner selections are divided into an Italian version and a Greek one.
Some Italian favorites are Homemade Lasagna, Fettucini Alfredo, Chicken Parmesan with spaghetti, Egg Plant Parmesan, Ravioli, Stuffed Pasta Shells, Ziti, and several Spaghetti selections.
Takis II Gyro Platter
In what they call the Greek Corner of their menu you will find a Gyro Pita, a Gyro Platter, Dolmathes and Stuffed Grape Leaves, Spinach Pie and Spanakopita, and Mousaka.

The make their pizza dough fresh daily, and offer all sizes and just about any topping you can think of.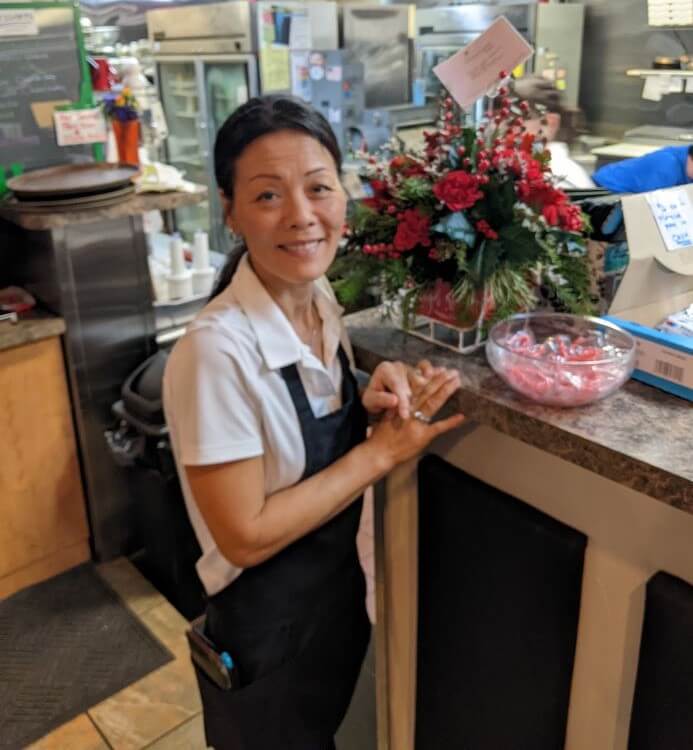 Cindy, My Favorite Server
If you still feel like dessert after all that food, you can try their Belgian Chocolate Cheesecake, Baklava, Cannoli, Tiramisu, and several other delicious temptations.
Takis has a good selection of soft drinks as well as beer and wine.
Takis II is open daily from 11am to 9pm Monday through Thursday, 11am to 930pm Friday, and 4pm to 930pm on Saturday.
They are closed on Sunday.
---
---
---
---

Our Facebook page has more than 128,577 followers who love off the beaten path Florida: towns, tourist attractions, maps, lodging, food, festivals, scenic road trips, day trips, history, culture, nostalgia, and more.  We post articles every day.  Please check it out and if you like it, we would appreciate a "like" from you.
---
By Mike Miller, Copyright 2009-2023
Florida-Back-Roads-Travel.com
Florida Back Roads Travel is not affiliated with or endorsed by Backroads, a California-based tour operator which arranges and conducts travel programs throughout the world.