EUSTIS, FLORIDA

Eustis Florida is a town of about 20,000 people about 30 miles northwest of Orlando.
Along with Tavares and Mount Dora, it is one apex of what is known as Florida's "Golden Triangle".
Eustis is on the eastern shore of Lake Eustis, and was first known as Highlands and later as Pendryville.
It became known as Lake Eustis after the lake which had been named in 1825 for Abraham Eustis, an American general in the Seminole Wars.
Before the railroad showed up in the 1880's, Eustis was a busy port for steamers traveling on Lakes Harris, Eustis, Dora and Griffin. This chain of lakes had access to the world through the Oklawaha River to the St Johns River and the Atlantic ocean.
In 1883 the town dropped the "Lake" part of its name and became simply Eustis.
Citrus became an important crop in the area, but the great freeze of 1894 and 1895 nearly destroyed the industry. Over the years, the fruit trees once again became prominent in the economy of the area.  More freezes in 1983 and 1984 was the latest major setback to the citrus crops, destroying most of the trees in this part of Florida.
Eustis has many well preserved older homes and buildings. Its downtown area has been redeveloped and has many interesting shops and restaurants.
Guilford David Clifford was an early pioneer whose house at the corner of Bay Street and Bates Avenue is now home to the Eustis Historical Museum and Preservation Society.
Frank Waterman was a fountain pen manufacturer from New York who built the Fountain Inn in Eustis in the 1920s.  It served later as the local hospital until it was demolished in recent years.  It is the direct ancestor of today's modern Florida Hospital Waterman.
The downtown area along Lake Eustis has been developed into a wonderful park for fishing, picnics and concerts. Ferran Park is a great place to watch the Central Florida sunsets.
Eustis Florida Downtown Events
The renovated downtown area is the focal point for many community activities.  They named this area the Downtown Waterfront Entertainment District and among the events are a Cruise In of Classic Cars on the fourth Saturday of every month.
Another standing event is on the first Friday of every month called Eustis Live that features street vendors and live music.  It's a large community block party.
The highlight of each year is GeorgeFest, one of the oldest festivals in the United States celebrating the birthday of George Washington.  It is reportedly the longest running festival of any kind in the entire state of Florida.  February, 2018 will mark the 116th consecutive celebration.
More information at Georgefest Facebook Page.
This list of EUSTIS RESTAURANTS I've enjoyed also includes many in Tavares and Mount Dora.
---
---
---
---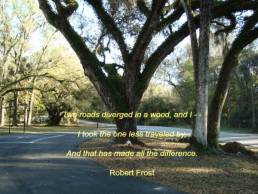 Over 65,000 followers can't be wrong. Learn about off the beaten path Old Florida, historic towns, attractions,  festivals, scenic drives and more.
Like Us On Facebook
Return From Eustis Florida To Florida Towns

Return To Florida Backroads Travel Home