The Florida Key Lime Pie Company
THE FLORIDA KEY LIME PIE COMPANY
102 Dixie Lane
Cocoa Beach, Florida 32931
Tel: 321-385-9600
Key Lime Pie has been one of my favorite desserts since first enjoying it back in 1960 when I moved to Florida. 
It's such a Florida thing I've decided it is worthy of telling you about a very nice place that not only makes the delicious pie, but many other unique Florida items as well.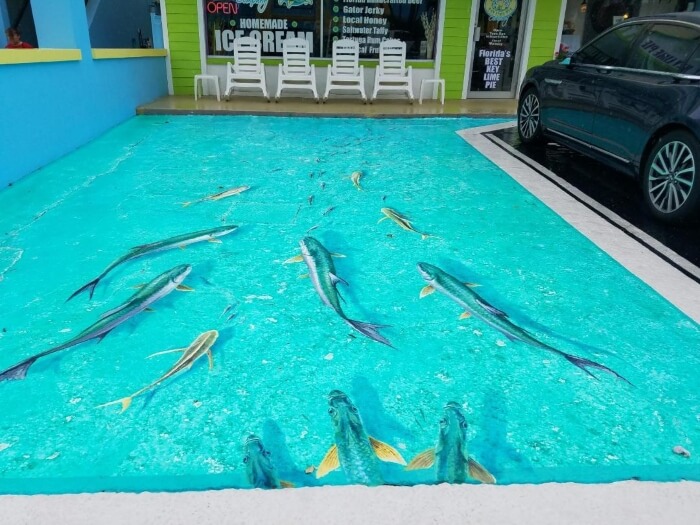 Entrance to The Florida Key Lime Pie Company
When traveling along Florida's Space Coast under the shadows of the many rockets being launched at the Kennedy Space Center, you will find one of the area's most eclectic and unique attractions: 
The Florida Key Lime Pie Company, located immediately adjacent to Ron Jon's Surf Shop in Cocoa Beach.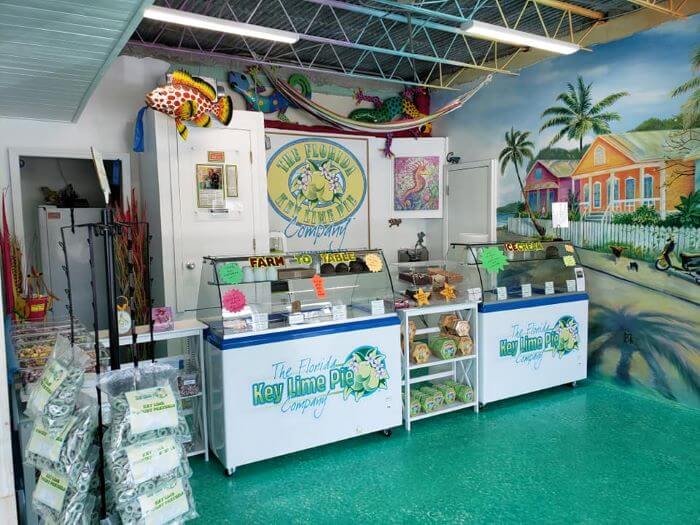 The Florida Key Lime Pie Company Interior
Founded in 2006 by Cocoa Beach native Louie Morehead,  the business has grown into a destination location for locals and tourists alike and has become a must see when you are in Cocoa Beach.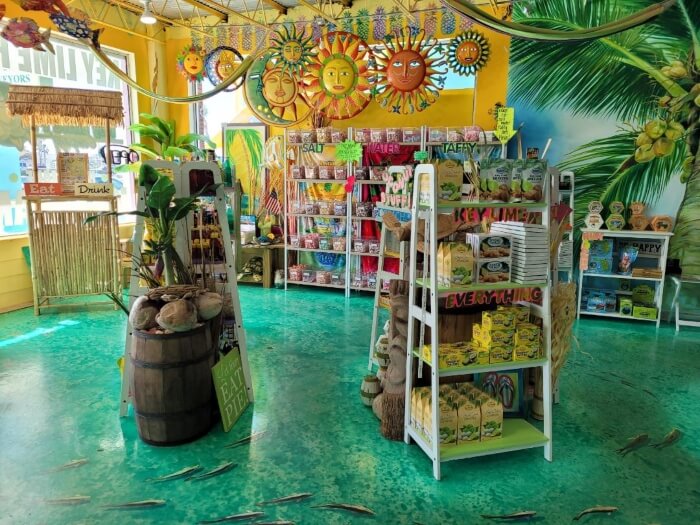 The Florida Key Lime Pie Company Interior
As you approach the storefront you are walking across the painted blue waters of what could be imagined as the Florida Keys with lifelike Tarpon, Jack Crevalle, and Mullet leading your way to the entrance.

When you enter the store you will immediately have the pleasant feeling of being in the tropics.  Your eyes will feast on an array of colors inspired by the Florida Keys and the Caribbean.
The Florida Key Lime Pie Company Interior
The floors are a vibrant version of the greenish waters of the Keys with beautifully painted fish that you follow to the Key Lime Pie.   

The company offers many versions of their cold and refreshing Key Lime Pie as individual servings.
These servings include their signature "Key Lime Pie by the Slice" and "Key Lime Pie on a Stick." 
The stick version is is dipped in their key lime dark chocolate as well as two different versions of Whole Pies.
Something that is also a must to try is the variety of delicious Cheesecakes that are made in house.
People also love their popular "Mushies" which are made from 4 to 5 slices of either pies or cheesecakes which are artistically created by mushing them into a mason jar.
Not only is the place about desserts it is as they proclaim an "All Florida Store" specializing in just about anything made in Florida.
This includes candies, handcrafted beers, wine, jams, jellies, honey and over 500+ hot sauces and more.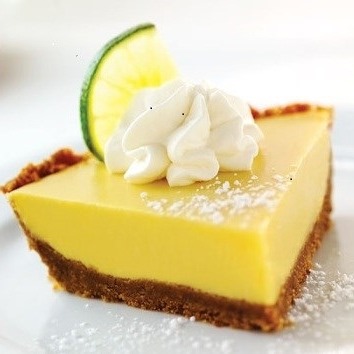 Long time Floridians know that a true bona fide Key Lime Pie is never green.  It is always a natural creamy yellow color.  Louie uses an old family recipe for his pie.  Elsewhere on our website, we have a page on many other Florida Cracker recipes you may enjoy.
For a never to forget tasting experience be sure to checkout their one-of-a-kind Gator and Python Jerky's. Yes, Python Snake straight up out of the Florida Everglades.

Something else that you really must try is their completely unique Farm to Table Homemade Ice Creams.
They have flavors like Kumquat, Lavender, Roasted Banana and Peanut, Tupelo Honey and of course Key Lime Pie.
You will want to be sure to take photo opportunities with the amazing art and murals throughout the store and their new Florida Room expansion as of December 2021.
Sweetie the Alligator
Last but not least they are home to "Sweetie the Alligator" who is the World's Most Famous Alligator and is at the store every Saturday and Sunday from 2 to 6.
Sweetie is probably the most well known alligator in Florida closely behind Albert, the mascot of the University of Florida Fighting Gators.
Jungleland Adventures
Sweetie lives in Christmas, Florida at Jungle Adventures, an animal park. She was brought to the park by a state wildlife employee who did not want to release her back into the wild because she was blind.  He did not want to euthanize her.  So now Sweetie has a home and also gets to visit The Florida Key Lime Pie Company in Cocoa Beach most weekends.
Sweetie is an internet sensation and is also a sworn in Brevard County Sheriff's Office Reptile Resource Deputy Sheriff. 
Take a look at Sweetie coming in to the shop on the video at the end of this article.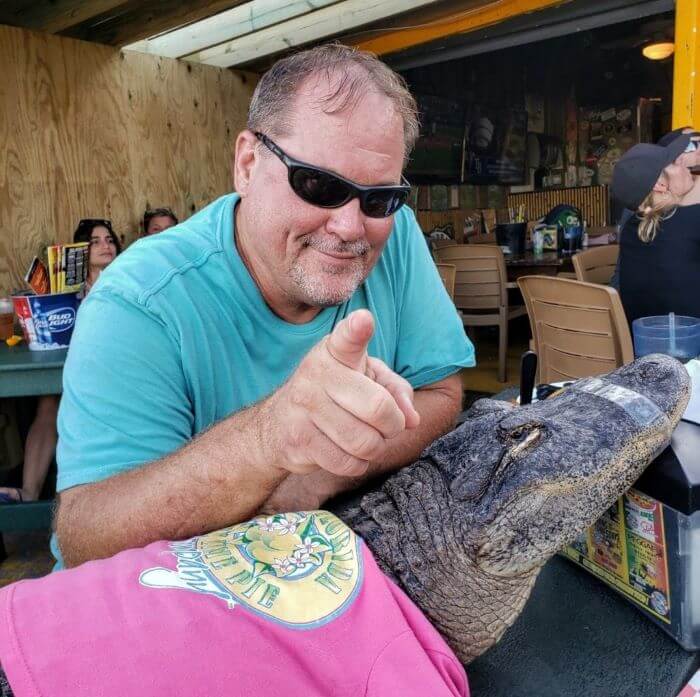 Louie Morehead and Sweetie
Louie is the one with sunglasses.
The Florida Key Lime Pie Company is open seven days a week from 12 noon to 6 p.m.
Learn more from their website:
THE FLORIDA KEY LIME PIE COMPANY
Take a look at Sweetie the Alligator visiting the shop.
---
THE FLORIDA KEY LIME PIE COMPANY LOCATION MAP
---
---
---

Our Facebook page has more than 128,577 followers who love off the beaten path Florida: towns, tourist attractions, maps, lodging, food, festivals, scenic road trips, day trips, history, culture, nostalgia, and more.  We post articles every day.  Please check it out and if you like it, we would appreciate a "like" from you.
---
By Mike Miller, Copyright 2009-2023
Florida-Back-Roads-Travel.com
Florida Back Roads Travel is not affiliated with or endorsed by Backroads, a California-based tour operator which arranges and conducts travel programs throughout the world.