THE GREAT PIZZA COMPANY
23 E Magnolia Ave
Eustis, Florida 32726
Tel:  352-357-7377
The Great Pizza Company is located on Magnolia Avenue in historic downtown Eustis, Florida.  It is on the same block as two other popular restaurants:  1884 and Tillie's.  The Bay Theater and Ferran Park are a block away, and the popular gift shop, Peddler's Wagon, is next door.
Sandy Johnson and her late partner, Ron Butler, opened the restaurant in 2008.  They had previously owned and operated China Lane in Eustis for 34 years, and wanted to try something different.
They researched the area pizza places and could not find what they really liked:  thin crust New York style pizza.  So the created their restaurant around that particular delicacy.
New York style pizza is typically made with a large hand tossed thin crust.  The crust is thick and crisp only around the edge.  Traditional toppings are like any other pizza, placed over light Mozarella cheese and tomato sauce.
Sandy believes one of the big secrets of her thin crust pizza is the dough made with New York City water that she has routinely shipped to her restaurant.
Pizza is in the name of the restaurant, but there are many other items offered as well.
Appetizers include hot chicken wings, cheese sticks, fried green beans, onion rings, pork egg rolls, fried green tomatoes, garlic bread sticks, and French fries.
They have several salads starting with their house tossed salad, Caesar Salad, Chef Salad, and Greek Salad.
New York style subs are also featured including ham and cheese, salami and cheese, turkey and cheese, cheese steak, Italian combo, meatball, steak, and even a pizza sub.  There is also a wide variety of Paninis and spaghetti.
Desserts feature fried cheesecake, lemon Mascarpone torte, and a double dar chocolate brownie a la mode.
Beer and wine is available and in addition to booths for couples and families, there is a small bar with seating also.  You can also sit outside in front of the restaurant at one of several tables.
The Great Pizza Company is open seven days a week from 11:00 am to 9:00 pm except Sunday when they are open from 1:00 pm to 8:00 pm.
---
---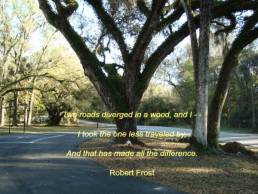 Over 65,000 followers can't be wrong. Learn about off the beaten path Old Florida, historic towns, attractions,  festivals, scenic drives and more.
Like Us On Facebook
Return to Florida Backroads Travel Home