WINTER PARK, FLORIDA

Winter Park, Florida Things To Do, Lodging, Dining, & Real Estate At End Of Article
Winter Park, Florida is an upscale city in the heart of the Orange County urban area.  Orlando is located south of and adjacent to Winter Park's city limit.  The population in 2021 is 30,233.
Winter Park, Florida - Park Plaza Hotel
VisitOrlando.com
Winter Park is about 6 miles north of downtown Orlando.  The major highways that serve the city are I-4 and US Highway 17-92, known locally as Orlando Avenue.
HISTORY OF WINTER PARK, FLORIDA
David Mizell bought 8 acres of land in 1858 between the present Lakes Mizelle, Berry and Virginia. He founded the little town of Lake View on his land. In 1879 the name was changed to Osceola.
In 1881 Loring A. Chase of Chicago visited the place, loved the area and bought 600 acres along Lake Maitland and Lake Osceola. He and a partner, O.E. Chapman, platted the town and named it Winter Park.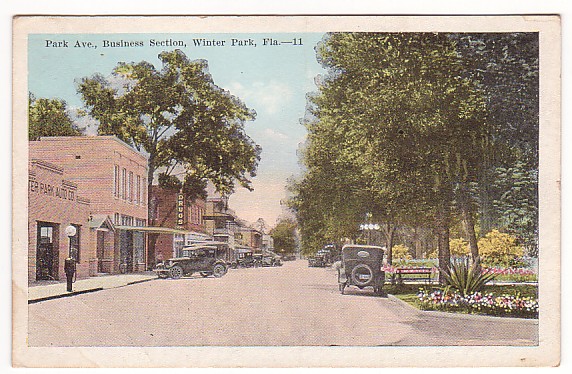 Vintage Postcard Winter Park, Florida
The city of Winter Park began to develop in the 1880s as a citrus-growing center.
It also became a wintering retreat for wealthy Northerners, including Colonel Franklin Fairbanks and his partner, Charles Hosmer Morse.
They visited the area on one of their Florida vacations and fell in love with the place.
They were partners in various businesses including what is now the Fairbanks Morse Company, manufacturers of engines and pumps.
Fairbanks Avenue and Morse Boulevard in Winter Park are named for these gentlemen who contributed much to the development of Winter Park in the early days.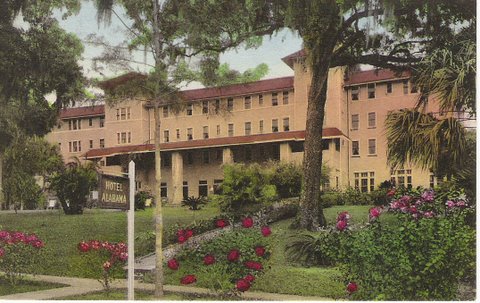 Hotel Alabama, Now a Condominium
In 1885, the Congregational Church established one of Florida's early institutes of higher learning, Rollins College. The college's campus sits on the shore of Lake Virginia.
Rollins is considered by most folks to be one of the best colleges in Florida.
Anthony Perkins was a student at Rollins before hitting it big as Norman Bates in Hitchcock's 1960 classic, "Psycho".
Another Rollins graduate, Donald Cram, won a 1987 Nobel Prize for chemistry.  
Author Rex Beach, who wrote "The Spoilers" and other classics, went to Rollins and his grave is on campus. 
Another famous graduate is Fred Rogers of the popular television show Mr. Rogers' Neighborhood.
The architecture of Rollins College inspires visions of Florida's Spanish heritage. The college has one of the most beautiful campuses in Florida and is a pleasant place to take a walk.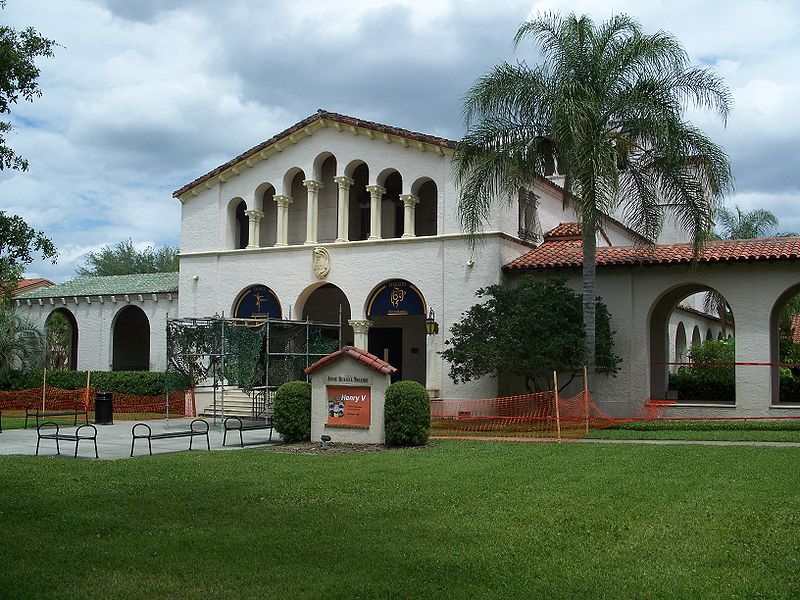 Rollins College
WINTER PARK, FLORIDA TODAY
It's sometimes hard to believe such a quiet place exists so near the bustle of Walt Disney World and Universal Studios and the hectic traffic on nearby I-4.

Winter Park is often overlooked as a central Florida tourism attraction, but is definitely worth a visit or an extended stay.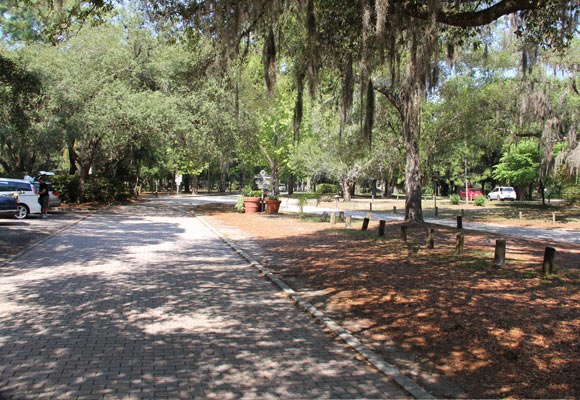 Parking Area at Mead Gardens
The Park Avenue downtown area is an excellent place to stay and convenient to the local attractions.

It is also the location of the farmer's market that takes place every Saturday morning from 8am to 1pm in downtown's Central Park Meadow West.
I lived in Winter Park on two separate occasions. It is a relaxing place to live.  If you live close to downtown, everything you need is within walking distance or a short drive.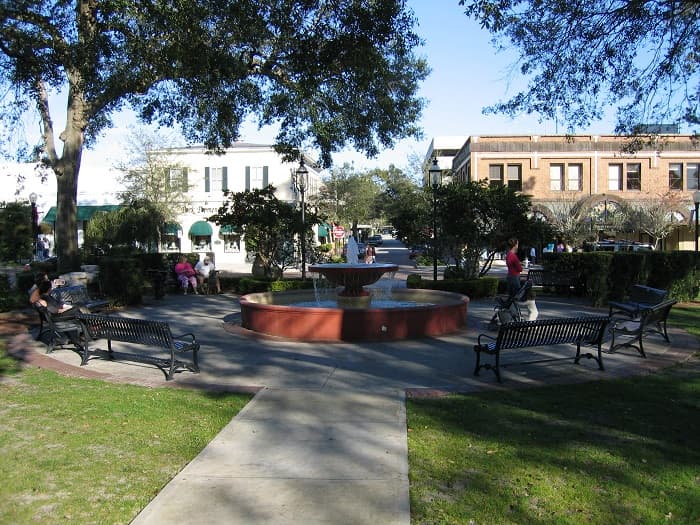 Fountain in Central Park, Winter Park
The city has many historic buildings and prides itself on preserving most of them in useable condition and serving as homes, shops, and offices.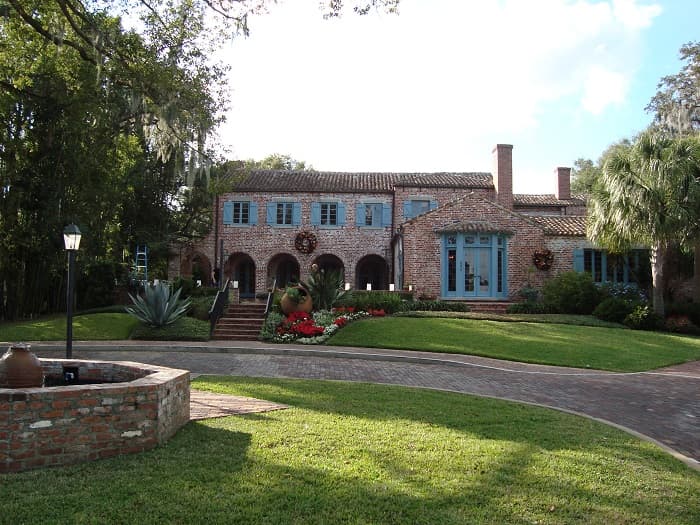 Casa Feliz, Winter Park, Florida
Casa Feliz is one of these historic homes.  It is located next to the Winter Park Country Club and Golf Course.
The building is in frequent use as a recreation center and venue for special events including weddings.
The house was originally known as the Robert Bruce Barbour House and was designed by noted architect James Gamble Rogers II.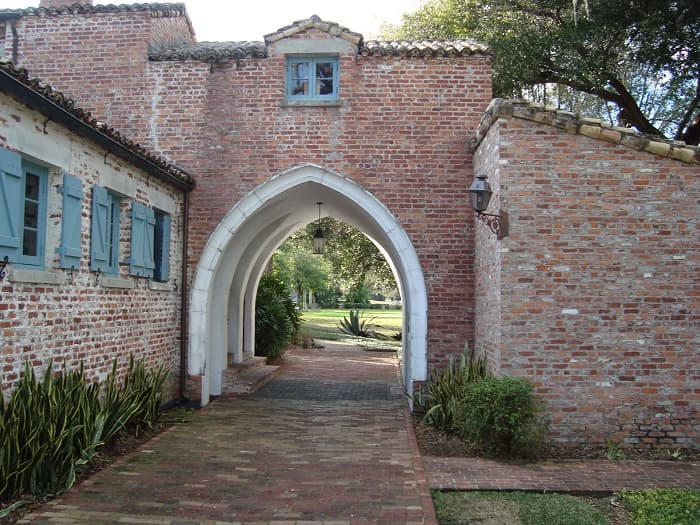 Casa Feliz, Winter Park, Florida
The house was slated for destruction in 2000, but the community rallied to save it and raised $1.2 million. 
It was moved it to its current location and restored by highly skilled craftsmen to its original design. 
It is on the American Institute of Architects Florida Chapter list of Florida Architecture:  100 Years, 100 Places.  It is also on the U.S. National Register of Historic Places.
Today Casa Feliz serves the Winter Park community as a museum and a venue for weddings, business events, and private parties.
Winter Park Country Club and Golf Course.
The Winter Park Country Club and Golf Course is also on the U.S. National Register of Historic Places.
Shops and restaurants line the brick paved Park Avenue. As the name implies, there is a large grassy tree shaded park along the west side of the avenue.
It is known as Central Park, maybe inspired by the much larger version in New York City.
Winter Park shopping is a frequent delight for locals and tourists alike.  The east side of Park Avenue is lined with shops and restaurants.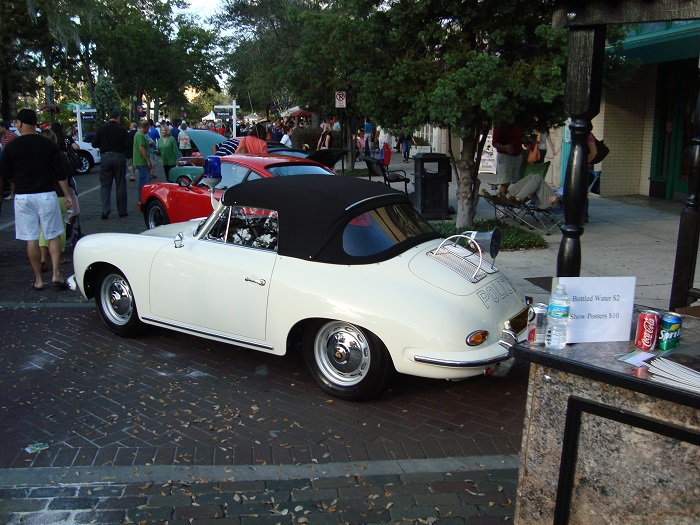 Car Show on Park Avenue, Winter Park
Flowers and ferns are cultivated and hanging from balconies all along the avenue.
Many of the restaurants have sidewalk dining, and the whole Park Avenue stretch is a people watcher's paradise.
Park Avenue is host to several art and craft shows, auto shows, and other events during the year.
Central Park is a popular place to take a stroll or just stretch out a blanket and make your own relaxing picnic area.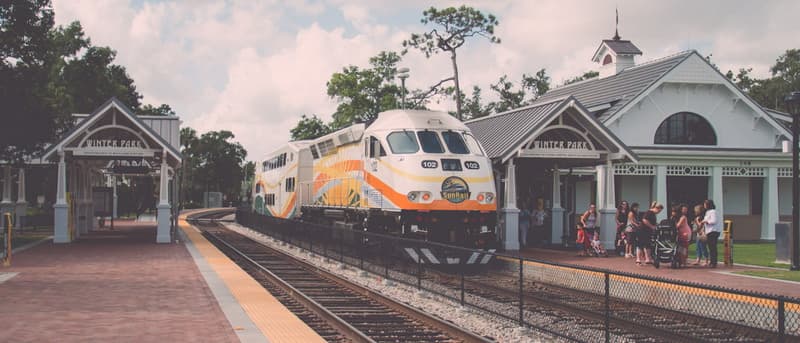 Winter Park Amtrak and Sunrail Station
Even the Amtrak station is conveniently located downtown across from Central Park on Park Avenue. 
My son used to take the train down from Georgia and walk to my house to visit me.
Tourists on Park Avenue with Leafy Dog
Another great shopping and dining destination is Winter Park Village on the west side of the city.
The Village is a large outdoor mall with several restaurants, shops and movie theaters.
It is often used as an entertainment center, featuring among other events, the fall concert series.
Several museums are within walking distance of Park Avenue, including:
Charles Hosmer Morse Museum of American Art
Albin Polasek Museum and Sculpture Gardens
Cornell Fine Arts Museum at Rollins Museum of Art
Hannibal Square Heritage Center
Menello Museum of American Art
Winter Park History Museum

The Winter Park Scenic Boat Tour at the eastern end of Morse Boulevard takes passengers on tours through the narrow canals between Lakes Virginia and Osceola.
They have been at this location since 1938.
Winter Park Scenic Boat Tour
The tour highlights nature and local birds, but another outstanding feature of the tours are the opulent mansions, old and new, that line the lakes.  

WINTER PARK FLORIDA HOTELS/MOTELS
Park Plaza Hotel. This is the only hotel right downtown, and is a treat to stay in. Sit on your balcony and watch the people strolling along the avenue. 307 S Park Ave, Winter Park Florida. Tel: 407-647-1072

The Alfond Inn. This boutique hotel is at Rollins College, just a block from the main Park Avenue downtown district.  The 112 room hotel has a pool and modern accommodations.  1000 Holt Ave. Winter Park, Florida 32789. Hotel telephone : 407-326-0801
WINTER PARK FLORIDA ATTRACTIONS
Rollins College. A fine place to take a walk or get a good college degree. Wonderful old buildings with some great Moorish/Spanish architecture.

The Charles Hosmer Morse Museum of American Art. The museum displays the world's most comprehensive collection of works by Louis Comfort Tiffany (1848-1933). The collection includes stained-glass windows, lamps, jewelry and paintings. 445 North Park Avenue, Winter Park. Tel: 407-645-5311.
Kraft Azalea Garden is a scenic peaceful public park on the south side of Lake Maitland.  The park is open year around from 8am until dusk.  The garden is shaded by giant ancient cypress trees.  The park has an open columned pavilion called the Exedra that is a popular place for local sunset wedding ceremonies.  1365 Alabama Drive, Winter Park. Tel: 407-599-3397.
Scenic Boat Tour. This is a don't miss experience. Pontoon boats with knowledgeable guides take you on a tour of the Winter Park lakes linked by narrow canals. You will glide quietly under live oaks draped with Spanish moss, sabal palms, and dense patches of bamboo stalks and banana trees. The lakefront mansions will boggle your mind. 312 East Morse Blvd., Winter Park. Tel: 407-644-4056.
Mead Botanical Garden. This 47 acre park is a tranquil place to spend some time.  It has a boardwalk and hiking trails that take your through tall pine trees by a creek.  They have a greenhouse, butterfly garden and pond.  You may see turtles, fish, and wading birds on your self guided tour. The garden is open from 8am until dusk. 1300 South Denning Drive, Winter Park. Tel: 407-622-6323.
Albin Polasek Museum & Sculpture Gardens. This museum is in the impressive former house of the sculptor. The house was originally owned by Harry Sinclair of the oil company. It is on Lake Osceola. The magnificent building and grounds showcase dozens of classical sculptures by the late Czech-American sculptor. 633 Osceola Avenue, Winter Park. Tel: 407-647-6294.
Hannibal Square Heritage Center.  This center hosts a collection of photographs and oral histories of Winter Park's Hannibal Square African American community.  It was established in partnership with the Crealde School of Art.  642 West New England Avenue, Winter Park. Tel: 407-539-2680.
Winter Park History Museum.  This small place is also known as the Winter Park Historical Museum.  It's a museum featuring local history and is operated by the Winter Park Historical Assocation in a former railroad freight depot.  200 W. New England Avenue, Winter Park. Tel: 407-647-2330.
Winter Park Sidewalk Art Festival. This annual sidewalk art festival is one of the best in the country. It takes place along Park Avenue every year. The festival is held on the third weekend in March. More than 350,000 people usually flock to this show to view the work of over 1200 artists.
---
 ALL ABOUT WINTER PARK, FLORIDA
---
INTERACTIVE MAP OF WINTER PARK, FLORIDA
---
---
---

Our Facebook page has more than 124,095 followers who love off the beaten path Florida: towns, tourist attractions, maps, lodging, food, festivals, scenic road trips, day trips, history, culture, nostalgia, and more.  We post articles every day.  Please check it out and if you like it, we would appreciate a "like" from you.
---
By Mike Miller, Copyright 2009-2022
Florida-Back-Roads-Travel.com
Florida Back Roads Travel is not affiliated with or endorsed by Backroads, a California-based tour operator which arranges and conducts travel programs throughout the world.