Winter Park Scenic Boat Tour
WINTER PARK SCENIC BOAT TOUR
312 East Morse Boulevard
Winter Park, Florida 32789
Tel: 407-644-4056
The Winter Park Scenic Boat Tour is a one-hour tour you will enjoy whether it's your first time or hundredth time.
The attraction began its operation in 1938.  It's first trip was led by Captain Tom and dubbed the "Venice of America" tour.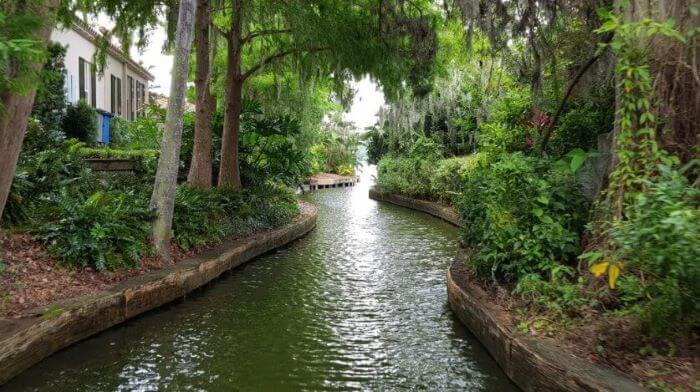 Winter Park Scenic Boat Tour Canal View
Tripadvisor Marcia L.
Today it is one of Florida's most interesting off-the-beaten-path experiences.
What makes it unique is the route the tour boats take through Lakes Osceola, Virginia, and Maitland.

Although its location in Winter Park is only ten minutes north of downtown Orlando in Central Florida, and a quick 5 minute walk from busy Park Avenue, the tour route feels like a completely different world. 
It's one of the best ways to enjoy a taste of both worlds.
You will see tropical trees such as large palm and beautiful cypress trees, lush ferns, tropical flowers and many tropical birds along the route.
You will also see some of the most spectacular mansions in the state along the route.
Some of these mansions have been owned by movie stars or other famous people and the guide will point them out.
The Winter Park chain of lakes includes seven lakes, with the larger five being connected to each other by narrow beautiful canals.
These canals were built by lumber interests in the late 19th century to float logs harvested from the surrounding forests to the sawmill locations.
WINTER PARK SCENIC BOAT TOUR: CELEBRITY HOMES
The scenic boat tour begins at their headquarters in Winter Park at the end of Morse Boulevard on Lake Osceola.  
The tour will have you relaxing in one of six 18-passenger pontoon boats.  Your tour guide will begin by showing you some famous structures in Winter Park history along the lake shore.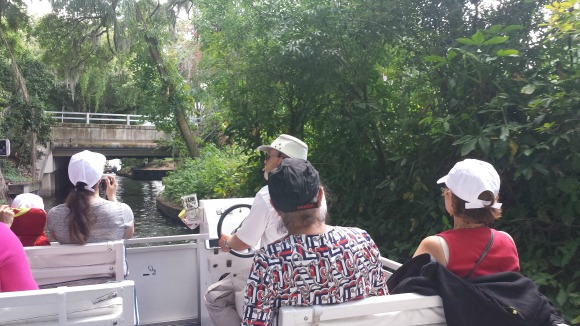 Heading From Lake Osceola to Lake Virginia
You will leave the boat house on Lake Osceola and head south into Lake Virginia through a beautiful narrow canal canopied by ancient oaks, banana, cypress, and palm trees, ferns and just about anything else that grows in this part of Florida.  
The northern shore of Lake Virginia is home to the picturesque campus of Rollins College.
After touring Lake Virginia, the boat heads back north through the same canal and into Lake Osceola for a leisurely cruise along the shoreline and a glimpse into the many historic mansions and exquisite estates.  
The Canal Between Lake Osceola and Lake Maitland
Another beautiful winding canal takes you north into Lake Maitland where you will see Kraft Azalea Gardens and the breathtaking views of opulent private homes.
Many of the grand homes are on the Isle of Sicily, a man made peninsula that juts into the center of the lake.
The tour guides are locals who know the area well and make the one hour cruise interesting.  
Along with the beautiful scenery, many times nature cooperates in the tour by showing you large cranes hunting for fish or a lazy alligator swimming along the shoreline.

---
WINTER PARK SCENIC BOAT TOURS FEES & HOURS
Tours leave every hour from 10 AM to 400 PM; current admission fees (2023) tax included are $16 for adults, $8 for children (ages 2 through 11) and kids under 2 ride free. 
The tour is open for business every day of the year except Christmas.
---
LOCATION OF WINTER PARK SCENIC BOAT TOURS
---
---
---

Our Facebook page has more than 129,275 followers who love off the beaten path Florida: towns, tourist attractions, maps, lodging, food, festivals, scenic road trips, day trips, history, culture, nostalgia, and more.  We post articles every day.  Please check it out and if you like it, we would appreciate a "like" from you.
---
By Mike Miller, Copyright 2009-2023
Florida-Back-Roads-Travel.com
Florida Back Roads Travel is not affiliated with or endorsed by Backroads, a California-based tour operator which arranges and conducts travel programs throughout the world.