AVON PARK, FLORIDA

Avon Park, Florida Things To Do, Lodging, Dining, & Real Estate At End Of Article
Avon Park, Florida is in Highlands County on US-27 a few miles north of Sebring.  The population of the town is about 9,000.  It's in the heart of the Florida region known for its citrus groves.
There are hundreds of thousands of acres of citrus surrounding Avon Park;  in the spring the wonderful smell of blossoming orange trees fills the air.

HISTORY OF AVON PARK, FLORIDA
The first settler in the area was Oliver Crosby who moved down from New England in 1884 to study the wildlife.

A couple of years later the folks in the area named the town Lake Forest.
Avon Park is Named for Shakespeare's Hometown in England
An English settler convinced Crosby that the area reminded her of Stratford-Upon-Avon, her home town in England.
It is also the hometown of William Shakespeare - and so the name was changed to Avon Park.
I first visited Avon Park more than 50 years ago and was scared out of my wits one night.  
After having a happy hour drink in the basement lounge of the Hotel Jacaranda one afternoon, I left to go have dinner in one of the restaurants out along US-27.
While driving back to the hotel well after sunset, the night sky was suddenly illuminated as if it were high noon.
Burning flares were all over the sky like a million flaming stars. I wondered if we were suddenly under nuclear attack.  It was then I remembered the existence of the nearby Avon Park Bombing Range.
During World War Two this bombing range was operated by the Army Air Force, and sprawled over 218,000 acres.  The huge acreage has been partially sold off over the years, but it still has more than 100,000 acres.
A lot of the bombing range acreage is open to the public for hiking and nature watching.
When I last went through Avon Park in April 2022 the old Hotel Jacaranda still looks pretty much like it does on the postcard.
Downtown Avon Park is built along a grassy boulevard mall, and quite a few of the old buildings have been nicely maintained or restored.
The vintage postcard above shows an Avon Park downtown boulevard area not much different than the scene you would see today. 
Change the old automobiles into their modern counterparts and you would feel on familiar ground.
Another building that hasn't changed too much since it was built in 1894 is the Episcopal Church of the Redeemer. 

This church is an example of Carpenter Gothic architecture, as is the Union Congregational Church.

Union Congregational is also known as Union Evangelical and is at 105 North Forest Avenue.  It was built in 1892, and is another example of Carpenter Gothic church architecture.

---
Avon park is home to Classic Caladiums, a large wholesale plant nursery.  Classic has created and patented many new varieties of the caladium plant and produces a majority of the world supply of caladium tubers. The nursery has open house events where the public can enjoy their beautiful gardens.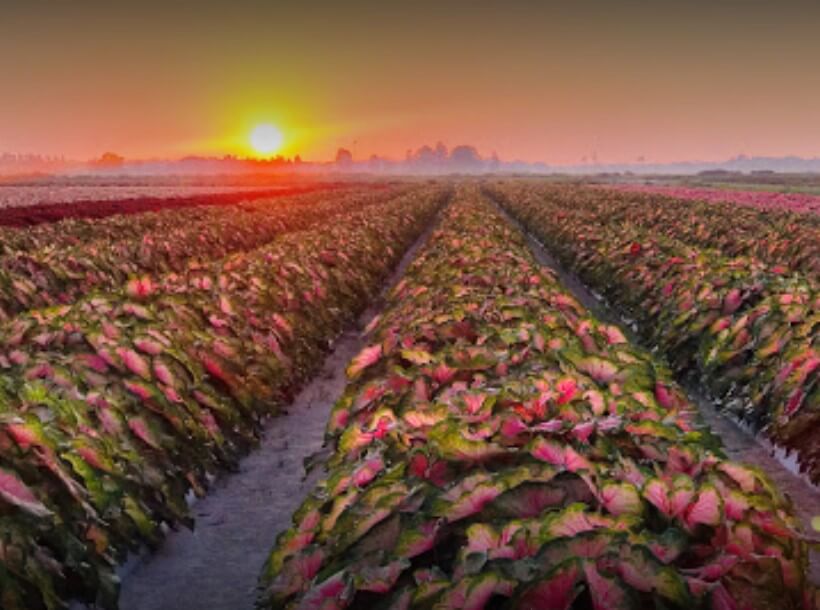 Caladium Field Near Avon Park
Classic Caladiums, Inc.
In addition to the Avon Park nursery, they own a nearby 850 acre farm. Avon Park is only 25 miles from Lake Placid where the annual Caladium Festival is held. Read more about Classic Caladiums.
---
THINGS TO DO IN AVON PARK
Lake Bonnet Village RV Resort: 2900 US Hwy 27 S, Avon Park, FL 33825 - Experience the beauty of Florida's nature by camping or staying in an RV at this serene lakeside resort.

Donaldson Park: 109 E Main St, Avon Park, FL 33825 - Enjoy a relaxing day outdoors with family and friends, surrounded by picturesque views, playgrounds, and picnic areas.

Depot Museum: 3 N Museum Ave, Avon Park, FL 33825 - Step back in time and explore Avon Park's rich history through exhibits and artifacts housed in a charming train depot.
Avon Park Community Center: 300 W Main St, Avon Park, FL 33825 - Engage in various recreational activities such as basketball, tennis, and fitness classes at this vibrant community center.
Depot Park: Intersection of US-27 and Main St, Avon Park, FL 33825 - Spend time outdoors at this park, featuring a gazebo, walking trails, and a stage for community events.
---
Sightseeing Sally Video on Avon Park History
---
 ALL ABOUT AVON PARK, FLORIDA
---
AVON PARK FLORIDA INTERACIVE GOOGLE MAP
---
---
---

Our Facebook page has more than 129,275 followers who love off the beaten path Florida: towns, tourist attractions, maps, lodging, food, festivals, scenic road trips, day trips, history, culture, nostalgia, and more.  We post articles every day.  Please check it out and if you like it, we would appreciate a "like" from you.
---
By Mike Miller, Copyright 2009-2023
Florida-Back-Roads-Travel.com
Florida Back Roads Travel is not affiliated with or endorsed by Backroads, a California-based tour operator which arranges and conducts travel programs throughout the world.