SEBRING, FLORIDA

Sebring, Florida Things To Do, Lodging, Dining, & Real Estate At End Of Article
Sebring is in deep south Central Florida, many miles from an Interstate highway and the tourist attractions and theme parks of Orlando. 
It is located on US-27 about 170 miles northwest of Miami and 86 miles northeast of Fort Myers.  Sebring's population in 2022 was 10,454.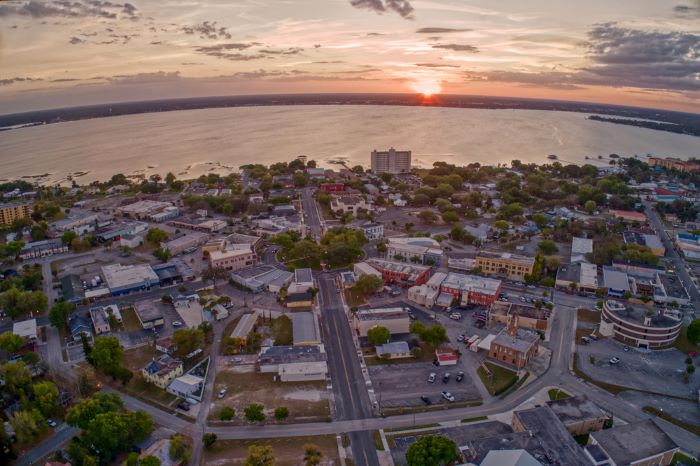 Downtown Sebring and Lake Jackson
Shutterstock, Jacob Boomsma
This area is on the central Florida sand ridge with some of the highest elevations in south Florida.

Sebring is near Highlands Hammock State Park , a popular attraction and beautiful example of natural old Florida.  
The park is a great place to camp while visiting Sebring, Lake Placid and the nearby scenic highways.

HISTORY OF SEBRING, FLORIDA
Sebring is on the eastern shore of Lake Jackson in the Ridge Area of southern Central Florida.
The land for the town was purchased in 1911 by George E. Sebring, a pottery manufacturer from Sebring, Ohio.
George worked with his brothers to co-found that Ohio town before arriving in Florida. He then founded this Florida town with help from his son, Harry Orvel Sebring.
Harry is credited with bringing many early settlers from Pennsylvania and Ohio to Sebring. His house, like many others in the Sebring area, is listed in the U.S.National Register of Historic Places.
Mr. Sebring planned a city on the principle of the mythological Grecian city of Heliopolis, the "city of the sun".
The town was designed and built with streets radiating outward from a central park representing the sun.
Surveys were made and construction began on the town in 1912, a few months before the arrival of the Atlantic Coast Line Railroad.
The city grew quickly as the citrus industry thrived in this part of Florida. 
The first setback to the town came in 1917 when a freeze killed or damaged many groves in the area. 
These groves were replanted, and the town continued to grow steadily until the real estate boom of 1924-1925.
Sebring survived the land boom collapse, and continued to grow slowly when it became the county seat of Highlands County. 
The county was formed in 1921 from part of DeSoto County and is named for the high sand ridge that forms this part of Florida.
If you will look at the map of Sebring, you will see that US-27 runs along the west side of Lake Jackson. 
This is a highly commercialized strip with motels, restaurants, and other businesses.
The older quieter area of Sebring is along the east shore of Lake Jackson.  Here is where the touches of the professional planners of years ago can be seen.
The centerpiece of downtown Sebring is Circle Park Drive, a circular street that encloses a leafy green park. The entire downtown area is a historic district.
Streets radiate outward from this park into the various commercial and residential areas, like the spokes on a wheel. This has earned Sebring the nickname "the city on the circle."
The downtown area has a public library, and art center, a fishing pier on Lake Jackson, and a wide range of boutique shops, casual dining spots, and small businesses.
The Tragic Death of Novelist Rex Beach in Sebring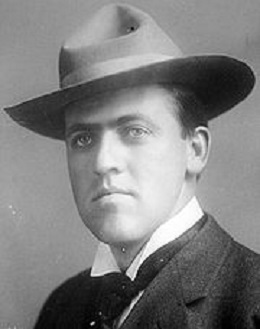 The house at 2701 Northeast Lakeview Drive where novelist Rex Beach committed suicide is located on one of Sebring's main lakes, Lake Jackson.
Beach was a famous novelist of the first half of the 20th century. One of his books, "The Spoilers," has been made into at least 5 movies.
The Sad Demise of Kenilworth Lodge
Kenilworth Lodge, 836 SE Lakeview Drive is a historic inn overlooking Sebring's Lake Jackson.
Constructed in 1916 by City of Sebring founder George Sebring, the Kenilworth is one of the finest examples of Mediterranean-Revival architecture in Florida.
It closed for business in 2016, but it is still fun to ride around and look at it from the outside.  I'm afraid it may be demolished in the not too distant future.
The Beauty and Majesty of Highlands Hammock in Sebring
Nearby Highlands Hammock State Park is a popular attraction.  With an area of more than 9,000 acres it has the largest sampling of rare and endemic species of all the Florida State Parks. 

The park has a long history of people working together to preserve Florida's plants, animals and natural habitats.
One example of this is the gopher tortoise, now downgraded to a "threatened" species, whose long underground burrows offer shelter to a variety of other species.
You can walk the trails and quite likely spot bears, deer, aligators and a wide variety of birds.

The park has camp sites as well as nine foot trails and a three mile long bike loop.  They even have a tram tour for lazy or handicapped folks.
The Mystery of Harder Hall
Harder Hall is an unoccupied hotel located on Little Lake Jackson at 3300 Golfview Drive. It is on the National Register of Historic Places. 

Harder Hall is named for developers Lewis Harder and Vincent Hall, who worked with local realtor, George Kline.
They also tried to buy much of the property owned by George Sebring including the Kenilworth Lodge, to capitalize on the growing tourism.
Their ambitious plans were ultimately unsuccessful, owing to the Depression and the collapse of the real estate boom.
The hotel was designed in the Spanish Colonial Revival Style and has 134 rooms.
It was built in Sebring, at the time a convenient stop along the railroad, as a hotel and golf resort.
Over the years it hosted several major golf tournaments on its championship course, and had many wealthy and well-known guests including Paul Newman and Mario Andretti.
Several developers have tried to renovate the hotel over the years, but it is currently (2022) not operating and can't be entered by the public.
Here is a drone video of the exterior and interior of Harder Hall.  
This very informative video is a tale of lost grandeur.
---
Historic Sebring International Raceway
Sebring is also the home of the Sebring International Raceway, located adjacent to Sebring Regional Airport, it is America's premier sports car racing facility.
It is the oldest permanent road racing track in North America, evolving from a World War II air base.  It was first used for car races in 1950. 
The Sebring Raceway hosted the 1959 Formula One United States Grand Prix, but is currently best known as the host of the 12 Hours of Sebring, an annually held American Le Mans Series race.
The Murals of Lake Placid. This little town about 16 miles south of Sebring has a downtown area loaded with murals. These picturesque works of art portray various Highlands County historical and cultural events.
---
Sebring is the county seat of Highlands County, Florida, named for its terrain.
Part of the Florida Heartland, Highlands County is home to over 100 lakes and small communities around these, each with their own history.
The many natural freshwater lakes offer residents and those who visit Florida clear water and renowned fishing, an abundance of natural beauty, and are home to a wide variety of wildlife and plants.
In addition to Lake Jackson and Little Lake Jackson, Lake Sebring and Dinner Lake are just north of Sebring.  Lake Istokpoga, the 5th largest lake in the state, is a few miles southeast.
---
THINGS TO DO IN SEBRING FLORIDA
Sebring International Raceway: Visit this iconic race track and witness thrilling motorsports events, such as the 12 Hours of Sebring. The raceway also offers performance driving schools and track days for those looking to experience the excitement firsthand. 

Highlands Hammock State Park: Explore this beautiful state park and immerse yourself in the diverse ecosystems, including old-growth hammock forests and wetlands. The park offers a variety of outdoor activities such as hiking, biking, bird-watching, and camping. 

Highlands Lakeside Theatre: Catch a live performance at this historic theater, which has been entertaining the community since 1923. The theatre showcases a range of productions, including plays, musicals, and concerts. 
Military Sea Services Museum: Discover the rich history of the United States' naval, marine, and coast guard forces at this fascinating museum. The extensive collection of artifacts, photographs, and memorabilia provides an in-depth look at the sea services' legacy. 
Lake Jackson: Enjoy the crystal-clear waters of this 3,212-acre lake, ideal for boating, fishing, and water sports. Lake Jackson is also a perfect spot for picnicking and enjoying the beautiful Florida sunset. 
Children's Museum of the Highlands: Take your children to this interactive museum, which provides a fun and educational experience for the whole family. The museum features hands-on exhibits that encourage learning through play. 
Lost Mines of Atlantis: Experience the thrill of gem mining at this unique attraction, where you can search for treasures such as fossils, arrowheads, and precious stones. This family-friendly activity is both fun and educational. 
Sebring Historic Downtown: Stroll through the charming downtown area, which features a variety of shops, restaurants, and historic buildings. The vibrant community atmosphere and picturesque scenery make it an enjoyable destination for visitors. 
Sebring Soda & Ice Cream Works: Treat yourself to a nostalgic soda fountain experience at this delightful establishment. The shop offers a wide variety of craft sodas, ice cream, and sweet treats, making it a must-visit for those with a sweet tooth. 
Airboat Wildlife Adventures: Embark on a thrilling airboat ride through the scenic waterways of Sebring, providing an up-close encounter with Florida's diverse wildlife, including alligators, birds, and more. Knowledgeable guides offer informative and engaging tours. 
Highlands Art League - 1985 Lakeview Dr, Sebring, FL 33870 - View and purchase art from local artists and take classes in various mediums.
Allen Altvater Cultural Center - 109 E Main St, Sebring, FL 33870 - See art, theater, and music performances in a historic building.
Sebring Parkway - Sebring, FL 33870 - Take a drive through a scenic road with beautiful lakes, wildlife, and landscapes.
Veterans Beach - 3001 Lakeview Dr, Sebring, FL 33870 - Relax, swim, and have a picnic at a beach with white sand and clear water in Sebring.
---
ALL ABOUT SEBRING, FLORIDA
---
SEBRING, FLORIDA LOCATION MAP
---
---
---

Our Facebook page has more than 128,577 followers who love off the beaten path Florida: towns, tourist attractions, maps, lodging, food, festivals, scenic road trips, day trips, history, culture, nostalgia, and more.  We post articles every day.  Please check it out and if you like it, we would appreciate a "like" from you.
---
By Mike Miller, Copyright 2009-2023
Florida-Back-Roads-Travel.com
Florida Back Roads Travel is not affiliated with or endorsed by Backroads, a California-based tour operator which arranges and conducts travel programs throughout the world.