Best Places to See Flamingos
BEST PLACES TO SEE
FLAMINGOS IN FLORIDA
Florida is not the only place that has flamingos, but they are a native species to the Sunshine State and large flocks can be seen in the wild in the shallow water of the state.

They were in abundance when the first white settlers begin to show up in South Florida.  But a craze in the late 1800s and early 1900s for women's hats with bird plumes almost caused the species to become extinct.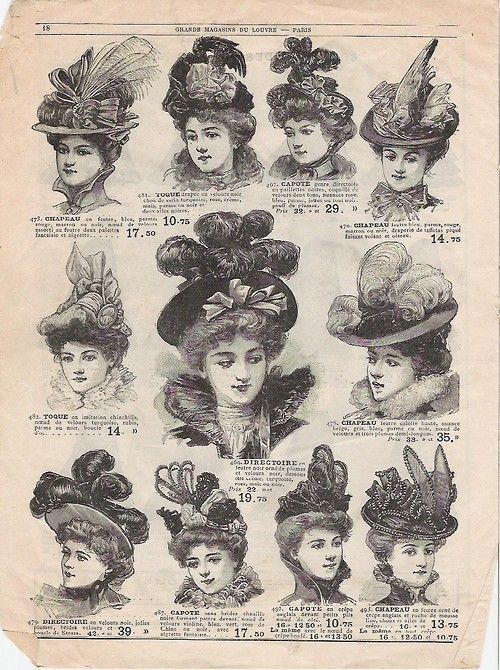 Victorian Era Ladies With Plumed Hats
Florida's flamingos and other wild birds were hunted nearly to extinction for their beautiful plumes that adorned the hats of many stylish  women.
In fact, for many years it was assumed wild flamingos were extinct in Florida and that the ones who were spotted must have flown in on vacation from the Caribbean or South America.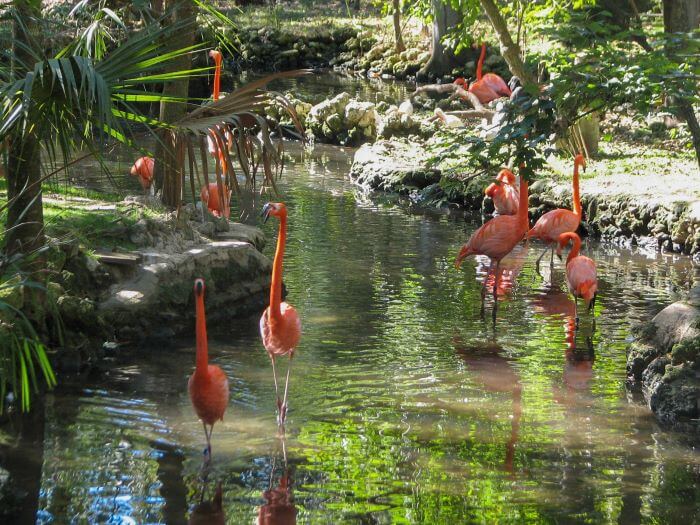 Wading Flamingos
Photographic Destinations by Bob Kyle
The good news is that recent discoveries prove the flamingo has made a comeback.  For the first time we now know many of the wild flamingos are Florida born and bred.
Some have been seen in Florida Bay and the Everglades.

Here are some of our favorite places to visit and mingle with flamingos. 
EVERGLADES NATIONAL PARK
40001 State Road 9636
Homestead, FL 33034
Tel: 305-242-7700
Everglades National Park is the best place to see flamingos in their natural habitats.  The vast array of Everglades wilderness has an abundance of marshy waters and mangrove islands.
There are several entrances to the park.  My favorite one is in Everglades City.
Snake Bight in Florida Bay has many flamingos.  The best chance of seeing them is from late March to early May.
Flamingo Beach near the end of the road to the Flamingo Visitor Center is also a place you might get a glimpse of flamingos.
BUSCH GARDENS
10165 McKinley Drive
Tampa, FL 33612
Tel: 813-884-4386

Busch Gardens was originally founded by Anheuser Busch, the beer company.
It is now owned and operated by Seaworld Parks & Entertainment.  It is a 335 acre animal theme park with an African theme.  
You will find flamingos hanging out in Egypt, Nairobi, and the Bird Gardens.  There are several species:  Lesser, Chilean, and Caribbean.
At the Animal Connections in Nairobi, you can get real close to the flamingos and even kiss them on the beak.
More than 4 million people a year visit the park.  
DISCOVERY COVE
6000 Discovery Cove Way
Orlando, FL 32821
Tel: 407-513-4600
Discovery Cove is a sister park to SeaWorld Orlando and Aquatica Orlando.  They have a large flock of Caribbean flamingos.
You can take a stroll among these birds and begin to feel like you are one of them.  You can also feed them and wade with them in shallow waters.
They will also take photographs of you, the family, and the flamingos enjoying each other.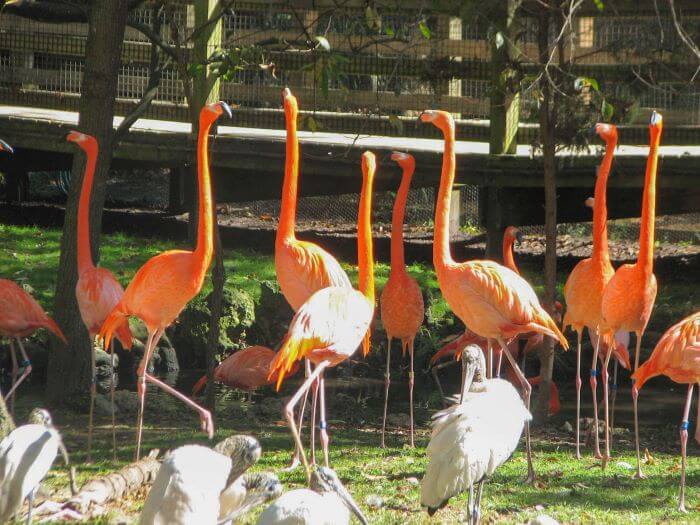 Flock of Flamingos
Photographic Destinations by Bob Kyle
EVERGLADES WONDER GARDENS
Everglades Wonder Gardens
27180 Old 41 Rd
Bonita Springs, FL 34135
Tel: 239-992-2591

Everglades Wonder Gardens is a historic small attraction that was established in 1936. 
It has a 3 acre botanical jungle that is home to many rescued animals.  In addition to flamingos, you will see alligators, turtles, snakes, and many other kinds of birds.
FLAMINGO GARDENS
3750 S. Flamingo Rd
Davie, FL 33330
Tel: 954-473-2955

Flamingo Gardens is located west of Fort Lauderdale on a 60 acre tract.  It is a pioneer attraction, having been founded in 1927.
It is home to the Everglades Learning Center and the South Florida Wildlife and Botanical Sanctuary.
The gardens include over 3,000 species of exotic tropical and native plants, and many a tropical botanical garden, and an Everglades wildlife sanctuary with an aviary and zoo.
A popular feature of Flamingo Gardens is the Flamingo Pond.  It is a beautiful area where you can interact with Caribbean flamingos in their natural environment.
You are allowed to feed the flamingos, which is the best way to get to know them.
HIALEAH PARK CASINO
100 East 32nd St
Hialeah, FL 33013
Tel: 305-885-8000
Joseph Widener brought in the first flock of flamingos from Cuba in 1931 that began breeding in 1934.  They lived in the infield lake at the Hialeah Park race track.
Although the race track has been closed for years there is still a captive breeding population of American flamingos living at the facility.
Flamingos from Hialeah are donated to zoos all over the country.
JACKSONVILLE ZOO AND GARDENS
370 Zoo Parkway
Jacksonville, FL 32218
Tel: 904-757-4463

This historic attraction is located where the Trout River empties into the St. Johns River in north Jacksonville.
It is on 122 acres and has over 1,000 plant species and 2,000 animals.  They have two of the six known species of flamingos: the greater flamingo and the Caribbean flamingo.
The greater flamingos can be as tall as five feet with extra long legs which allows them to wade through deeper waters.
You will be able to interact with juvenile hand-reared flamingos during their training sessions.  These youngsters love to interact with guests.

Three Wading Flamingos
Photographic Destinations by Bob Kyle
KEY WEST
BUTTERFLY & NATURE CONSERVANCY
1316 Duval Street
Key West, FL 33040
Tel: 305-296-2988 

Key West Butterfly and Nature Conservancy features more than 50 different species of butterflies from around the world in a glass enclosed habitat.
You can also see the only flamingos in a Florida Keys attraction. They have a "Flamingle" experience where you can mingle with flamingos.
Their star flamingo attractions are Rhett and Scarlett who have lived here since 2013.  
Visitors sit in a gazebo that overlooks a pond and plantings.  Rhett and Scarlett walk around free and interact with people.
LION COUNTRY SAFARI
2003 Lion Country Safari Rd.
Loxahatchee, FL 33470
Tel: 561-793-1084

Lion Country Safari in Palm Beach County has been around since 1967 and is one of the earliest cageless zoos in the United States.  The animals roam free while you drive around caged in your car.
The attraction has more than 600 acres and a flock of Caribbean flamingos.  Visitors are allowed to mingle with the birds, feed them, and take photos.
You don't have to stay in your car while you visit with these beautiful birds.
SARASOTA JUNGLE GARDENS
3701 Bayshore Rd
Sarasota, FL 34234
Tel: 941-355-5305

Sarasota Jungle Gardens was established in 1939.  It has over 10 acres of botanical gardens and features bird and animal shows.
Flamingos are one of the most enjoyable attractions in the attraction.  They are allowed to wander around and interact with the guests.
Quite often the birds will come up to you first as if to say hello.  You can feed them with food available in the park.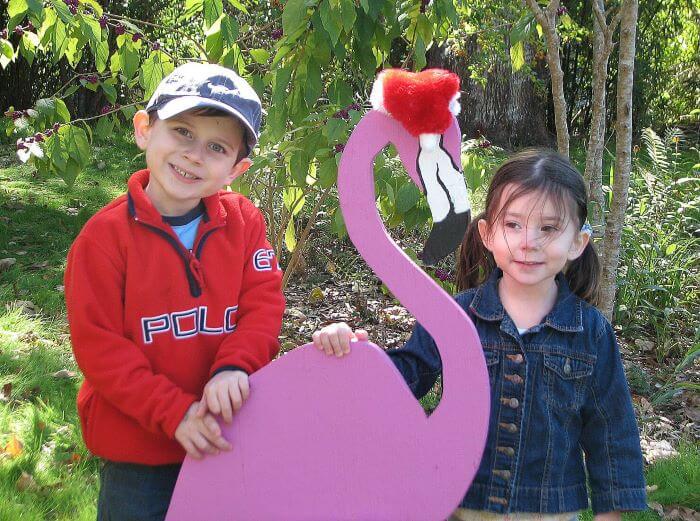 Photographer Bob Kyle's Grandchildren
Photographic Destinations by Bob Kyle
---

Our Facebook page has more than 129,275 followers who love off the beaten path Florida: towns, tourist attractions, maps, lodging, food, festivals, scenic road trips, day trips, history, culture, nostalgia, and more.  We post articles every day.  Please check it out and if you like it, we would appreciate a "like" from you.
---
By Mike Miller, Copyright 2009-2023
Florida-Back-Roads-Travel.com
Florida Back Roads Travel is not affiliated with or endorsed by Backroads, a California-based tour operator which arranges and conducts travel programs throughout the world.