BONITA SPRINGS, FLORIDA
By  Mike Miller Updated November 7, 2023

Bonita Springs, Florida Things To Do, Lodging, Dining, & Real Estate At End Of Article
The City of Bonita Springs in Lee County, Florida is a great place to visit or call home. This city of 54,000 is situated along the Gulf of Mexico and offers stunning views, beautiful beaches, and a variety of recreational activities.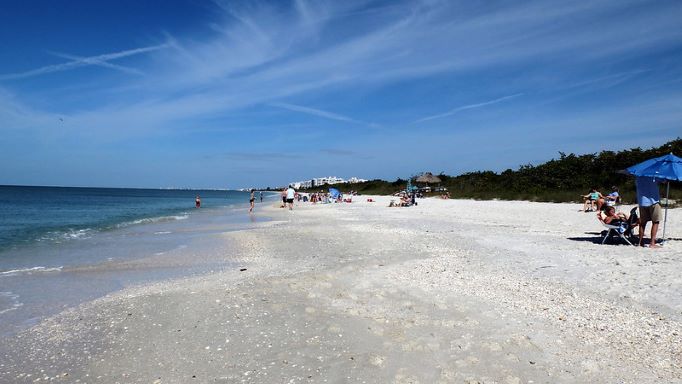 Bonita Springs Barefoot Beach
Flickr/Amre
Located just north of Naples and south of Fort Myers on US-41, you'll find plenty of things to do, from shopping in its many local stores to exploring its historic sites.
HISTORY OF BONITA SPRINGS, FLORIDA
The first residents here were native Americans as long as 8,000 years ago.  By the time Ponce de Leon first made contact with the Calusa Indians in 1513, this area was home to many native Americans,
The remains of Calusa villages and mounds show they were a prosperous group, but like many indigenous people whey were wiped out by European diseases or sent to the Caribbean as slaves.
Not long after the Civil War the U.S. Army Corps of Engineers surveyed the land along the Imperial River.  Later the land became known as "Survey" and the river as "Surveyor's Creek."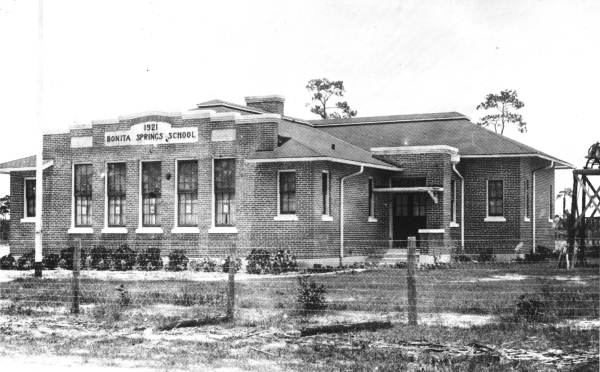 Early Bonita Springs School
Survey grew from a small community of farmers into a village, and in 1901 a post office was opened. In 1910 a hotel was operating and catering to tourists who came for the hunting anf fishing.

Somewhere along the way people decided the name Bonita Springs sounded better than Survey, so the town was renamed.
Surveyor's Creek was renamed Imperial River.
In the early 1920s, Barron Collier extended his Fort Myers-Southern Railroad south in the 1920s through Bonita Springs.
When he also completed the Tamiami Trail from Naples to Miami, a land boom came to the area.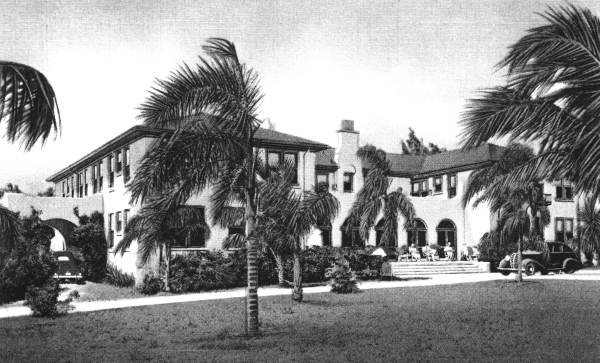 Bonita Springs Hotel in the 1940s
The first tourist attraction to open in Bonita Springs was the Everglades Reptile Gardens in 1936. This attraction featured native and local animals.
Now known as the Everglades Wonder Gardens is a well loved natural and historic treasure in this part of the state. 
Air conditioning became common in Florida in the 1960s and the area began to grow.  I-75 was completed east of town and Bonita began to grow with shopping centers, planned developments, offices, and golf courses.
If you're looking for outdoor recreation, the beaches are a great spot for swimming, fishing, boating, kayaking and more.

Esplanade Park provides a great place for walking trails, picnicking and viewing the sunset over the Gulf of Mexico.
Riverside Park on the Imperial River is a good place to spend some time.  A historic tourist attraction, Everglades Wonder Gardens, is near this park.
The park and attracton are located on Old US-41 which goes through the center of the original downtown area of Bonita Springs.
Bonita Beach Park is directly on the Gulf of Mexico and is one of the best places to access the beautiful beaches.
The warm climate makes Bonita Springs a desirable destination year-round. Average temperatures range between 50°F to 90°F with humidity levels dropping during the colder months.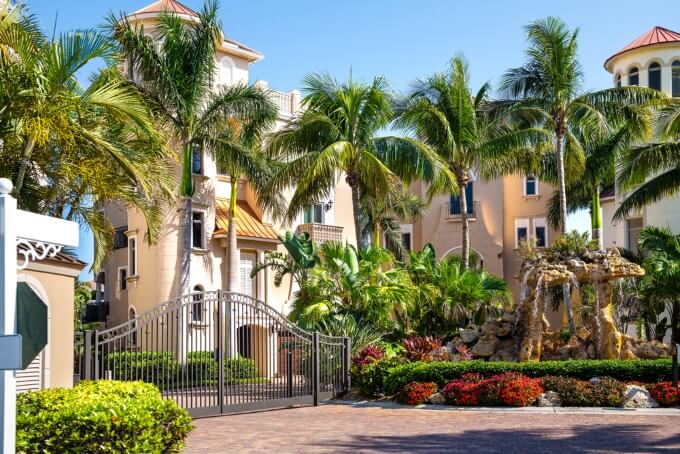 Barefoot Beach
Shutterstock, Andriy Blokhin
If you're looking for outdoor recreation, the beaches are a great spot for swimming, fishing, boating, kayaking and more.
During the summer months visitors can take advantage of cooler ocean breezes and enjoy outdoor activities like golfing on one of many courses or lounging at Barefoot Beach Preserve with its powdery white sand beaches.
BONITA SPRINGS BAREFOOT BEACH PRESERVE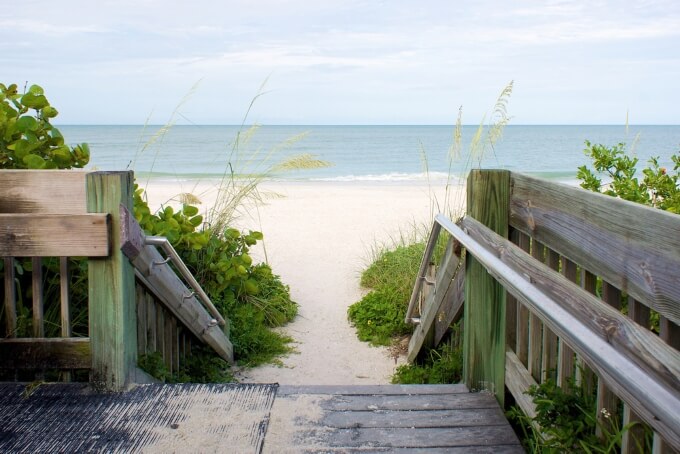 Bonita Beach Crossover
Shutterstock, Stephen Orsillo
Visitors to Barefoot Beach Preserve can take advantage of numerous amenities such as picnic tables, pavilions, grills and restrooms.

There are also several fishing platforms located along the shoreline where anglers can cast out their lines in search for prized catches such as snook or tarpon.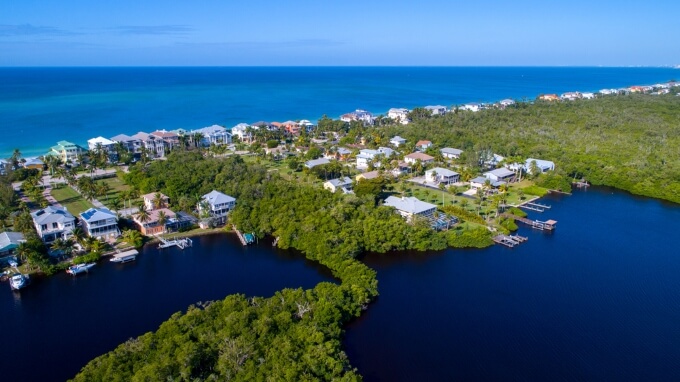 Bonita Springs Beach View
Shutterstock, Ray Dukin
Of course no visit would be complete without a dip in the crystal-clear waters that line this gorgeous beach – perfect for swimming, snorkeling or simply lounging on a floating device!

Bonita Springs also has a thriving arts and culture scene that includes numerous museums such as the Koreshan State Historic Site which focuses on early settlers who founded their utopian society nearby.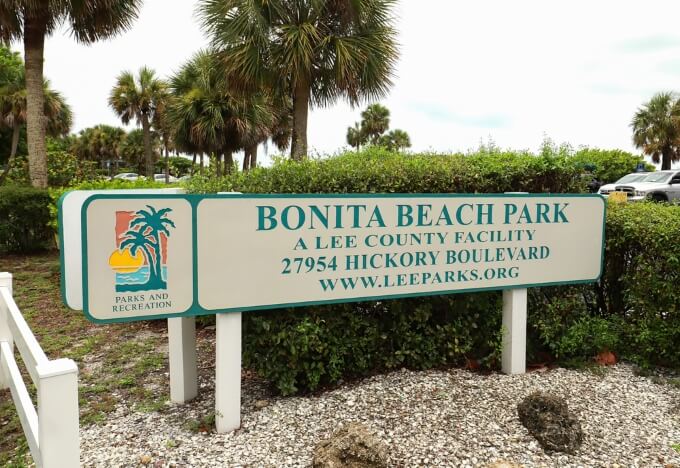 Bonita Beach Park
Shutterstock, Jillian Cain Photography
In addition to these cultural attractions there are dozens of annual events like the Bonita Blues Festival held each June featuring blues musicians from around the country as well as festivals celebrating everything from art and music to seafood!

This city is also home to many upscale planned communities, including Bonita Bay.  Real estate can be expensive in Bonita Springs with an average 2022 home listing price of $640,000, well above the national average.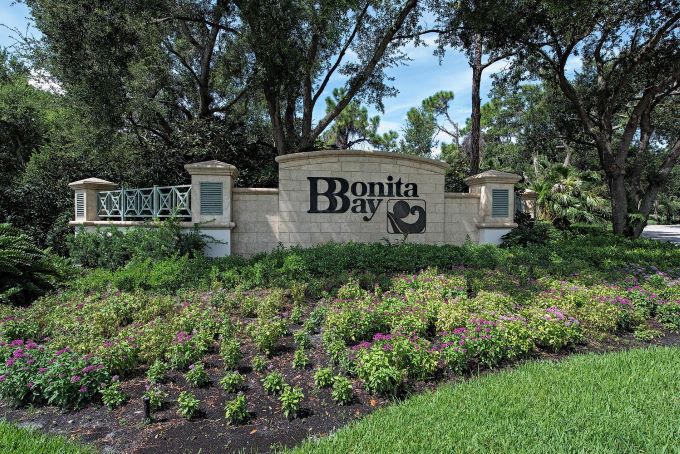 Bonita Bay Entrance Sign
Many residents move to Bonita Springs because of its charming atmosphere. This friendly city boasts an array of unique neighborhoods with everything from upscale homes in Barefoot Beach to rustic farmhouses in Imperial River Estates—there's something here for everyone!

It's also conveniently located near Fort Myers International Airport.
Lovers' Key State Park immediately north of Bonita Springs provides visitors with trails to explore by foot or bike where they can admire local wildlife living in its natural habitat – including bald eagles and manatees!
It is one of the last undeveloped barrier island in Southwest Florida.
There are also two kayak launches within the park allowing people access to even more adventures on Estero Bay beyond what can be seen from land.
Fort Myers Beach is immediately north of the state park and is a nice place to visit.
The Corkscrew Swamp Sanctuary is east of the Bonita Springs area and is a great place to experience a boardwalk stroll through a natural cypress wetland.
The Coconut Point Mall features over 140 shops to browse through - perfect for finding unique souvenirs or gifts for loved ones back home!
Miromar Outlets is a large discount shopping mall in Estero, adjacent to Bonita Springs on the north, as is Florida Gulf Coast University.
There are also numerous restaurants throughout downtown serving up delicious meals ranging from fresh seafood dishes to familiar favorites like pizza and burgers.
With miles upon miles of sandy beaches; plenty of outdoor activities; a vibrant arts & culture scene along with its extraordinary landscape beauty—it's no wonder why so many people choose this incredible city as their permanent home.

Bonita Springs is a destination that caters to everyone – from birdwatchers looking for nature trails to sunbathers seeking relaxation on white sand beaches and shoppers searching for gifts at chic boutiques – all within reach during a single visit!
That's why Bonita Springs remains one of the top Southwest Florida tourist locations year after year.
 ALL ABOUT BONITA SPRINGS, FLORIDA
---
BONITA SPRINGS FLORIDA INTERACTIVE MAP
---
---
---

Our Facebook page has more than 129,275 followers who love off the beaten path Florida: towns, tourist attractions, maps, lodging, food, festivals, scenic road trips, day trips, history, culture, nostalgia, and more.  We post articles every day.  Please check it out and if you like it, we would appreciate a "like" from you.
---
By Mike Miller, Copyright 2009-2023
Florida-Back-Roads-Travel.com
Florida Back Roads Travel is not affiliated with or endorsed by Backroads, a California-based tour operator which arranges and conducts travel programs throughout the world.