Zorba's Mediterranean Grille & Bar
ZORBA'S MEDITERRANEAN
GRILLE AND BAR
9106 Bonita Beach Boulevard
Bonita Springs, Florida 34135
Tel: 239-992-5005
By  Mike Miller March 31, 2023

Zorba's Mediterranean Grille and Bar is a great spot that offers a wonderful dining experience.  I began dining regularly there in 2004 and most recently visited in March 2023.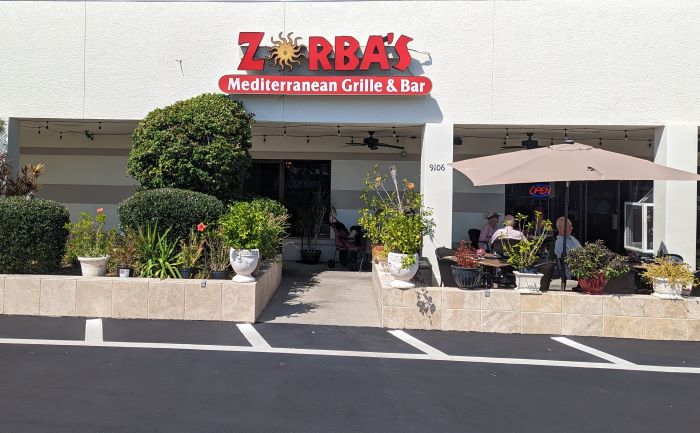 Zorba's Mediterranean Grille and Bar
Even though Bonita Springs suffered a lot of damage from Hurricane Ian in September 2022, you can't tell it from the beautifully restored shopping center where Zorba's is located.

When you enter the restaurant you go past a good sized outside dining area with umbrellas and plenty of tables and chairs.

As you enter inside you come to a host station and notice a large dining room beyond and a full service bar and smaller dining room to the right.
Zorba's Mediterranean Grille and Bar
One of the standout dishes at Zorba's is their Greek salad with gyro topping. The salad is fresh and crisp, with a generous amount of toppings including juicy tomatoes, cucumbers, red onion, and feta cheese.

The gyro meat is perfectly cooked and adds a delicious savory flavor to the salad. The dressing is light and tangy, complementing the flavors of the salad perfectly.
But the greatness of Zorba's goes beyond just their Greek salad . The restaurant offers a wide variety of Mediterranean-inspired dishes that are all prepared with care and attention to detail.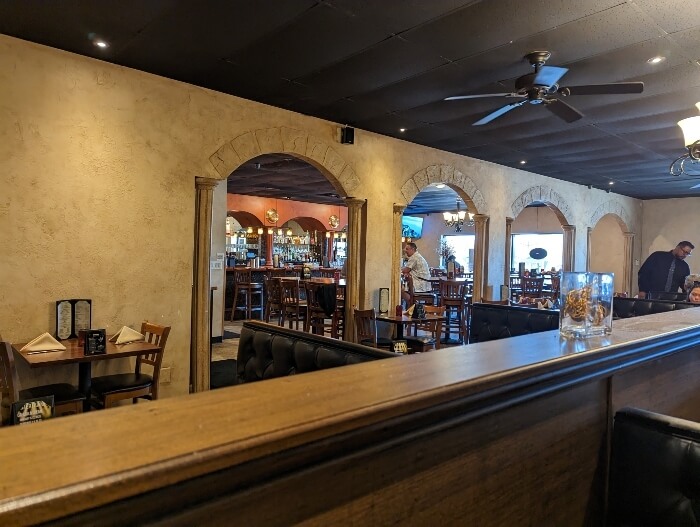 Zorba's Mediterranean Grille and Bar
The menu includes appetizers like hummus and stuffed grape leaves, as well as entrees like lamb shank, chicken souvlaki, and seafood dishes.
Entrées include moussaka, a baked casserole made with layers of eggplant, ground meat, and creamy béchamel sauce.
Another classic is souvlaki, which consists of skewered and grilled meat, typically pork, chicken, or lamb, served with pita bread and tzatziki sauce.
Spanakopita, a savory spinach and feta cheese pie wrapped in phyllo dough, is also a common entrée.
Lastly, you will find dolmades on the menu, which are grape leaves stuffed with a mixture of rice, herbs, and sometimes meat, and served with a lemony dipping sauce.
The atmosphere at Zorba's is also fantastic. The restaurant has a warm and welcoming ambiance that makes you feel right at home.
Zorba's Mediterranean Grille and Bar Greek Salad
The staff are friendly and attentive, making sure that your dining experience is enjoyable from start to finish.

Whether you're in the mood for a refreshing Greek salad or a hearty entree, you won't be disappointed by the food and service at Zorba's.

Zorba's is open Monday through Saturday, 1030am to 900pm.
LEARN MORE ABOUT BONITA SPRINGS
---

Our Facebook page has more than 127,538 followers who love off the beaten path Florida: towns, tourist attractions, maps, lodging, food, festivals, scenic road trips, day trips, history, culture, nostalgia, and more.  We post articles every day.  Please check it out and if you like it, we would appreciate a "like" from you.
---
By Mike Miller, Copyright 2009-2023
Florida-Back-Roads-Travel.com
Florida Back Roads Travel is not affiliated with or endorsed by Backroads, a California-based tour operator which arranges and conducts travel programs throughout the world.