BRONSON, FLORIDA
Bronson, Florida Things To Do, Lodging, Dining, & Real Estate At End Of Article

This Article Also Contains Two Brief Videos of Bo Diddley and His Music
Bronson is a town of about 1,200 people in Levy County in North Central Florida.  It is located at the crossroads of Alternate US-27 and State Road 24 about 26 miles southwest of Gainesville.
It is the county seat of Levy County, named for Florida's railroad pioneer and early U.S. senator from Florida, David Levy Yulee.

HISTORY OF BRONSON, FLORIDA
A local settler named Bronson was a friend of Senator Yulee, and the town is named for the senator's friend.
Remember, it's not who you are but who you know.

When the Civil War broke out and Florida left the Union, Senator Levy became a Confederate Senator.

Bronson is a "crossroads" town that lies at the intersection of US-27, County Road 337 and State Road 24. SR-24 follows the route of David Levy Yulee's early pre-Civil War railroad that ran from Fernandina Beach to Cedar Key.
According to the town's website, Bronson was originally named Chunky Pond.  It had a saw mill and a general store and trading post. 
The area around Bronson developed into about 75 different orange groves, all within 3 miles of the courthouse.  
The hard freezes of the mid 1890s destroyed the orange groves and the town sank into quiet obscurity.
The first county seat was Levyville, also named for the senator. It was about halfway between Bronson and Chiefland.
The area around Levyville was originally named Sodom but the name didn't catch on for some reason and faded into Florida history.
Levyville wasn't on the route of the Florida Railroad, however, and Bronson was.
A few years after the railroad was completed, the residents moved the county seat to Bronson. Levyville also faded into the mists of Florida history.
My Uncle Karl lived in Bronson for a couple of years in the 1970s. The thing I remember about visiting him is how quiet the place was.
It's pretty much the same now as it was back then.
The downtown area has a few shops, a convenience store, gas stations, and a couple of other businesses. 
People who really want big time shopping or entertainment drive to Gainesville, 26 miles to the northeast.
Some historic buildings have been preserved, and it's fun to get back into the quiet neighborhoods and look around at the houses and large trees.
Blue Springs Park is a local attraction that features good swimming and other natural amenities.  
Bronson appeals to many people because it's a place where you can get away from the hustle and bustle of busier Florida. 
There are also lots of opportunities to enjoy nature, kayaking, and fishing.
BRONSON IS THE FINAL RESTING PLACE OF BO DIDLEY
One thing that's changed is that a celebrity is now in town. Bo Diddley died in 2008 and his grave is in the Bronson Cemetery.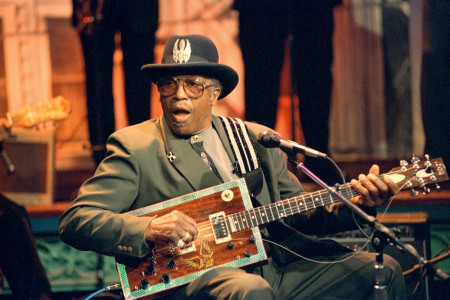 Bo lived for many years in Hawthorne, Florida and Archer, Florida, not too far from Bronson. 
His grave is a photo opportunity in Bronson that many people enjoy, including me. 

Here is a short YouTube clip of Bo Diddley in 1955 on the Ed Sullivan show.
He was one of the true pioneers of rock and roll.  Bo pioneered the beat that sounds like "shave and a haircut, two bits".

Here is another YouTube clip of the Bo Diddley beat showing Bo in 1960. 
His "Bo Diddley" beat inspired and was emulated by most of the rock and roll greats.

---
ALL ABOUT BRONSON, FLORIDA
---
BRONSON FLORIDA GOOGLE INTERACTIVE MAP
---
---
---

Our Facebook page has more than 129,275 followers who love off the beaten path Florida: towns, tourist attractions, maps, lodging, food, festivals, scenic road trips, day trips, history, culture, nostalgia, and more.  We post articles every day.  Please check it out and if you like it, we would appreciate a "like" from you.
---
By Mike Miller, Copyright 2009-2023
Florida-Back-Roads-Travel.com
Florida Back Roads Travel is not affiliated with or endorsed by Backroads, a California-based tour operator which arranges and conducts travel programs throughout the world.