CARRABELLE,  FLORIDA
May 21, 2021
Carrabelle is a working fishing village and laid back Old Florida tourist town. It is located just west of Florida's "Big Bend" on the Gulf Coast about 53 miles southwest of Tallahassee.
It has a population of about 2,600.
The Big Bend area has also been known in recent years as "The Forgotten Coast".

Isolated Dog Island is about 3 miles offshore of Carrabelle and can be reached only by plane or boat.
Dog Island has a few scattered homes, one small 8 room inn and miles of beautiful beaches.
Carrabelle and Dog Island were sleepy little places until right after the U.S. Civil War.
The vast forests surrounding the area made lumber and naval stores the lifeblood of the economy. The first lumber mill was built in 1875.
Pine and cypress cut from the lands upstream surrounding the Carrabelle River were floated down to the mill for cutting into lumber.
The lumber was then shipped from Carrabelle to northern markets.

By 1893 Carrabelle had become a boom town in the lumber industry. The docks along the river were stacked high with lumber and turpentine ready for shipping.
The railroad had also come to town and the products of the local fishermen, especially mullet, were shipped by rail to markets in the north and south.
At the turn of the twentieth century, a major hurricane almost destroyed Carrabelle.
The downtown was moved closer to its present location and many new buildings were built.
A historic building that provides great lodging in this small town is the The Old Carrabelle Hotel at 201 Tallahassee St, Carrabelle, FL 32322, Telephone: (850) 528-3983.

The years between World War I and World War II were very hard for Carrabelle. The lumber and naval stores industries disappeared and fishing became the main occupation of most area residents.
The depression had Carrabelle in its grip. There was a period of time during the Prohibition era when quite a few locals made their living smuggling in liquor from the Caribbean.

Carrabelle, Florida Had a Role in World War Two
In the very early years of World War Two, the U.S. government bought 165,000 acres of forest and beach land surrounding Carrabelle. By 1942 they had constructed Camp Gordon Johnston.
Thousands of men were trained in amphibious warfare at this base; the nearby beaches were practice grounds for later wartime landings in Italy and Normandy.

The land was sold off after the war, and Carrabelle again retreated into it's quiet prewar existence.
Not much remains of Camp Gordon Johnston except for a few buildings north of Carrabelle in Lanark.
Today's Carrabelle is still quiet and the economy is centered around the waterfront. 
There are no chain hotels or motels in town, just three little local places that cater to visitors that like peace and quiet.
Although it's not really a police station, tourists still like to have their photos taken standing next to Carrabelle's alleged "world's smallest police station".

The true story is that it began as a police phone booth years ago.
Another interesting little place that has been attracting visitors since 2012 is the Carrabelle Bottle House.  It is open to the public and no admission is charged.
The bottle house and adjacent lighthouse made out of bottles are lit up at night and are fun to see.  These are the creation of Leon Wiesener.
Dwarf Cypress at Tate's Hell State Forest
Flickr/John Cantwell
Tate's Hell State Forest is near Carrabelle.  It is 202,437 acres located both in Franklin and Liberty Counties.  There are several tales about how it got its name.
The most told story has a man named Cebe Tate lost in the swamp for seven days and seven nights in 1875.  He drank swamp water to stay alive and was bitten by a snake.
When he finally stumbled out of the woods he lived only long enough to say:
"My name is Cebe Tate, and I just came from Hell."
---
CARRABELLE, FLORIDA LOCATION MAP
---
---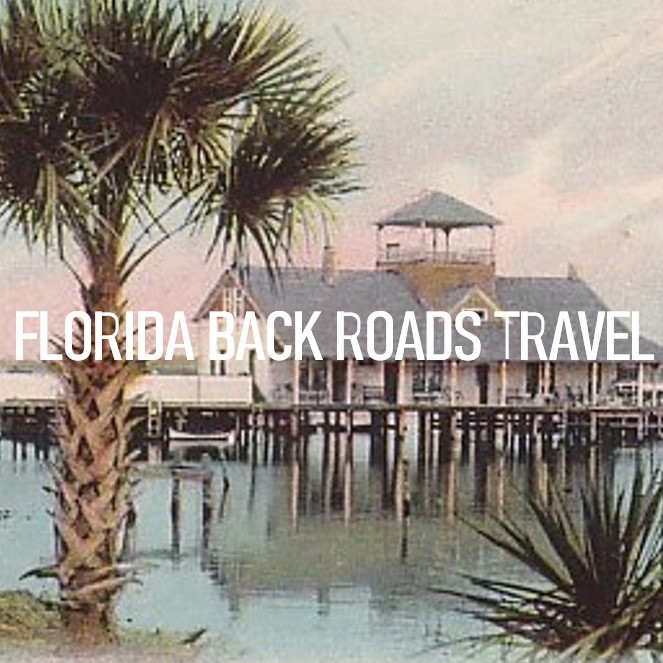 Our Facebook page has more than 108,003 followers who love off the beaten path Florida: towns, tourist attractions, maps, lodging, food, festivals, scenic road trips, day trips, history, culture, nostalgia, and more. 
Take a look. If you enjoy what you see, please give us a like.
---
---
Florida Back Roads Travel is not affiliated with or endorsed by Backroads, a California-based tour operator which arranges and conducts travel programs throughout the world.
By Mike Miller, Copyright 2009-2021 Florida-Back-Roads-Travel.com