CASSADAGA, FLORIDA

Cassadaga, Florida is about halfway between Orlando and Daytona Beach just off the I-4 corridor.
A small unincorporated community in Volusia County, it was created by George P. Colby, a young man originally from a small town in upstate New York near a town named Cassadaga.

As a child George's family moved from New York State to Minnesota, where he was said to have been baptized in frigid water so cold they had to cut a hole in the ice for the ceremony.
After that time he reported he began having psychic abilities and at times felt connected to the spirit world. This did not sit well with his strict Baptist parents and he left home at an early age.
He began traveling to different states, especially along the east coast, where the Spiritualist movement was growing in popularity.
He started out as a medium, doing private readings and spiritual healing sessions, eventually earning a name for himself, which led to giving demonstrations, séances, and lectures for larger groups.
Almost 150 years ago, he attended a seance where he was shown by his Native American spirit guided named Seneca that he would someday help create a spiritualist community in the southern United States.

Sure enough, in 1875, Colby traveled to the southeastern United States and found a wilderness area in Central Florida that appeared as he had seen it during his seance. The water body he saw is now named Lake Colby.
George may have felt connected to Seneca since Native Americans in the Seneca tribe lived in western New York all throughout the area where he was born and lived as a young boy.
In fact the name Cassadaga is a Seneca word for "water beneath the rocks".
Colby homesteaded in the area on 100 acres, and in the late 19th century deeded 35 acres to the newly organized Cassadaga Spiritualist Camp Meeting Association.
A small spring on Colby's homestead reportedly cured the tuberculosis that he had suffered from for years.
The spiritualist organization still exists and the camp encompasses 57 acres, with about six dozen Victorian era cottages and homes sprinkled across the grounds.
The majority of these are occupied by full-time residents, with many offering services as psychic healers or listed in a directory as a certified medium.
Today, the Southern Cassadaga Spiritualist Camp Meeting Association conducts church services on a year round basis, following the religion of Spiritualism.
Services are held in the Colby Memorial Temple on Stevens Street. Everyone is welcome to attend the services.
They explain their belief system as a combination and balance of science, philosophy and religion.  In short, some tenets are that there is an Infinite intelligence, God, behind all existence.
They also believe in a continuity of life that continues after the death of the body, that we are responsible for our actions, and we can communicate with those "on the other side", including bring forth information and healing.
There are psychic mediumship development classes offered but they do not take part in what some might think.
There is no fortune teller using a crystal ball, tarot cards or palm readers, although you may find these outside of the camp from some of the individual shops offered by residents of Cassadaga or at the unaffiliated Hotel Cassadaga.

There are 40 Certified Mediums at Cassadaga Spiritualist Camp who give psychic readings, and almost as many Certified Healers who help people tap into their inherent self-healing ability.
The camp is not a campground and does not offer lodging arrangements on the grounds other than the Cassadaga Hotel.
Cassadaga has several small peaceful parks and meditation gardens. There are regular events such as guest lectures, healing meetings, meditation circles and you can also take a day or night tour.

The Camp has a bookstore with the area's largest selection of books on traditional Spiritualism and Metaphysics. It also carries a large selection of tapes, CD's, crystals, stones, jewelry, Native American crafts and other unique gift shop items.
The spiritualist camp made the National Register of Historic Places back in 1992; it may be the only time an entire town made the list.
You can still see the influence of the early days of the camp, and they have kept the vision of the camp's founder, spiritualist George Colby, who passed away on the property in 1933.
In fact, it is nicknamed the "psychic capital of the world". I'm sure he would be pleased.
Cassadaga Has A Haunted Hotel
If you don't mind seeing or hearing ghosts now and then, try staying at the lovely Cassadaga Hotel right in the tiny town. It's the only hotel around.
Built in the 1920's it is said to be haunted. Claiming to be within an area of an energy vortex, they suggest visitors bring cameras in case they experience any psychic phenomena that might be caught on film.

It's a great place to stay while you wander around getting readings and looking at the quaint architecture of the village. And maybe you'll be visited by a friendly ghost.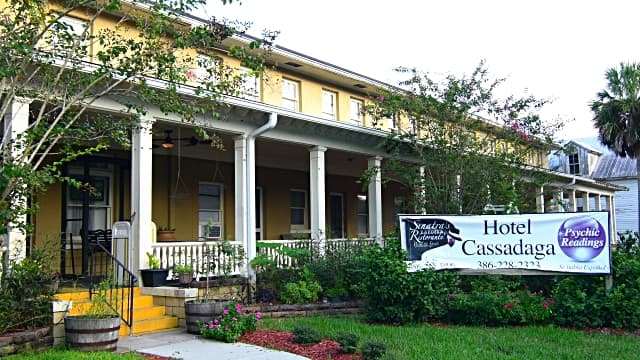 Hotel Cassadaga
The hotel used to be part of the Spiritualist Camp but it was sold off during the time of the Great Depression to help keep the camp afloat and it's been independently owned and operated since.
It's quite a beautiful hotel, decorated with period furniture in the common areas, honoring it's history.
It offers a wide array of metaphysical services on premises including readings, energy healings, past life regression, and spiritual counseling.
One unusual aspect of this hotel is that they do not have the usual amenities in the rooms, advertising that they are geared for enjoying the quiet atmosphere.
Over the years like-minded people visited the area and set up homes and metaphysical shops around the camp, creating the surrounding community of Cassadaga.
Outside of the hotel there are a couple of other places you might stay during a visit.
The Ann Stevens House is a bed & breakfast in nearby Lake Helen. Build in 1895 it's a charming-looking Victorian house with a big wraparound porch in the front, peaceful gardens, but updated with individual bathrooms for each room as well as wi-fi.
Cabin on the Lake is another nearby bed & breakfast but this one is a rustic but modern log cabin with 3 themed rooms available to rent. It's right on the water in Lake Helen.
Visit The Devil's Chair
The nearby Lake Helen-Cassadaga Cemetery has a structure that has become part of an enduring urban legend: The Devil's Chair.  
It is rumored by some that if you leave an unopened can of beer on the chair overnight, it will be empty in the morning - but it will still be unopened.
Others say that if you are bold enough to sit in the chair, the Devil will show himself to you.
---
THINGS TO DO IN CASSADEGA, FLORIDA
Take a guided tour of the Cassadaga Spiritualist Camp, located at 1112 Stevens St. The camp features a variety of historic buildings and a rich spiritual history, as well as opportunities for psychic readings and healing sessions.
Visit the Cassadaga Bookstore and Information Center, located at 1112 Stevens St. The store offers a variety of books, crystals, and other spiritual items, as well as information on the town's history and activities.
Attend a spiritual service at the Cassadaga Spiritualist Camp's Colby Memorial Temple, located at 1250 Marion St. The temple features regular services and events focused on spiritualism and mediumship.
Take a scenic drive along the nearby Lake Beresford Park Road, which offers beautiful views of the surrounding landscape and wildlife.
Explore the nearby Blue Spring State Park, located at 2100 W French Ave in nearby Orange City. The park features crystal-clear springs, hiking trails, and a variety of wildlife to observe.
Visit the nearby DeLand Naval Air Station Museum, located at 910 Biscayne Blvd in DeLand. The museum features exhibits on the history of naval aviation, as well as a collection of vintage aircraft.
Take a hot air balloon ride with Bob's Balloons, located at 1801 W International Speedway Blvd in DeLand. The ride offers a breathtaking view of the surrounding landscape from above.
Attend a concert or performance at the Athens Theatre, located at 124 N Florida Ave in nearby DeLand. The theater hosts a variety of cultural events throughout the year, featuring talented local and visiting performers.
Shop for unique gifts and souvenirs at the Cassadaga Psychic Shop, located at 1312 Stevens St. The shop features a variety of crystals, tarot cards, and other spiritual items.
Attend a workshop or class at the Cassadaga Spiritualist Camp's Andrew Jackson Davis Education Building, located at 1112 Stevens St. The building offers a variety of classes and workshops on spiritualism, mediumship, and other related topics.
---
HOW TO FIND CASSADAGA FLORIDA
Cassadaga is between Orlando and Daytona Beach just off I-4. Take I-4 Exit 114. Go north on 472 toward Deland and Orange City.
When you get to Martin Luther King Parkway, turn right, then turn right again on Cassadaga Road (County 4139). The camp is about 1.5 miles ahead.
---
GOOGLE INTERACTIVE MAP CASSADAGA, FLORIDA
---
---
---

Our Facebook page has more than 129,275 followers who love off the beaten path Florida: towns, tourist attractions, maps, lodging, food, festivals, scenic road trips, day trips, history, culture, nostalgia, and more.  We post articles every day.  Please check it out and if you like it, we would appreciate a "like" from you.
---
By Mike Miller, Copyright 2009-2023
Florida-Back-Roads-Travel.com
Florida Back Roads Travel is not affiliated with or endorsed by Backroads, a California-based tour operator which arranges and conducts travel programs throughout the world.