DELAND FLORIDA
Home of Stetson University

DeLand Florida is just west of I-4 on State Road 44. This small city is at the intersection of US-17 and SR-44 west of Daytona Beach.
HISTORY OF DELAND
DeLand is a city of many firsts.  It was visited in 1876 by Henry Addison DeLand, a baking soda magnate from New York.
He wanted to create a citrus, agricultural and tourism center. He bought large acreage in the area and founded the town named for himself.  Henry Deland's dreams went down the drain after the great freeze of 1885. He retreated back north and turned the town's fortunes over to his trusted friend, John B. Stetson.
Stetson, creator of the first cowboy hat, made the community his winter home in the late 19th century.  His house is now on the National Register of Historic Places.
Having grown accustomed to the luxuries afforded by his wealth in the modernized north, Stetson soon brought electricity to Florida and DeLand.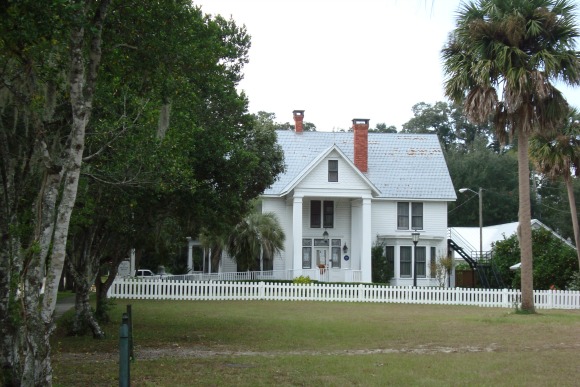 He built the state's first electrical plant and ice plant, and the city soon became the first place in Florida to have streets illuminated by the incandescent lightbulb.
Due to this progressiveness, city founder Henry DeLand often referred to his baby as "The Athens of Florida", meaning Athens, Greece, not Athens, Georgia.
DeLand's technological and educational superiority made it the Xanadu of a primitive, undeveloped region.
In 1886, a fire devastated DeLand's business district.
The ravenous blaze sparked up in one of the town's saloons and quickly spread to the surrounding wood buildings.  The town fathers apparently decided intoxication and fire were a bad combination in those days too, as saloons were thereafter banned from the city.
Don't worry. In modern DeLand, you can get a drink when you need one.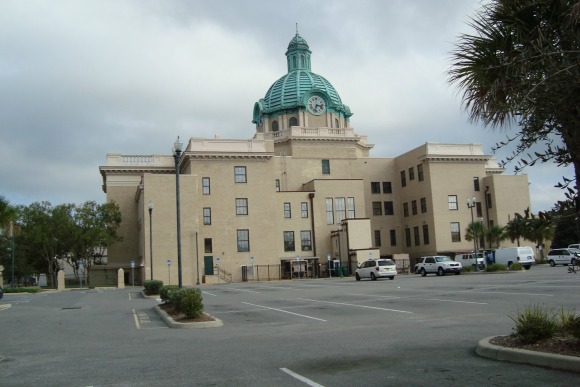 The disaster also led to an ordinance requiring that all new structures be built with masonry instead of wood frame.
Thanks to this building code, no less than 68 historic sites can be found within the few hundred acres of historic DeLand.
The downtown area is so impressive that the city has won many national and regional "Best Main Street" awards.
Majestic oak trees line the streets everywhere, the result of a planting project during the city's formative frontier years.
Residents of DeLand received a 50-cent tax break for every oak sapling they planted that made it through one year.
There were so many trees planted after the first year that the city couldn't pay its bills and soon had to repeal the law!
The loss of revenue was worth it in the end; the old oaks contrast nicely with the palms in the area and provide better shade from the subtropical heat.
Further adding to DeLand's appeal is Stetson University.
It seems Stetson is one of a handful of schools arm wrestling for the title of "First College in Florida".
There is no question Stetson had Florida's first law school, established in 1900.
Stetson University was originally called DeLand Academy, but the name was soon changed to Stetson College and later to Stetson University.
I guess the town elders wanted to honor the felt-hat philanthropist for saving them from the stink of kerosene lanterns.
The university campus is quite idyllic and has been used as a backdrop for many TV shows and major motion pictures.
In fact, many locations in historic DeLand have been used in film and television for their small-town vibe.
Take a walk around the district and you're likely to feel as if you've been there before. DejaVuLand.
DELAND FLORIDA RESTAURANTS
Brian's Bar-B-Que Restaurant, 795 N Spring Garden Avenue, DeLand, Florida. 386-736-8851. Large portions, good service, great ribs. Brian's even has a burger named after John Wayne. You're likely to walk like the Duke too after you saddle up to a half pound of ground sirloin and bacon.
Cress Restaurant, 103 West Indiana Avenue, DeLand Florida. 386-734-3740. Fusion cuisine. The finest of fine dining, located in downtown DeLand. The freshest ingredients around, because the folks at Cress grow their own produce! Call ahead, this restaurant is small and getting popular.
Shady Oak Restaurant, on the St Johns River at the State Road 44 bridge.

DELAND FLORIDA ATTRACTIONS
Athens Theater. 1920s era movie house, restored to its former glory. Plays, musicals, concerts and film festivals are frequently held.
Skydive DeLand. Who would guess that DeLand is the skydiving capital of the world? Go here if you want to jump out of a perfectly good airplane. If you're content to watch others kiss the sky, The Perfect Spot restaurant and bar has a good view. Skydive DeLand can be found at DeLand Municipal Airport, which itself has some points of interest as a former World War II base. There's even a campground there.
De Leon Springs State Park. Though it's unlikely the legendary conquistador visited it, this spring's 72º temperature does seem to have restorative powers in the hot Florida summer months. 9 miles NW of DeLand.
DeLand Memorial Hospital Museum. The Roaring Twenties roared loudly in DeLand, as a new hospital had to be built to meet the booming city's needs in 1922. It's now home to the museum and its wonderful exhibits, such as a 1920s operating room, artifacts from the World Wars, and a collection of antique toys and games.
DELAND FLORIDA HOTELS
Eastwood Terrace Inn, 442 East New York Avenue, DeLand, Florida 32724. Tel: 386-736-9902. A gracious old historic hotel built in 1925, with suites and guest rooms and private baths. Nice front porch with plants and rocking chairs. Close to DeLand's historic downtown district.
Learn more about this B&B or make reservations now! Click Here
Since the historic Stetson University sets the theme and ambiance for this town, you might enjoy learning more about Stetson University in Deland, Florida.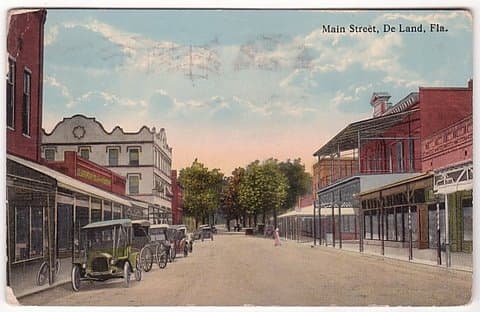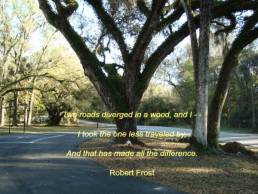 Over 65,000 followers can't be wrong. Learn about off the beaten path Old Florida, historic towns, attractions,  festivals, scenic drives and more.
Like Us On Facebook
Return From DeLand Florida To Florida Towns

Return To Free Florida Travel Guide Central East Florida
Return To Florida Backroads Travel Home