EATONVILLE, FLORIDA
Eatonville, Florida Things To Do, Lodging, Dining, & Real Estate At End Of Article
The town of Eatonville, Florida is located 6 miles north of Orlando.  Incorporated in 1887, it is considered by most people to be the oldest self-governing all African-American city in the United States.
The population was 2,399 in the 2020 census with the majority being African-American.
Eatonville Entrance on E. Kennedy Blvd
EATONVILLE, FLORIDA HISTORY
In the years after the American Civil War ended in 1865, settlers began to move into this part of Central Florida.
Some of them were former enslaved blacks who had come down from the war devastated southern states.  Many of them helped create the new town of Maitland.
Many of these former slaves became prominent leaders in Maitland and were well established when Maitland was incorporated in 1885.
The Maitland town marshall was Joe Clarke, a black man and the first mayor was another black man, Tony Taylor.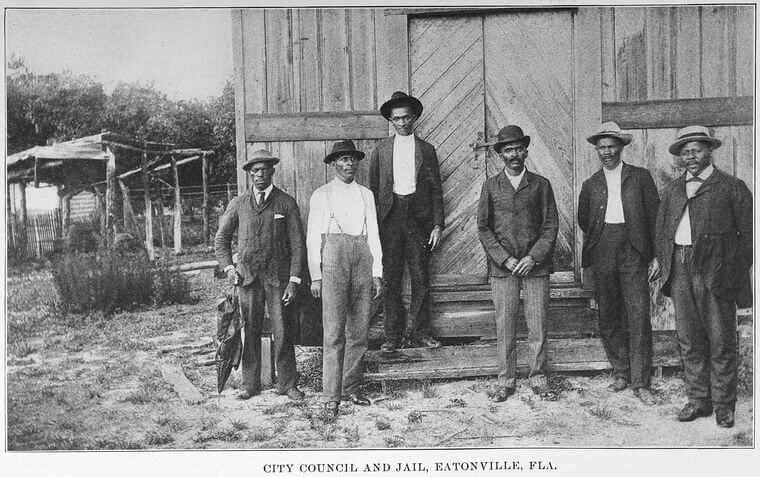 Eatonville Town Council
Florida Memory
These Maitland leaders became interested in forming their own town.
THE BEGINNING OF EATONVILLE
A tract of land 112 acres in area was acquired with the help of Lewis Lawrence, Joe Clarke, and Josiah Eaton.  Lawrence and Eaton were white men and former officers in the Union army during the Civil War.

This tract formed the original city limits of the Town of Eatonville and the new town was born in 1887.  It was named for Josiah Eaton.
It was believed to be the first town in the United States to be developed, incorporated and governed by blacks.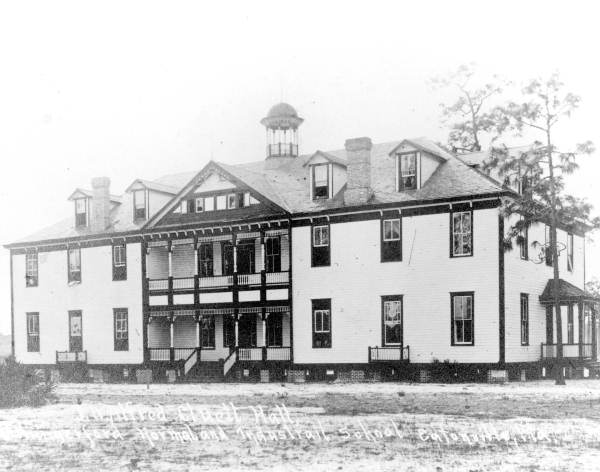 Hungerford Normal and Industrial School
FloridaMemory.com, State Archives
One of the earliest institutions to be established in the new town was the Hungerford Normal and Industrial School.  It was patterned after the Tuskeegee Institute in Alabama.
SOME FAMOUS CITIZENS OF EATONVILLE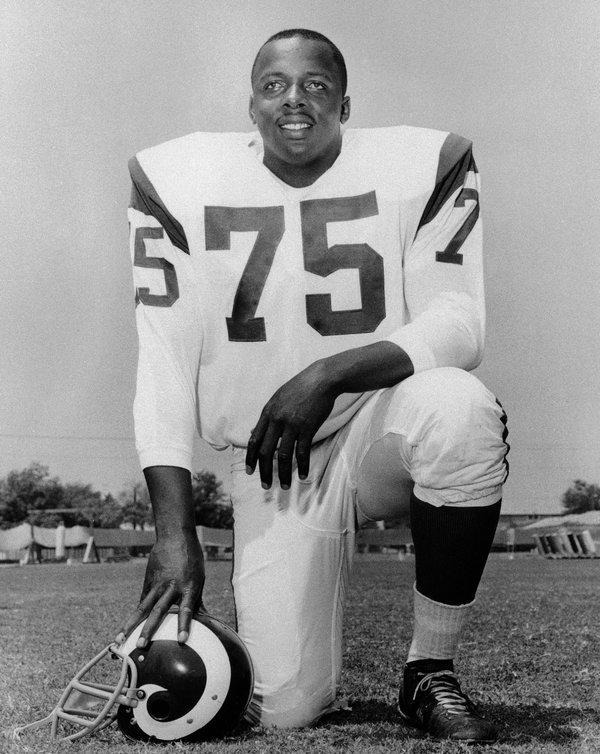 Deacon Jones
The school was given to Orange County in 1950 and one of its most famous graduates was David D. Jones (1938-2013) who played football, baseball, and basketball for the school.
He played in the era of Florida racial school segregation and is recognized as one of Florida's black football pioneers.
He became famous as "Deacon" Jones, one of the greatest football players in American history.  He had a long career with the Los Angeles Rams, San Diego Chargers, and Washington Redskins. 
As a member of the "Fearsome Foursome" of the Los Angeles Rams, he is honored by being in the Pro Football Hall of Fame.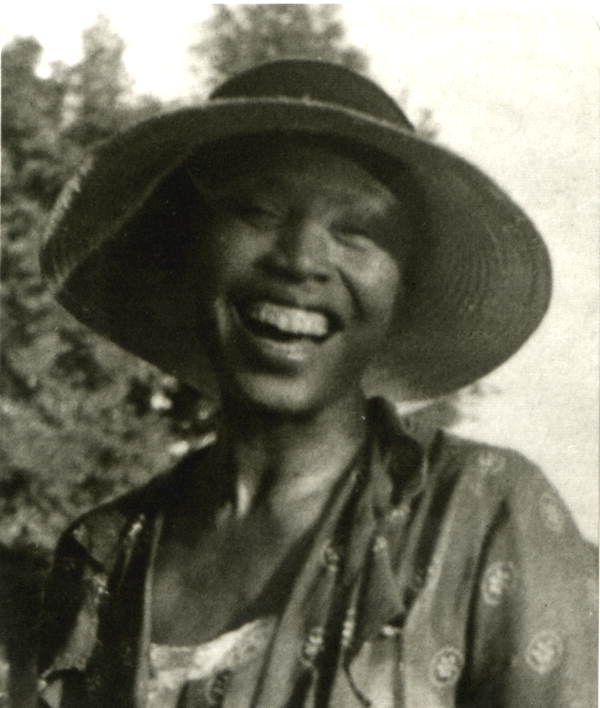 Zora Neale Hurston
Another famous person raised in Eatonville was Zora Neale Hurston. 

This famous author portrayed the town in her novel "Their Eyes Were Watching God" in 1937.
Others of her well known novels include "Mules and Men", "Dust Tracks on a Road", "Jonah's Gourd Vine", and many essays and short stories.
Eatonville is on both the east and west sides of I-4 about 6 miles north of downtown Orlando.  It's main east-west thoroughfare is Kennedy Boulevard.
Wymore Road is a main north-south road that parallels I-4, and State Road 434 is on the western edge of the town.
Eatonville Town Hall Sign
Eatonville is primarily a residental city, with single family homes in many different neighborhoods north and south of Kennedy Boulevard.
Commercial and office areas are primarily along East and West Kennedy Boulevard. 
Zora Neale Hurston Museum of Fine Arts
The Zora Neale Hurston National Museum of Fine Arts is located at 227 E. Kennedy Boulevard.

This a small modest museum that features fine art on both temporary loan and as permanent exhibits. The art includes sculpture, painings, films and photographs.
Zora Festival
Exhibits are focused on creative works by both African-Americans and Africans.   The museum has developed partnerships with local institutions including the Orlando Museum of Fine Arts and the Cornell Fine Arts Museum at Rollins College.
The museum sponsors the annual Zora Festival season which usually takes place in January over several weekends.
The Moseley House Museum is another interesting place to visit.  It is a house constructed in 1888 and the second oldest structure in Eatonville.
The Moseley House Museum
Wikipedia, Jamesmartin111
The house was once owned by Jim and Matilda Clark Moseley. Matilda was also known as Miss Tillie and was Zora Neale Hurston's best friend.
It has been restored and is maitained by the Zeta Educational Thespian Association, Inc., the Florida State Leadership Conference, and Zeta Phi Beta Sorority, Inc.
Historic Thomas House
Even older than Moseley House is the Historic Thomas House on East Kennedy.  It was built in 1881 as Eatonville's first church and in 1908 became the town's first library.
In 1946 it was purchased by Stenson Thomas, remodeled into a home, and occupied by generations of his family.  
There are currently efforts underway to restore the home and turn it into Eatonville's first bookstore. 
RECOMMENDED EATONVILLE RESTAURANT
Jenn
Forgive the pun, but a great eatin' place in Eatonville is DaJen Eats. 
It is owned by Jenn who grew up in Jamaica but has lived in America since she was 16.
Her restaurant focuses on vegan food  with a Jamaican flair. 
She also serves Irie Cream, a delicious dairy-free ice cream and also hosts very popular vegan cooking classes.  She also does catering.
DaJen is located on East Kennedy next to Eatonville Town Hall.
Learn more at Dajen Eats.
---
THINGS TO DO NEAR EATONVILLE
Eatonville Outdoor Academy - 135 W Kennedy Blvd, Eatonville, FL 32751 - An outdoor adventure program for kids that offers activities like zip-lining, archery, and canoeing.

The Taste of Eatonville Food and Culture Festival - 400 E Kennedy Blvd, Eatonville, FL 32751 - An annual event featuring live music, food vendors, and a celebration of Eatonville's rich African-American culture.
The Maitland Art Center - 231 W Packwood Ave, Maitland, FL 32751 - A nearby art center that offers workshops, exhibits, and events throughout the year.
The Charles Hosmer Morse Museum of American Art - 445 N Park Ave, Winter Park, FL 32789 - A museum featuring the largest collection of works by Louis Comfort Tiffany, including stained glass, pottery, and jewelry.
The Winter Park Scenic Boat Tour - 312 E Morse Blvd, Winter Park, FL 32789 - A guided tour of Winter Park's scenic chain of lakes, featuring beautiful homes, wildlife, and natural scenery.
The Albin Polasek Museum and Sculpture Gardens - 633 Osceola Ave, Winter Park, FL 32789 - A museum and sculpture garden featuring the work of Czech-American sculptor Albin Polasek.
Kelly Park/Rock Springs - 400 E Kelly Park Rd, Apopka, FL 32712 - A nearby park featuring a natural spring, swimming, tubing, and camping.
Orlando Science Center - 777 E Princeton St, Orlando, FL 32803 - A hands-on science museum featuring interactive exhibits and live demonstrations.
The Orlando Museum of Art - 2416 N Mills Ave, Orlando, FL 32803 - A museum featuring a diverse collection of American and international art, as well as special exhibitions throughout the year.
---
 ALL ABOUT EATONVILLE, FLORIDA
---
EATONVILLE FLORIDA INTERACTIVE GOOGLE MAP
---
---
---

Our Facebook page has more than 129,275 followers who love off the beaten path Florida: towns, tourist attractions, maps, lodging, food, festivals, scenic road trips, day trips, history, culture, nostalgia, and more.  We post articles every day.  Please check it out and if you like it, we would appreciate a "like" from you.
---
By Mike Miller, Copyright 2009-2023
Florida-Back-Roads-Travel.com
Florida Back Roads Travel is not affiliated with or endorsed by Backroads, a California-based tour operator which arranges and conducts travel programs throughout the world.