EDGEWATER, FLORIDA
Edgewater, Florida Things To Do, Lodging, Dining, & Real Estate At End Of Article
Edgewater, Florida is a city of about 24,000 located in Volusia County south of and adjacent to New Smyrna Beach.
It is located along the western shore of the Mosquito Lagoon, part of the Indian River Lagoon system.
This small city is a pleasant sightseeing experience once you get off busy U.S. Highway 1 and drive along the lagoon.
Locals usually don't call it the lagoon.  It is known as the Indian River to them and most other residents of this long stretch of East Central Florida.
Although this town is part of the sprawling metropolitan statistical area of Deltona-Daytona Beach-Ormond Beach with a population of more than 600,000 it still retains much of its Old Florida charm. 
EDGEWATER, FLORIDA HISTORY
Dr. John Milton Hawk first bought land in this area in 1865 and settled on it in 1874.  Not too surprisingly, he named it Hawk's Park.

His goal was to promote his new city as "A New England Village on the East Coast of Florida."

The new town did well, and by 1887 there were more than 40 homes and several commercial buildings. The main industries were growing citrus, raising bees, and fishing.  In the year 1888 riverboats shipped out 11 tons of honey from the community.
Although the town of Edgewater was not incorporated until 1951, the Florida State Legislature changed the community's name from Hawk's Park to Edgewater in 1951.
The name was chosen because the city is on the edge of the Mosquito Lagoon
The founder's name and history are memorialized in Hawks Park on the west side U.S. Highway 1 just south of W. Turgot Avenue.
Most of the commercial activity in Edgewater takes place along busy U.S. Highway 1 that runs through the city for about 6 miles.  A section of the city limits extend out to the intersection of Interstate 95 and State Road 442.
Like most places in Florida, you need to get off this main highway to see the town the way it probably looked back in the old days.
The older historic section of this city is between U.S. Highway 1 and the river. 
There are many interesting old homes in this neighborhood, especially on Riverside Drive.
There are also many older businesses and residential communities between US-1 and the railroad to the west.
Intertwined Oak and Palm, Edgewater, Florida
Flickr, Farley In Florida
Along the edge of south Riverside Drive is an unusual tree that has fascinated me for years.  Or should I say trees? 
The oak and palm seem to get along well and were no doubt aided in their twisted lives by a local human.
Edgewater's great location on Florida's east coast has attracted its fair share of real estate developers and homebuilders.  One of the largest of the resulting developments is Florida Shores.
EDGEWATER'S FLORIDA SHORES NEIGHBORHOOD
The large neighborhood of small lots north and south of State Road 442 between I-95 and the railroad adjacent to US-1 is called Florida Shores.
This was a large land development with a mail order sales program managed by Magnuson Properties out of Miami. The lot layout featured a large number of unpaved roads and mosquito control ditches laid out in a grid. 
The western boundary of the development was the marshy area that is part of the Turnbull Hammock.  You can see the area depicted on the USGS map below.
The subdivision was all too typical of those designed and developed in Florida in the 1960s and earlier before the advent of storm water management regulations.
Consumer complaints were so numerous that a Federal law was passed in 1968 prohibiting land sales by mail.  The new law affected the State of Florida more than any other.
In its early years, Florida Shores was infamous for its dirt roads and drainage problems.  Those unfortunate souls, many from up north, who bought a lot sight unseen by mail order were the subjects of many local jokes.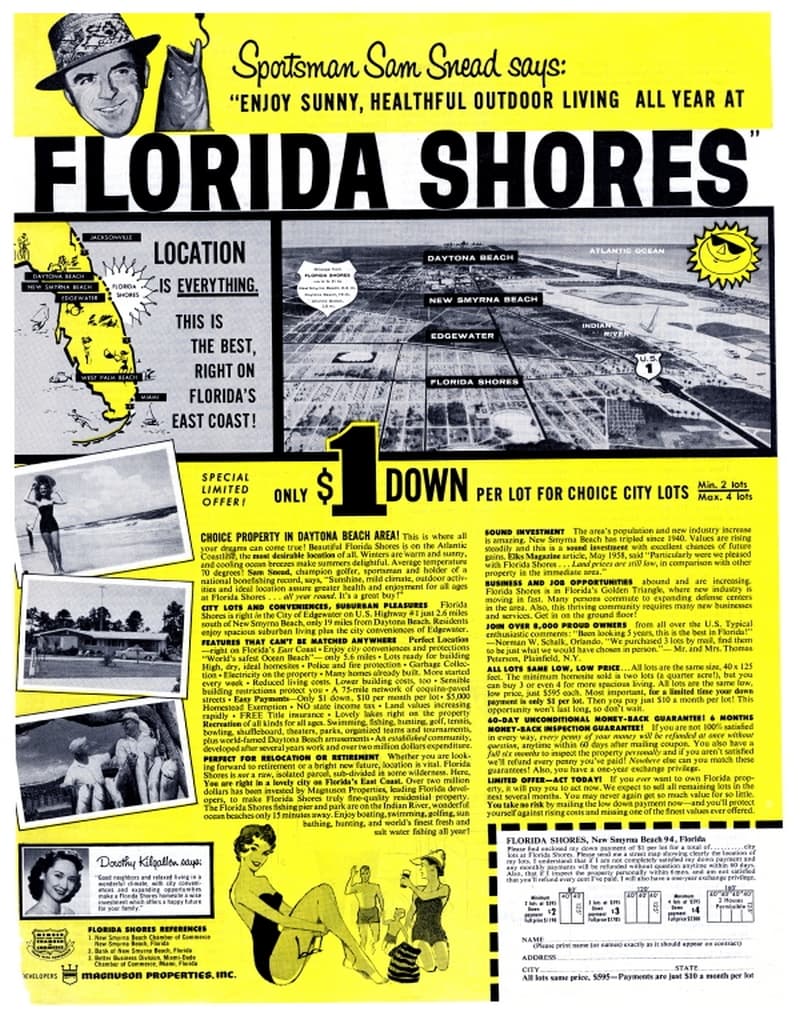 Since the 1990s, the City of Edgewater has been implementing a program of paving roads and improving drainage by using roadside swales and dry bottom retention ponds throughout the neighborhood.

Things have improved since the old mail order lot sales days.  Florida Shores has since developed into Edgewater's single largest neighborhood with many attractive homes and has an active homeowner's association. 
EDGEWATER, FLORIDA BUSINESSES
Edgewater is home to many construction firms, a garment manufacturer, and at least one boat builder.
An exciting addition to the local boat building world happened in 1993 when Boston Whaler moved all of its operations from Massachusetts to Edgewater.
The company builds a famous line of boats and its history extends back to its founding by Richard Fisher in 1958. 

The famous 1961 photo of him sitting in an unsinkable sawed-off half of a Boston Whaler was a national advertising sensation.
It became known as the "unsinkable boat" and was featured in Life Magazine and other popular publications of the day.  After the boat was sawed in half, Fisher used the stern section to tow the bow section back to shore.
Boston Whalers have always had a reputation for being upscale high quality boats.  I owned a classic Boston Whaler 13 back in the day.
---
INFORMATION ABOUT EDGEWATER, FLORIDA
---
EDGEWATER, FLORIDA INTERACTIVE GOOGLE MAP
---
---

Our Facebook page has more than 124,760 followers who love off the beaten path Florida: towns, tourist attractions, maps, lodging, food, festivals, scenic road trips, day trips, history, culture, nostalgia, and more.  We post articles every day.  Please check it out and if you like it, we would appreciate a "like" from you.
---
By Mike Miller, Copyright 2009-2023
Florida-Back-Roads-Travel.com
Florida Back Roads Travel is not affiliated with or endorsed by Backroads, a California-based tour operator which arranges and conducts travel programs throughout the world.